GALILEO Planet News
Posted August 9, 2019
OpenAthens Update (August 2019)

Thank you for all your hard work, great questions, and patience as we work with OpenAthens and EBSCO to tackle one of our most challenging goals: Make authentication as easy as possible.
Our goal to complete as many higher education institutions as possible before the fall semester was ambitious. We recently completed implementation for six USG institutions over a two-week period, and we continue to gain momentum.
What is taking so long?
There are many moving parts and partnerships in any large-scale systems implementation. With this project, delays generally fall into three categories:
Gaining third party vendor cooperation in the resource activation process
Getting essential information (collections, connections)
Technology troubleshooting
Where are we now?
Implementations are complete for our pilot institutions, and work is underway with the University System of Georgia institutions.
Live with OpenAthens (or very near):
12 University System of Georgia institutions
4 private colleges or universities
3 technical colleges
1 public library
Brief update per library type:
For USG: Remaining implementations will be complete in the early fall. We will be reaching out to you soon to schedule training for Alma/Primo and linking changes.

For technical colleges: We will be reaching out to you to verify that your OpenAthens IP is on file with vendors.

For private colleges and universities: Implementation set up basics are complete for most of our private academic institutions. We will be working with you to go live in early to mid-fall.

For public libraries: Atlanta Fulton Public Library is essentially ready to go live. For other library systems, GALILEO will meet with you in the fall to discuss implementations.

For school libraries: With more than 180 school districts and 2,000-plus public and private K-12 schools in Georgia, this will be our most challenging task. We will begin working with the Georgia Department of Education this summer to plan implementation for school libraries and identity test sites.
More Need-to-Know Info
Our team is working with EBSCO and OpenAthens soon to set tentative go live dates for the remaining academic institutions. As soon as those dates are set, each institution will be updated. Once we begin public and school library implementations, we will have a much better idea of timelines. For more information, please review the information on the GALILEO OpenAthens Implementation Guide or contact us.
Posted July 3, 2019
From the Director: On the Road to a More User-Friendly GALILEO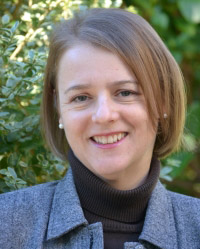 As we enter the third year of our strategic plan, I wanted to take a moment and reflect on what we've accomplished this year. I'm thrilled at the progress we've been able to make so far, and look forward to working with you to making GALILEO even better next year!
Our in-depth strategic planning in 2017 clearly showed that we needed to focus on developing a more user-friendly experience for the GALILEO portal. A foundational platform for this is OpenAthens, our new authentication model. Most higher-ed libraries will be moved over to OpenAthens this summer, with GPLS following in the fall and early spring, and then K-12 libraries.
We're looking to take advantage of this and other tools to completely redesign the GALILEO research portal…and as part of that effort, we've also put in place a new user-centered and agile design methodology. Our new GALILEO Development Advisory Committee has been hard at work on developing user "personas" that will help guide that development. Soon we'll be looking to get feedback from you all on what that new design (or designs) might look like…stay tuned!
We also want to ensure that we are providing a robust set of electronic resources that meet the lifelong learning needs of all Georgians. We now have several e-resources advisory groups in place, and after some seriously in-depth evaluation, they recommended some significant changes and improvements this year. We were able to negotiate some great deals, upgrade content for everyone, and switch out some lesser-used resources for content that will better meet your patrons' needs. This work will continue next year, expanding to the evaluation of open resources, and we're also planning to implement a new e-resource management tool that we think will help provide an easier and more transparent experience for opt-in licensing.
Following the retirement of Karen Minton, we were fortunate to hire Joy Woodson as our new Assistant Director for Marketing Communications. Joy has quickly come up to speed on what makes Georgia libraries tick, and she is bringing her substantial past experience to bear on developing data-driven marketing and communications strategies. She'll be working hard to streamline communications and increase our engagement with you all…she's especially interested in reaching out to K-12 libraries and boosting our partnership work with other library groups. We'll also be taking a closer look at our training programs this coming year, and hope to update our training portal with some great new content.
Through all our planning and development, we try to keep you – the library staff and the patrons you serve – first and foremost in our minds. As I mentioned above, we'll soon be reaching out to share our plans for a freshly redesigned GALILEO portal. I look forward to seeing many of you at the upcoming GALILEO Annual Conference, and please don't hesitate to reach out to me anytime if you have other ideas we should look into. In the meantime, we'll keep moving forward together!
Lucy Harrison is assistant vice chancellor for academic library services and executive director of GALILEO.
Posted July 2, 2019
GALILEO Content Changes for 2019-2020

Beginning in July, GALILEO users will see several changes to the content/databases available through GALILEO. Although the changes are slated for the beginning of July, some may take place throughout the month.
Keep track of changes by visiting the FY20 Changes Status document. For a detailed summary of your institution's GALILEO subscription, see the FY20 GALILEO Subscriptions folder. Individual Institutions are grouped by their respective user group's (GPLS, TCSG, USG, etc.) folder, however Georgia Department of Education, Georgia Independent Schools Association and Georgia Public Library Service are not listed at the institution level.
New Content
WestLaw Campus Research: The USG, TCSG, and various GPALS institutions opted to replace Nexis Uni with WestLawCampus Research. Nexis UNI will remain as an opt-in cost-share resource for various institutions in our AMPALS user group. Here is a breakdown of the WestLaw Campus Research content for subscribing user groups.
WestLaw Campus Research: Legal, News, and Business (select GPALS)
WestLaw Campus Research: Legal, News, Business, and International (TCSG)
WestLaw Campus Research: Legal and International (USG)
PsycARTICLES (EBSCOhost): While this isn't technically a new resource, PsycARTICLES was previously only available as a cost-share resource. PsycARTICLES will become a USG group resource in FY20.
Content Removal
OCLC WorldCat Discovery: The following suite of OCLC databases will be removed for AMPALS, GPLS, TCSG, and USG on July 1st, 2019. OCLC WorldCat Discovery will continue to be managed centrally for subscribing institutions through GALILEO cost-share. Institutions with local OCLC WMS subscriptions will need to create local GLRI entries for these resources. Please contact GALILEO if you need help with this.
ArticleFirst
Electronic Books
ERIC
GPO Monthly Catalog
MEDLINE
OAIster
OCLC Databases
PapersFirst
ProceedingsFirst
WorldCat
WorldCat Dissertations and Theses
Other Removed Databases:
Nexis UNI: Will be removed July 1st, 2019 for TCSG, USG and various AMPALS and GPALS institutions. Nexis UNI will become a cost-share resource for various institutions.
Speakaboos: Currently removed for K12 DOE.
Tumblebooks Will be removed for GPLS on July 1st, 2019.
TeenBookCloud Will be removed for ALL on July 1st, 2019.
Posted May 13, 2019
GALILEO Annual Conference Registration is Open

The GALILEO Annual Conference will take place July 11 at Middle Georgia State University in Macon. This year's theme is Reimagining Services, and sessions will feature discussions centered on how the digital world is transforming the work of today's library.
The keynote speaker will be Nikhil Deshpande, chief digital officer for the state of Georgia.
This one-day event is an opportunity for all of Georgia's library community to learn more about GALILEO, touch base with content providers, and network with colleagues across the state.
Registration is free. For updates and to register, visit the conference webpage: https://www.usg.edu/galileo/conference/
Posted April 18, 2019
GALILEO 2018 Annual Survey Results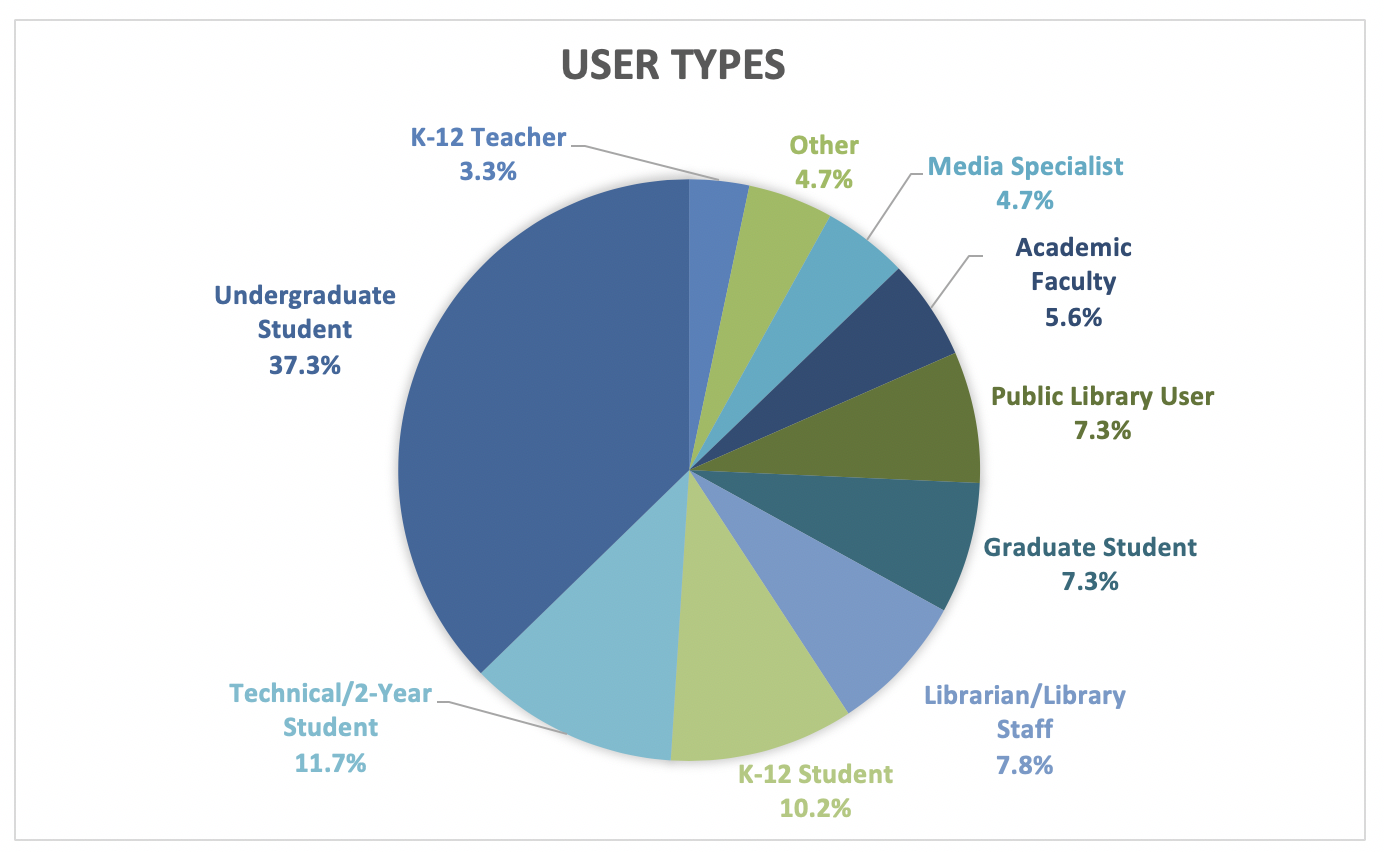 The results of the GALILEO Annual User Survey are in. We continue to see overall positive feedback for GALILEO and the services it provides.
The vast majority of respondents agreed or strongly agreed that they are satisfied with GALILEO, with the percentage of negative responses being in the single digits. Diving more deeply into the comments, there continues to be a desire for more GALILEO content, especially full-text materials and content tailored for specific audiences (e.g., K-12).
Many respondents indicated a desire for the GALILEO portal/website to be more updated, and for the log-in process to be smoother. Both these issues are planned to be addressed within the next year: The login process will be completely redesigned with the move to OpenAthens, and that project will be followed up with a new, more customizable GALILEO portal/website.
Quick Stats:
12.5% of respondents were librarians, library staff or media specialists
14.9% took the survey at a K-12 school
20.2% were from technical/two-year colleges
50.2% strongly agreed that they learned something by using GALILEO
91.3% strongly agreed or agreed that GALILEO is a valuable resource