Events | News and Announcements | K-12 | Tips and Training
Register Now: GALILEO's K-12 Fall Showcase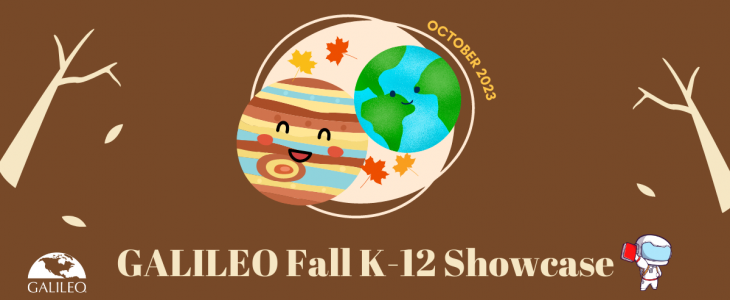 Registration is now open for GALILEO's Fall K-12 Showcase, happening the weeks of October 16 and October 23.
This is the first year GALILEO is hosting such an event, and we hope it will become a yearly learning opportunity for public and private school teachers and librarians.
This free, virtual event is intended to showcase ways GALILEO is used in classrooms, provide an opportunity for our partners to talk to this audience, as well as update teachers and librarians on the latest changes with GALILEO.
See below for dates, speakers and registration links. (Click the sign up links for more details on each session.)
---
Schedule
| Register | Description | Time | Presenter |
| --- | --- | --- | --- |
| | Using AI to Fuel Research | 3:00 p.m. | Jordan Ragland, Media Specialist, West Hall High School (Hall County) |
| Register | Description | Time | Presenter |
| --- | --- | --- | --- |
| SIGN UP | Empowering Teaching and Learning with Explora: Creating Focused Topical Guides | 11 a.m. | Tammy Ross, Senior Product Marketing Manager, EBSCO |
| SIGN UP | Unleash the Beat: Using GALILEO to Research Historical Tunes | 2 p.m. | Lauren Mobley, School Library Media Specialist, Myron Brown, Social Studies Teacher, North Clayton Middle School |
---
Recordings
Pre-Recorded Session (Available Oct. 16.): Hosting a Homeschool Happening: Outreach with Optimism (Presenters: Mandy Mastrovita, DLG; Rachel Evans, UGA)

Post-Event Recordings: These will be available via the GALILEO YouTube channel following the event.

Certificates of Attendance are available by request. If you have additional questions, please contact Joy Woodson at joy.woodson@usg.edu.