GALILEO Planet News
Posted March 24, 2020
GALILEO COVID-19 Updates
Updated 3:30 p.m., Tuesday, March 24:
GALILEO Hours: GALILEO staff will continue to work remotely through at least April 5. All GALILEO staff are accessible via the contact us form.
GALILEO Upcoming Events: The May 2020 GIL Users Group Meeting and pre-conference workshops have been postponed. We are looking to reschedule the event for later this summer. For updates and information on refunds, please visit the conference website: https://www.usg.edu/galileo/gil/conference/
Updated 5:13 p.m., Wednesday, March 18:
All GALILEO updates related to COVID-19 will be posted here.
Keep Teaching USG: Affordable Learning Georgia worked with the University System of Georgia to complete a guide for all faculty and instructors on transitioning to teach virtually. Visit this page for helpful resources on virtual lab resources, alternatives to proctored exams, OER search tools and more. Additionally, the guide provides various institution-specific information for faculty and students. Visit, Keep Teaching USG.
GALILEO at Home: With all Georgia schools closed and many public libraries closing, as well, we have two helpful LibGuides on accessing GALILEO while at home: one for students and parents and one for public library patrons.
Accessing Vendor Resources: We contacted all of our vendors who provide content to GALILEO, and we are pulling together a list of their responses (summarized) regarding access and additional resources during this health emergency. Visit: https://about.galileo.usg.edu/site/pages/covid_19_vendor_updates
Updated 10:30 a.m., Monday, March 16:
GALILEO Hours: GALILEO, Georgia's Virtual Library, remains open during this COVID-19 health emergency. However, effective March 16, all GALILEO employees who can work remotely will do so, based on the advisement of the University System of Georgia (USG). Employees are expected to resume in-office hours on March 30. Additionally, we are suspending all non-essential travel, including conferences, trainings, and site visits during this two-week time, and we will transition any required in-person meetings to an electronic format or postponement.
GALILEO Upcoming Events: The GIL Users Group Meeting and pre-conference sessions on May 13-14 and the GALILEO Annual Conference on June 18 are currently continuing as scheduled. Registration is open for both events. If the events are canceled, refunds will be issued. Please check each conference website for updates.
Affordable Learning Georgia Deadlines: The deadline has been extended to April 20 for round 17 of ALG's Textbook Transformation Grants. This is to accommodate the two-week closure of USG institutions. Applicants will be notified of their proposal's selection on (or by) May 8.  On June 1, ALG will host a virtual kick-off meeting. Additional details will be sent to those affected. For faculty and instructors submitting their final grant reports for spring 2020, the deadline has been extended to June 12. 
Due to the nature of this evolving emergency, we may adjust our plans as developments dictate. We are remaining in communication with USG leaders, who are consulting constantly with the Georgia Department of Public Health (DPH) and the Governor's Coronavirus Task Force. 
Thank you for your patience during this time.
Posted March 20, 2020
Ancestry Library Edition Available Offsite

GALILEO has coordinated with ProQuest to make the Ancestry Library Edition available outside the library until April 30, 2020. This is thanks to the advocacy of Georgia Public Library Service, Georgia's public libraries and GALILEO.
This new access is for public library and academic library patrons only.
The Ancestry entry in the GALILEO A-Z list has been updated to reflect this change. After entering the GALILEO portal with the GALILEO password, users may access Ancestry via the A-Z list. Ancestry Library Edition is also accessible directly via the GALILEO Express Link: https://www.galileo.usg.edu/express?link=zual
Librarians are in the process of implementing the changes. Please visit your local library online, using your library card or campus ID, for access.

Posted March 18, 2020
GALILEO Statement on EBSCO SSO Service, Privacy Policy

GALILEO and EBSCO are aware of this situation, and we expect the issue to be addressed in the coming months.
EBSCO authentication developers have committed to prioritizing changes to the form. This work is planned to begin in April 2020, and some development time is required. EBSCO will add a link to the "declined consent" page that will let users route back to the results list and access full-text content under institutional access, but not personalized access. Once this work is complete, GALILEO will announce the improvements.
As for user privacy concerns–when users use the Single Sign-On login to access a My EBSCOHost account, their information is encrypted as a targeted ID. This ID is retained by EBSCO in order to match user credentials to the proper account each time someone logs in. In order to comply with GDPR, the system needs to offer the ability to consent to this data retention.
As mentioned, EBSCO is currently working to resolve the issue that prevents the user from accessing EBSCO content unless the user opts in. EBSCO is committed to repairing this issue as soon as possible.
In the meantime, if users do not wish to opt in to the EBSCO SSO service, EBSCO content can still be accessed via the GALILEO portal/password.
More details:
Posted March 12, 2020
COVID-19: Update on GALILEO Conferences
COVID-19 Update (3:30 p.m., March 24, 2020)
The May 2020 GIL Users Group Meeting and pre-conference workshops have been postponed. We are looking to reschedule the event for later this summer, though at this time we do not have a firm date. Due to the circumstances, we are considering a virtual conference instead of an in-person event. Over the next two weeks, we will monitor the situation, and determine additional actions. Refunds will be issued to anyone making a request. If you do not request a refund, you will remain registered until we determine whether the conference will be in-person or virtual.
The GALILEO Conference is still continuing as schduled on June 18, 2020. We plan to reevaluate GAC in mid-May, and we expect to make a final decision at that time.
Posted February 4, 2020
GALILEO 2019 Annual Survey Results

The results of the GALILEO Annual User Survey are in. We continue to see overall positive feedback for GALILEO and the services it provides.
The majority of respondents indicated that they are satisfied (strongly agree or agree) with GALILEO, Georgia's virtual library. The highest satisfaction score centered on value, with nearly 91.9% indicating they see GALILEO as a valuable public resource. This value score is slightly higher than the previous year.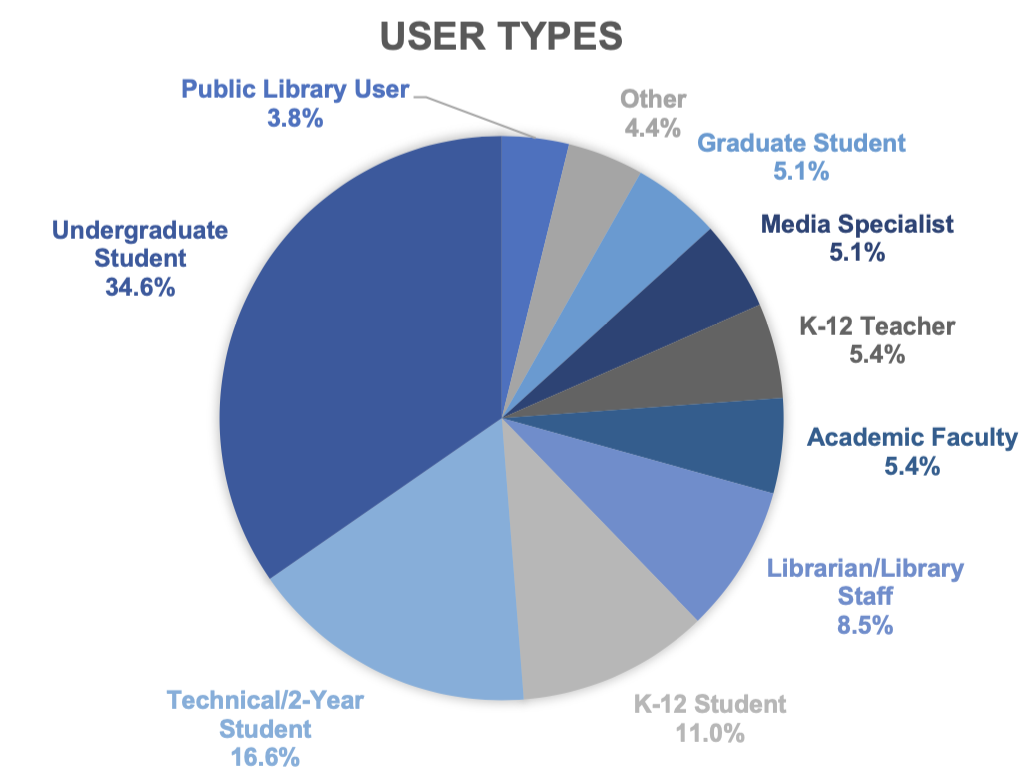 Looking closer at the comments, there continues to be a desire for more and varied GALILEO content, including access to different databases and full-text articles, as well as more user-friendly content for elementary students. Many respondents continue to want a more useful GALILEO interface with better search capabilities and easier logging in. GALILEO continues to make strides in bringing all partners into its new single sign-on initiative, OpenAthens, in addition to efforts to redesign the website/portal.
This year, we also took a closer look at where responses came from to help analyze public engagement. Although most responses came from the metro Atlanta area, the highest concentration of responses of any city was Athens, largely due to participation from Athens Technical College. We aim to have greater survey participation throughout the state, while capitalizing on areas where GALILEO engagement is highest.
Quick Stats:
13.6% of respondents were librarians, library staff or media specialists
26.2% of respondents were affiliated with a technical college
27.8% said they learned of GALILEO from a teacher
50.5% strongly agreed that they would recommend GALILEO to a friend
91.9% strongly agreed or agreed that GALILEO is a valuable resource
AnnualSurveyReport_2019_Final.pdf