GALILEO Planet News
Posted February 4, 2020
GALILEO 2019 Annual Survey Results

The results of the GALILEO Annual User Survey are in. We continue to see overall positive feedback for GALILEO and the services it provides.
The majority of respondents indicated that they are satisfied (strongly agree or agree) with GALILEO, Georgia's virtual library. The highest satisfaction score centered on value, with nearly 91.9% indicating they see GALILEO as a valuable public resource. This value score is slightly higher than the previous year.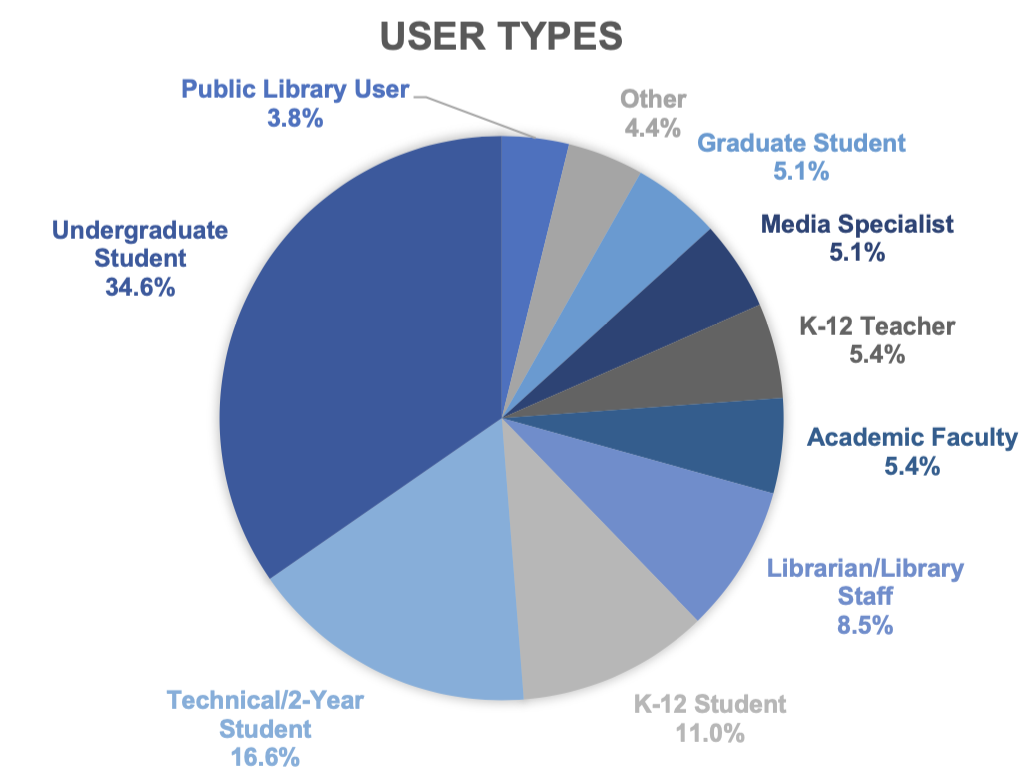 Looking closer at the comments, there continues to be a desire for more and varied GALILEO content, including access to different databases and full-text articles, as well as more user-friendly content for elementary students. Many respondents continue to want a more useful GALILEO interface with better search capabilities and easier logging in. GALILEO continues to make strides in bringing all partners into its new single sign-on initiative, OpenAthens, in addition to efforts to redesign the website/portal.
This year, we also took a closer look at where responses came from to help analyze public engagement. Although most responses came from the metro Atlanta area, the highest concentration of responses of any city was Athens, largely due to participation from Athens Technical College. We aim to have greater survey participation throughout the state, while capitalizing on areas where GALILEO engagement is highest.
Quick Stats:
13.6% of respondents were librarians, library staff or media specialists
26.2% of respondents were affiliated with a technical college
27.8% said they learned of GALILEO from a teacher
50.5% strongly agreed that they would recommend GALILEO to a friend
91.9% strongly agreed or agreed that GALILEO is a valuable resource
AnnualSurveyReport_2019_Final.pdf
Posted February 3, 2020
Affordable Learning Georgia Awards $359,000 in Grants for Open Educational Resources

Affordable Learning Georgia (ALG) recently awarded more than $359,000 to University System of Georgia faculty and instructors to expand access to open educational resources. These grants will save students an estimated $1 million in the cost of course materials.
ALG, an initiative of GALILEO and the University System of Georgia, promotes student success by increasing the availability of affordable alternatives to expensive commercial textbooks. This is the 16th round of awards for ALG's Textbook Transformation Grants.
"We're very pleased with the continued positive support for Affordable Learning Georgia – both at the system level, and in the enthusiastic proposals we receive from USG institutions," said Lucy Harrison, assistant vice chancellor for academic library services and executive director of GALILEO. "One in five classes taught across the university system now offer free or low-cost course materials, and we're proud of the part we've played in helping to make that happen."
Thirteen USG institutions submitted 34 proposals. Of these, 23 proposals—on topics including analytics, sociology and more—from 11 USG institutions were awarded grants from $2,800 to $30,000 apiece. Kennesaw State University saw the highest number of projects awarded at 7, with a total of $139,400 in grant funding.
Six of the projects awarded are part of ALG's new effort to scale open educational resources (OER) to entire departments. Georgia State University led the way in savings for students in this category, with a yearly estimated savings of $225,000 for students in the sociology department and an estimated $120,900 in savings for students in the entrepreneurship and innovation department.
Since its inception, the grant program has awarded nearly $5.6 million in funds to support adoption, adaption and creation of no- or low-cost learning materials in USG courses.
To learn more about grant winners and to apply for the next round of grants, visit ALG's website. The deadline to apply is April 6.
Round 16 Grant Awardees
• Albany State University - $30,000 (Project Lead: Zephyrinus Okonkwo)
• Clayton State University - $4,800 (Project Lead: Susan McFarlane-Alvarez)
• Columbus State University - $30,000 (Project Lead: William Muse)
• Columbus State University - $12,800 (Project Lead: Houbin Fang)
• Georgia Gwinnett College - $10,800 (Project Lead: Skanda Vivek)
• Georgia Gwinnett College - $4,800 (Project Lead: Beth Mauldin)
• Georgia Highlands College - $4,800 (Project Lead: Tara Suswal)
• Georgia Institute of Technology - $4,800 (Project Lead: Aselia Urmanbetova)
• Georgia Southern University - $29,922 (Project Lead: Priya Goeser)
• Georgia Southern University - $10,800 (Project Lead: Christine Whitlock)
• Georgia Southern University - $4,800 (Project Lead: Rebecca Collins)
• Georgia State University - $30,000 (Project Lead: Jung Ha Kim)
• Georgia State University - $29,016 (Project Lead: Geoffrey Graybeal)
• Kennesaw State University - $30,000 (Project Lead: Sarah North)
• Kennesaw State University - $30,000 (Project Lead: Rebecca Rutherfoord)
• Kennesaw State University - $30,000 (Project Lead: Daniel Farr)
• Kennesaw State University - $11,800 (Project Lead: Lin Li)
• Kennesaw State University - $4,800 (Project Lead: Meng Han)
• Kennesaw State University - $2,800 (Project Lead: Uttam Kokil)
• Kennesaw State University/University of North Georgia - $30,000 (Project Lead: Ulrike Ingram)
• Savannah State University - $4,800 (Project Lead: Lisa Yount)
• Savannah State University - $2,800 (Project Lead: Sherry Serdikoff)
• University of North Georgia - $4,800 (Project Lead: Tashia Caughran)
Posted January 8, 2020
We're Turning 25 in 2020!

This year GALILEO will turn 25, and we have a number of exciting things in store.
There will be a major focus on revamping the GALILEO research portal. We plan to improve design, accessibility and user experience. Staff has already started by looking at usage statistics and user behavior, creating user stories with the input of an advisory committee and thinking through new designs.
By this summer, expect to see some changes to the research homepage that boost functionality. We plan to do usability testing, as well as get feedback from super users on ideas we have for other, major interface changes. We're also planning to streamline the About GALILEO informational pages that many of you rely on. Stay tuned, we may be reaching out to you for your advice!
At the same time, we are continuing work with OpenAthens. We will soon wrap up single sign-on implementation for all University System of Georgia and Technical College System of Georgia institutions. By the spring/summer, will plan to start implementing OpenAthens at public libraries, with K-12 schools to follow.
In addition to redesigning GALILEO and implementing OpenAthens, other 2020 goals include strengthening our connections with K-12 partners and expanding awareness of open educational resources.
Read more from this month's quarterly e-newsletter.
Posted January 3, 2020
Healthier You: Check Consumer Reports on Fitness Trackers

If you're looking for the best fitness tracker to get you started on your 2020 health goals, turn to Consumer Reports using your free access through GALILEO.
The normal annual digital subscription is $39, or $10 a month. But, full-text articles from each online edition of Consumer Reports, dating back to 1985, are available free to all Georgia residents and students when accessed from GALILEO.
In its January 2020 edition, Consumer Reports takes on popular fitness trackers. They tested 17 models, including: the Garmin Forerunner 35, Samsung Galaxy Fit, and the Fitbit Inspire HR. Fitness trackers were tested for ease of use, interaction and pairing with another device, step counting, and more. Scores ranged from 35-85.
The No. 1 fitness tracker, according to Consumer Reports, was the Samsung Gear Fit2 Pro. It had the highest overall score of 85, with "excellent" marks in versatility and ease of use. The Garmin Forerunner 35 followed with a rating of 84. In addition to the January 2020 issue, you can read the2020 Buying Guide for more on fitness trackers
Access Consumer Reports via GALILEO with these steps:
Go to GALILEO and click the Journals A-Z tab.
Type "Consumer Reports" into the search bar
Choose the Consumer Reports (Full Text) option from the list
Choose EBSCOhost MasterFILE Elite from the database list
Click on an issue to the right to access the magazine
To search across multiple issues for a particular product, click "Search within this publication" [Note: Type the word "and" along with your topic in the search box (e.g., "and digital cameras")]
Click "Share" to set up an alert
(You can access MasterFILE Elite from this express link: https://www.galileo.usg.edu/express?link=zbel. Some links may not work off site. Click the database name or log in to GALILEO first for access.)
Posted December 26, 2019
Healthier You: Free Access to Yoga Journal, Popular Science in GALILEO

We are days away from a new year, and after spending the holidays eating comfort food, what better time than now to reset?
GALILEO gives you access to past and current issues of popular health magazines, including Yoga Journal and Popular Science. Take a look at the Consumer Health Complete database for access to these magazines and others.
Consumer Health Database inside ProQuest is another resource for information on health and wellness. There you can search for articles and publications on an array of topics, including children's health, eye care and dentistry.
And, if you'd rather search terms using the GALILEO search bar, you can do that, too. Narrow your search down by subject and chose "medicine and health" subject for a list of articles in nutrition, weight loss, psychology and more.
Remember that you also can set up a search alert in the individual databases so you receive emails when a new article matching your search is added. For more information on this, visit our FAQ.
Some links may not work off site. Click the database name or log in to GALILEO first for access.