GALILEO Planet News
Posted February 2, 2018
African American Funeral Programs Collection Expanded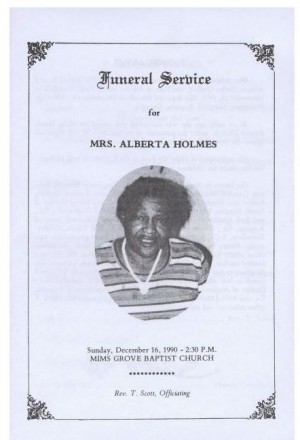 The African American Funeral Programs Collection from the Augusta-Richmond County Public Library System has been expanded by 10,000 digitized pages. Spanning 1933-2017 and consisting of over 3,000 programs, this collection provides both a rich source of genealogical information and local history about the African American community. The Digital Library of Georgia (DLG), Georgia HomePLACE, and the Augusta-Richmond County Library make this collections available freely online through the DLG.
The current project more than doubles the total number of programs originally available in the digital collection. In 2009, HomePLACE and the DLG digitized the approximately 1,000 funeral programs available in the Georgia Heritage Room of the Augusta-Richmond County Public Library System. The bulk of the collection was donated in the early 2000s by local historian Gloria Ramsey Lucas. An avid genealogist and former president of the Augusta Genealogical Society, Ms. Lucas is known for her award-winning work, Slave Records of Edgefield County, a compilation which came about during her own search for enslaved ancestors. The donated funeral programs belonged to her aunt, Eula M. Ramsey Johnson, who had been collecting them for over 30 years and for whom the collection is named.
Read the DLG blog for more information on this collections and on other rich content on the culture and history of Georgia.
Posted December 8, 2017
December GALILEO Newsletter

Learn about folders and accounts for saving your research, the new Mango placard in Discover search, and new statistics reports now available. You will also catch up on Affordable Learning Georgia's activities, including information on applying for round eleven of transformation grants. Executive director Lucy Harrison shares preliminary survey findings and ways your suggestions fall right in line with our new strategic goals. Read the newsletter.
Posted October 26, 2017
Digital Library Hits 1 Million Newspaper Pages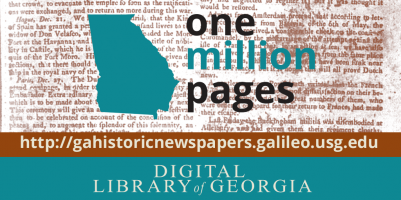 The Digital Library of Georgia (DLG) is celebrating its 1 millionth digitized historic newspaper page. The premier issue of the Georgia Gazette, Georgia's first newspaper, published from 1763-1776 in Savannah, will become the 1 millionth page of historic newspapers to be made freely available online through the Georgia Historic Newspapers (GHN):
James Johnston, the first printer in Georgia, published the state's first newspaper issue on April 7, 1863.
Check out the online press kit for a curriculum guide, PowerPoint template, social media posts, graphics, and more to promote the GHN and this event.
Sheila McAlister, director of the DLG, remarks: "Making Georgia's first newspaper freely available online is the perfect way for us to celebrate this important milestone. Historic newspapers reflect the social and cultural values of the time that they were created and are invaluable to scholars and the general public. With the help of our partners, we will continue add more of this sought-after content."
Posted September 25, 2017
September-October GALILEO Newsletter

The fall newsletter includes information on new resources for disaster recovery, gearing up for Teen Read Week (October 8-14), and examples of the Consumer Reports widget on library websites. You will also find information on all the library and education conferences where you can learn more about GALILEO in presentations and in the exhibit booth. Read the newsletter
Posted August 30, 2017
Top 50 GALILEO Searches for July 2017