News and Announcements | General | K-12 | Public Library | Scholar/Academic | Tips and Training
Welcome to Bento Box Searching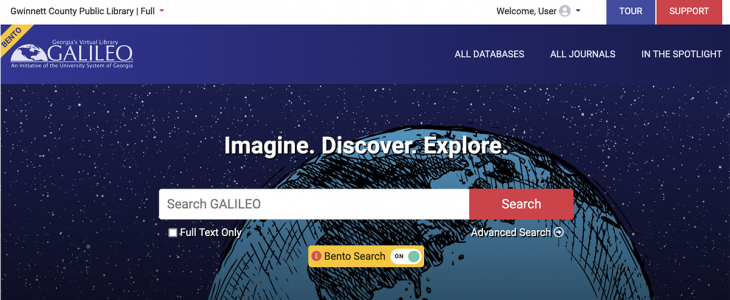 Bento is here!
We have turned on bento box searching for all GALILEO users. Our developers have worked on this for a year, along with several other new features.
The bento box method is intended to make finding information easier, quicker, and more intuitive. It is so named because it resembles the popular Japanese lunch box that divides food into perfectly portioned compartments.
Now in beta, GALILEO's bento box search is expected to become the default later this year.
Check out the information below to help you navigate the changes:
In addition to the bento box searching, here are additional key changes for phase 2 of the redesign:
A newly organized header featuring a tour button to see new changes and features
A "welcome user" feature that is step toward more personalization
A single-search interface for everything in GALILEO (bento only)
Links to "all databases," "all journals," and "in the spotlight" in the header
A new search box for libraries that want to embed the bento search onto their site
A "full text" option right below the search box (bento only)
Simplified descriptions for popular databases so they're easier for everyone to understand
Option for school and public library users to easily switch between full and kids' views