GALILEO Planet News
Posted March 30, 2015
Mercer University now included in the Georgia Knowledge Repository
We are pleased to announce that the records from URSA, the Mercer University Libraries Institutional Repository, are now included in the Georgia Knowledge Repository.
Also, the Georgia Knowledge Repository records can be added to any institution's Discover GALILEO search results to give academic users access to more scholarly research from our state. If your institution is interested in adding this to your discovery search, please use the GALILEO Contact Us form to put in a request.
If you have any questions or need more information, please use the GALILEO Contact Us feature or contact the ITS Helpdesk at helpdesk@usg.edu or 1-888-875-3697.
Posted March 25, 2015
Flannery O'Connor is born March 25, 1925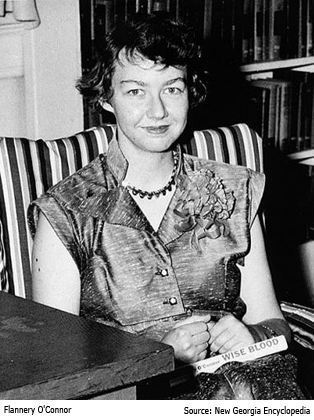 One of America's greatest fiction writers, Flannery O'Connor was both on this day in 1925. She would have been 90 years old. O'Connor was born in Savannah and moved to Milledgeville with her family in 1938. She attended the Peabody Laboratory School associated with Georgia State College for Women, now Georgia College and State University, where she served as an editor for the college's literary magazine, The Corinthian.
Although O'Connor is primarily known as a short-story writer, her novels Wise Blood and The Violent Bear It Away are recognized as valuable lasting works of American literature.
See more photos of Flannery O'Connor in the Digital Library of Georgia.
Posted March 17, 2015
Bobby Jones is born March 17, 1902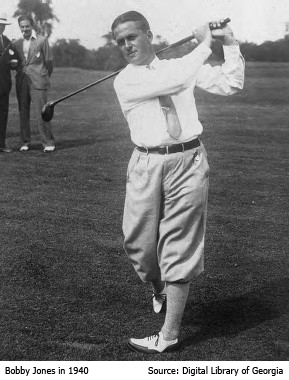 Robert Tyre "Bobby" Jones II was born on this day in 1902 in Atlanta. Jones was the most successful amateur golfer ever. During his career he won thirteen major championships. He also won all four major titles in one season, completing the "Grand Slam" of golf.
After retiring from competition in 1930, Jones went on to start the Masters Tournament, then called the Augusta National Invitational, in 1934. He even came out of retirement to compete in the first tournament.
In 1964, Bobby Jones, along with Ty Cobb and William Alexander, was one of the first three professional athletes inducted into the Georgia Sports Hall of Fame.
You can see more photos of Bobby Jones in the Digital Library of Georgia, or see a video of him with the Duke and Duchess of Windsor, and playing against Walter Hagen in the Walter J. Brown Media Archives and Peabody Awards Collection.
Posted March 9, 2015
Celebrate Open Education Week with Affordable Learning Georgia
Open Education Week, a celebration to raise awareness of free and open resources for education, is March 9-13, 2015. Affordable Learning Georgia, a University System of Georgia initiative, is celebrating this event with new exciting content and communications. Affordable Learning Georgia's mission is to promote student success by providing affordable textbook solutions. The ALG is a one-stop service to help USG and others identify lower-cost, electronic, free, and open educational resources (OER), building on the cost-effective subscription resources provided by GALILEO and the USG libraries.
ALG will be releasing a newsletter edition daily from March 9-13. These daily newsletters will showcase new and interesting content:
An exciting online celebration of OER initiatives throughout the USG
A new animated video about Affordable Learning Georgia
Streaming video recordings of keynote speeches from the ALG Symposium on the Future of the Textbook
A new modular step-by-step guide on identifying and finding OER
A "Top 10" list of things to see from Open Education Week projects outside of GA
Subscribe to the ALG newsletter
Posted March 8, 2015
This Day in Georgia History: March 8, 1949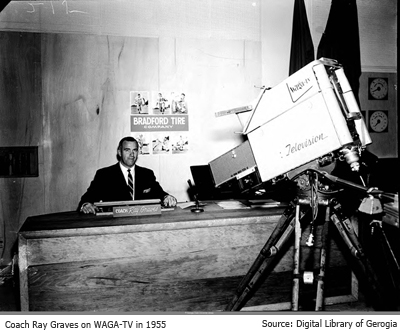 Today, in a world with hundreds of television channels to choose from, it's hard to imagine a time when there was only one television station to watch in Georgia. This was the case from September 19, 1948, when WSB-TV debuted, until March 8, 1949. On March 8, 1949, WAGA-TV went on the air, thus giving Georgians their first chance to change the channel. WAGA-TV started in a house, then moved to a larger studio at 1018 West Peachtree. Initially, broadcasts included three hours of evening programming from CBS, the Dumont Network, and ABC.
See photos from WAGA-TV newscasts in the Lane Brothers Commercial Photographers Photographic Collection, 1920-1976 in addition to raw footage from WSB-TV in the WSB-TV Newsfilm Collection. Both located in the Digital Library of Georgia.