GALILEO Planet News
Posted December 1, 2016
GALILEO Newsletter, December 2016

Catch up on what's going on with GALILEO. The December newsletter includes information on FY16 annual usage reports, upcoming events, tips and tricks, database spotlights, and updates on content. Plus, Lucy Harrison, the new Executive Director and Assistant Vice Chancellor, shares a recap of her first six months and plans for the upcoming "Year of Visioning." Read more.
Posted September 29, 2016
North Georgia Historic Newspapers Archive expanded

The North Georgia Historic Newspapers Archive has expanded and now provides access to fifteen newspaper titles published in nine North Georgia cities (Canton, Cassville, Cedartown, Clayton, Cleveland, Dahlonega, Dalton, Gainesville, and Rome) from 1850 to 1928.This resource is available at http://www.galileo.usg.edu/express?link=ngan or through the GALILEO website.
The full announcement from the Digital Library of Georgia is below.
======
The Digital Library of Georgia is pleased to announce the expansion of the North Georgia Historic Newspapers Archive:
http://dlg.galileo.usg.edu/ngnewspapers
The North Georgia Historic Newspapers Archive now provides access to fifteen newspaper titles published in nine North Georgia cities (Canton, Cassville, Cedartown, Clayton, Cleveland, Dahlonega, Dalton, Gainesville, and Rome) from 1850 to 1928. Consisting of over 63,000 newspaper pages, the archive provides historical images that are both full-text searchable and can be browsed by date. The site is compatible with all current browsers and the newspaper page images can be viewed without the use of plug-ins or additional software downloads.
The archive now includes the following North Georgia newspaper titles: Cassville Standard (1852-1860), Cedartown Advertiser (1879-1884), Cedartown Express (1877-1879), Cedartown Record (1874-1877), Cedartown Standard (1900-1922), Cherokee Advance (Canton) (1880-1922), Clayton Tribune (1899-1924), Cleveland Progress (1892-1896), and Dahlonega Nugget (1903-1928), in addition to the titles previously included in the archive: Gainesville News (1902-1922), Georgia Cracker (Gainesville) (1894-1902), North Georgia Citizen (Dalton) (1868-1921), Rome Courier (1850-1855), Rome Tri-Weekly Courier (1860-1880), and Rome Weekly Courier (1860-1878).
The North Georgia Historic Newspapers Archive is a project of the Digital Library of Georgia, a part of Georgia's Virtual Library GALILEO and is based at the University of Georgia.
Other newspaper archives available through the Digital Library of Georgia include the Atlanta Historic Newspapers Archive (1847-1922), the Macon Telegraph Archive (1826-1908), the Savannah Historic Newspapers Archive (1809-1880), the Athens Historic Newspapers Archive (1827-1928), the South Georgia Historic Newspapers Archive (1845-1922), the West Georgia Historic Newspapers Archive (1843-1942), the Columbus Enquirer Archive (1828-1890), the Milledgeville Historic Newspapers Archive (1808-1920), the Southern Israelite Archive (1929-1986), the Red and Black Archive (1893-2006), and the Mercer Cluster Archive (1920-1970). These archives can be accessed at http://dlg.galileo.usg.edu/MediaTypes/Newspapers.html
======
If you have any questions or need more information, please use the GALILEO Contact Us feature or contact the ITS Helpdesk at helpdesk@usg.edu or 1-888-875-3697.
Posted September 23, 2016
Happy Birthday, Ray Charles!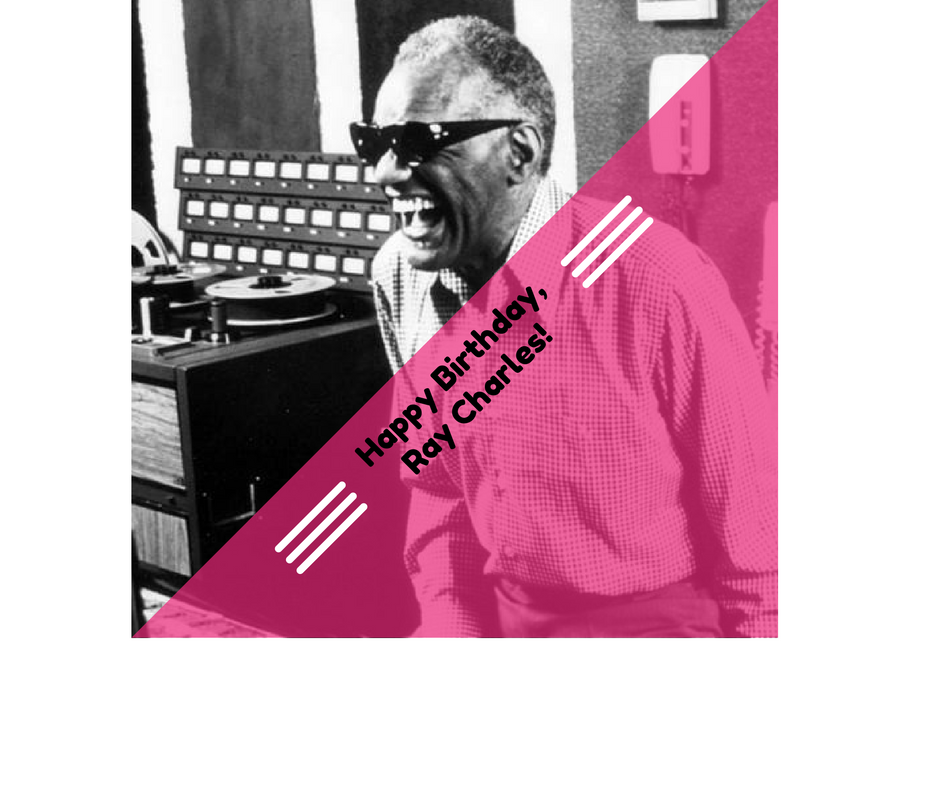 Ray Charles was born on this day in 1930 in Albany, Georgia. Charles pioneered the style that came to be known as "soul," a blend of gospel music, blues, and jazz. He performed for over four decades; however, he may be best known for the song "Georgia on My Mind," which became the number-one hit of 1960. The song was originally written by Hoagy Carmichael on the same year of Charles' birth.
On April 24, 1979, the song became the official state song of Georgia. While the most popular version of the song is by Ray Charles, Willie Nelson also covered it in 1978 for his album Stardust.
Ray Charles was also the first performer inducted into the Georgia Music Hall of Fame in 1979.
Find more interesting facts about Georgia by visiting the New Georgia Encyclopedia.
Posted September 21, 2016
Happy 21st Birthday, GALILEO!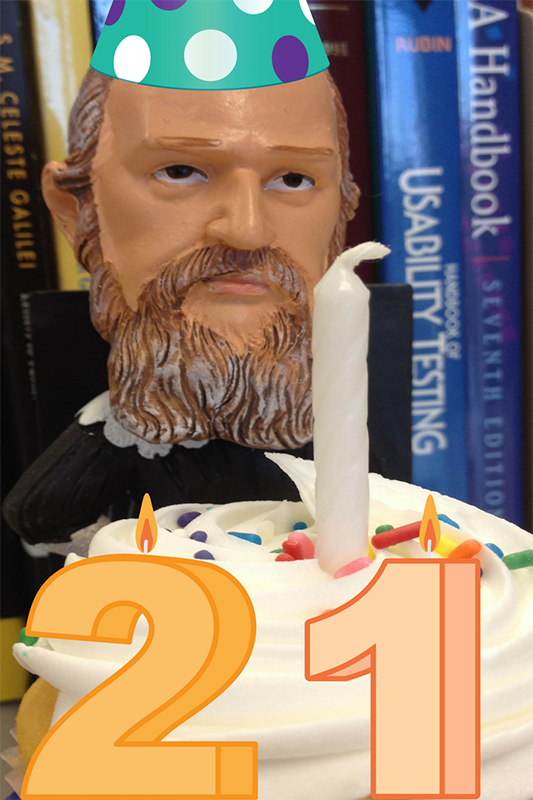 Before there was Blogger, before YouTube, before MySpace, even before Google, there was GALILEO. The GALILEO website went live on September 21, 1995, opening up a world of reliable, authoritative information for Georgians. Visit A Vision for One Statewide Library to read about the origins of the GALILEO initiative. The GALILEO Scrapbook documents GALILEO's history with images and milestones of nearly two decades
What was your first research project using GALILEO? Were you looking for information on animals and their habitats, for peer-reviewed articles for a research paper, for authoritative information on cancer research, for ancestors to fill out your family tree? What did the GALILEO environment look like then? Check out the video and timeline to tweak your memory.
20th Birthday Video
GALILEO Timeline
Posted September 20, 2016
GALILEO is Ready for COMO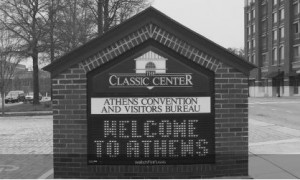 COMO is only two weeks away, and we're getting excited to see you. Come by booth #74 to catch up on what's going on the GALILEO world. We also hope to see you at the GALILEO concurrent sessions and in the preconference.
The GALILEO preconference is scheduled on Wednesday morning, October 5th, at the Classic Center. Each year, the GALILEO preconference includes concurrent sessions on topics different from those GALILEO staff present at the main COMO conference.
GALILEO Preconference Presentations
GALILEO What's New/Q and A: Okay, this one is included in the greater COMO schedule, but your questions make each presentation different
GALILEO 101: The Basics: New GALILEO staff member Russell Palmer will give you a basic introduction to the GALILEO website
eBooks in GALILEO: An overview of the eBook offerings from EBSCO, ProQuest, and TumbleBook Library includes a look at content in the different collections and downloading
Ancestry Library Edition: This popular genealogy database is subscribed by public and academic libraries. This introduction will be presented by a ProQuest trainer.
Explora: This EBSCO resource includes an elementary, middle, and high school edition with interfaces and content appropriate for the audience. Explora is available to all GALILEO communities.
Registration for the preconference is available within the COMO registration. If you are interested in attending only the preconference, or if you are already registered for COMO and want to add the preconference, just select "Preconference Workshops Only" in the "Choose Conference Length" box.
GALILEO Concurrent Sessions
See you in Athens!