GALILEO Planet News
Posted January 19, 2017
How Does a Bill Become a Law in Georgia?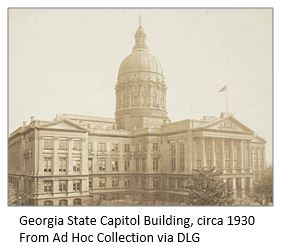 With the Georgia General Assembly in session, you will see news stories about bills going through the Georgia House of Representatives or the Georgia State Senate. You may not be old enough to remember Schoolhouse Rock, but f you've ever wondered about the process of how a bill becomes a law in Georgia, here are few resources for you.
For more resources, see the Georgia Laws and Legislation section in GALILEO Scholar or GALILEO Library or the State Government section in GALILEO High School.
Posted January 13, 2017
Introducing the new GALILEO Toolbar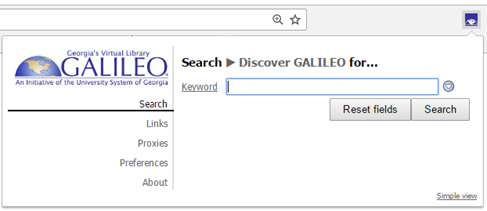 We are happy to announce that the GALILEO Toolbar has been updated to use the LibX 2.0 platform and is available for Google Chrome and Mozilla Firefox. For those not familiar with the GALILEO Toolbar, it allows you to access GALILEO content easily from your web browser.
Some features include:
Search for articles across resources using Discover GALILEO
Link directly to key GALILEO resources, such as ProQuest databases, Mango Languages, SIRS and Encyclopedia Britannica
Find full-text magazines or journals
Auto-links ISSN and ISBNs on web pages to easily see if access is available through GALILEO
Highlight any text on a webpage, including search terms, titles, author names, and standard numbers, and use the right-click menu to search for it
Updates automatically
To download the GALILEO Toolbar, use the following Express Link or click on the "Get Your GALILEO Toolbar" link on the main GALILEO page under the tutorials link.
For information about how to install, configure, or uninstall the GALILEO Toolbar, see our GALILEO Toolbar FAQs.
Posted January 12, 2017
GALILEO Newsletter, January 2017

The January edition of GALILEO News includes information on the new GALILEO browser toolbar, journal alerts, upcoming changes in LexisNexis Academic and the Nexis ID, and a database spotlight on the Civil Rights Digital Library. You can also learn about upcoming webinars and read Lucy's message on the state of all things GALILEO as we begin 2017. Read more.
Posted December 13, 2016
GALILEO Open Learning Materials now included in the Georgia Knowledge Repository (GKR)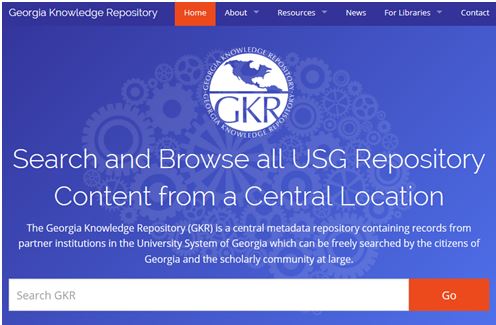 We are pleased to announce that the records from GALILEO Open Learning Materials are now included in the Georgia Knowledge Repository. GALILEO Open Learning Materials brings together open educational resources throughout the University System of Georgia, including open textbooks and ancillary materials.
Also, the Georgia Knowledge Repository records can be added to any institution's Discover GALILEO search results to give academic users access to more scholarly research from our state. If your institution is interested in adding this to your discovery search, please use the GALILEO Contact Us form to put in a request.
If you have any questions or need more information, please use the GALILEO Contact Us feature or contact the ITS Helpdesk at helpdesk@usg.edu or 1-888-875-3697.
Posted December 1, 2016
GALILEO Newsletter, December 2016

Catch up on what's going on with GALILEO. The December newsletter includes information on FY16 annual usage reports, upcoming events, tips and tricks, database spotlights, and updates on content. Plus, Lucy Harrison, the new Executive Director and Assistant Vice Chancellor, shares a recap of her first six months and plans for the upcoming "Year of Visioning." Read more.