GALILEO Planet News
Posted April 18, 2014
Lives Changed and Your Community Changed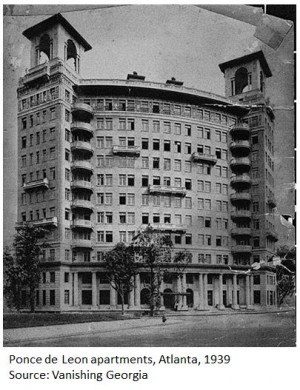 Looking at resources that show your community through the years is fun, but a study of local history also broadens an understanding of the people, the culture, and the issues you encounter every day. For exploring Georgia communities, GALILEO and the Digital Library of Georgia provide a wealth of resources.
The Sanborn Fire Insurance Maps for Georgia Towns and Cities, 1884-1922 are a good starting place for looking at how communities have changed. The highly-detailed, color-coded maps document the changing faces of Georgia cities by depicting, not only the community, but also each building, block, and neighborhood. The maps detail building construction, sizes, and usage, as well as city services such as water and fire services. Each town included in the collection has multiple maps from as early as 1884 to 1922.
GeorgiaInfo includes maps through the ages, as well as other historical information for each county and city. County pages include historical populations for each decade that the county existed. You can also find a list of historical markers by county that show the location, image, and text from the marker.
The New Georgia Encyclopedia is an authoritative resource on Georgia's rich history, diverse culture, and still-unfolding story. To find the article about your county or city, click the Counties, Cities & Neighborhoods link. In addition to pages on specific counties and cities, try the General County & City Topics for articles on the county unit system, Georgia's Historic Capitals, and more.
The Digital Library of Georgia is a gateway to Georgia's history and culture, including books, photographs, newspapers, maps, and more. You can start by searching for your county or city, or you can try Browse by County to see collections in the Digital Library of Georgia that include items from your county.
There are a couple of ways to find local history information in HeritageQuest Online. See an earlier post for finding information on how county lines changed over time. You can also find local history books by choosing the Search Books section and searching for your city or county in the Places section.
To limit your search to Georgia information in Ancestry Library Edition, click the Show Advanced button then scroll down to Explore by Location to see collections from Georgia. Ancestry Library Edition is only available on-site in public and academic libraries.
Some links may not work off site. Log in to GALILEO first for access.
Posted April 18, 2014
Find Out About the Ten Most Challenged Books in 2013 in GALILEO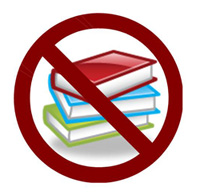 As a part of National Library Week, the American Library Association's Office for Intellectual Freedom has released the "Top 10 Most Frequently Challenged Books of 2013" list.
Read about these books in NoveList, Novelist K-8, or Literary Reference Center:
See the ALA site for more information on banned and challenged books.
Some links may not work off site. Log in to GALILEO first for access.
Posted April 17, 2014
Lives Change with Education
Helping Students with Homework
Public libraries play a big role in students' education, whether the students attend a public or private school, home school, or college. GALILEO is available in all public libraries to help students succeed in their assignments.
By default, anyone logging in to GALILEO at their public library will see the GALILEO Library view for general use; however, K-12 students can try going to the GALILEO High School, GALILEO Teen, or GALILEO Elementary views to easily search age-appropriate resources from the Discover GALILEO search box.
College students can go to the GALILEO Scholar view to search scholarly resources from the Discover GALILEO search box or click Browse by Subject to drill down in a particular subject. Students can also log in with their school passwords for additional resources.

Search results from a Discover GALILEO search will include articles from magazines, journals, encyclopedias, and other formats. For thousands of topics searched, the results list will lead with a "Research Starter" article, which gives an overview of the topic. Look to the right for related images.
Another valuable feature is the citation tool. Click on a title from the results list to view information about the article, such as subject terms and an abstract. Click on "Cite" on the right to see the article citation in MLA, APA, and many other styles.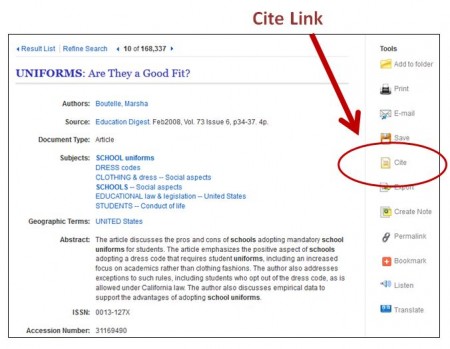 Contact your local public library for assistance with these resources and to see what additional homework help your library offers.
Posted April 17, 2014
Support Teen and Children's Reading in GALILEO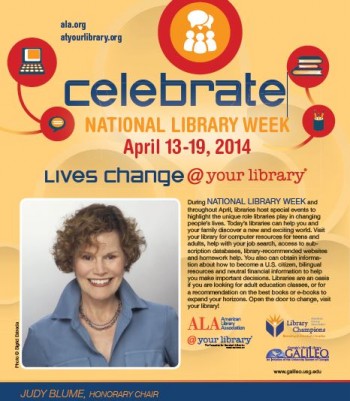 Thursday is Support Teen Literature Day during National Library Week, but we are broadening the topic to support reading for all youth. How do you choose a good title to help your child or teen get interested in reading? Has your student read all of those books in that series and need a new series or a new author to read? Resources in GALILEO offer great tools for matching a reader with a book.
NoveList (for high school students) and NoveList K-8 (for elementary and middle school students) provide book and author recommendations for children and teens, as well as recommended books lists.
In addition to NoveList tools outlined in an earlier post, NoveList K-8 and NoveList both offer the option to limit results by grade level, as well as by Lexile score. Just click on Advanced Search and enter a topic or describe a plot (examples: humorous story about animals or middle school coping) and choose a grade level, age range, or both . In the list of the results look for Title Read-alikes, Author Read-alikes, and Series Read-alikes to broaden your search.
The recommended reading lists, accessible on the left side of the home page of NoveList and NoveList K-8, have been compiled by librarians and educators. Lists are available for many subjects and genres, including adventures stories, fantasy, mysteries, science fiction, and more. Note that when you change the age range, you'll see different genres for that age.
Click on the More link at the top of the page to see other great resources, including an exhaustive book awards list and picture book extenders to help with story time ideas.
NoveList and NoveList K-8 are available to all participating GALILEO libraries.
Remote Access for Public Library Users
1) Log in via your PINES account, or
2) Try this! (geolocation) or
3) Contact your public library.
Posted April 16, 2014
Lives Changed in Your Family Tree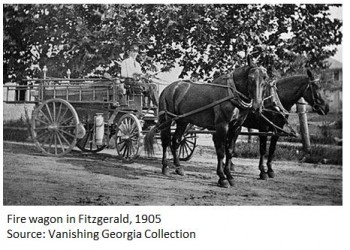 A Look at Genealogy Resources
The theme of National Library Week 2014 is "Lives Change @ Your Library." To look at genealogy resources in GALILEO, let's tweak the theme to describe resources that help users research their family trees to discover who their people were and how their families' lives changed over time.
HeritageQuest Online, which includes census records, local histories, and family histories, is easy to access from home with a public library login (see below for ways to log in). This resource also includes genealogy training videos and slide presentations for users; just look for the Learner Center link at the top after you log in. See a previous post for tips on how to find historical state maps in HeritageQuest Online, which show how the county lines changed over the years.
Ancestry Library Edition is a robust genealogy resource that includes military, immigration, census, court, birth, marriage, and death records, as well as maps, images, obituaries, and much more. Ancestry Library Edition provides blank census forms and research forms to help you keep up with the information you collect; just click the Charts and Forms tab at the top to see these. This database is only available in the library due to licensing restrictions from the vendor, so you'll need to go to your local Georgia public library or participating academic library to access it.
For all things Georgia, the Digital Library of Georgia includes over a million digital items on Georgia's history and culture, including digitized books, photographs, newspapers, maps (including the Sanborn Fire Insurance Maps), and more.
Find additional resources in the Genealogy and Georgia History and Culture sections of GALILEO.
GALILEO has upcoming training sessions on Ancestry Library Edition and HeritageQuest Online during April and May. Register for these on the GALILEO Training page.
Remote Access for Public Library Users
1) Log in via your PINES account, or
2) Try this! (geolocation) or
3) Contact your public library.