GALILEO Planet News
Posted October 20, 2014
Open Access Week 2014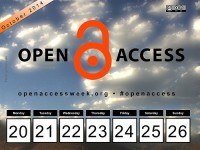 Open Access Week, organized by The Scholarly Publishing and Academic Resources Coalition (SPARC), is an opportunity for the academic and research community to continue to learn about the potential benefits of Open Access, to share what they have learned with colleagues, and to help inspire wider participation in helping to make Open Access a new norm in scholarship and research.
Celebrate Open Access Week by visiting the Georgia Knowledge Repository (GKR), which offers scholarly resources from institutions in the University System of Georgia. Part of its mission is to advance the state of scholarly communication in the United States by exploring open access for university press content.
Subscription databases also provide articles on open access publishing. Search GALILEO resources by going to Discover GALILEO and search for "open access" or "open access publishing."
Posted October 3, 2014
New GALILEO Statistics Reporting Tool
We are happy to announce the release of the New GALILEO Statistics Reporting Tool found on the GALILEO Usage Statistics Reporting Tool page.
Fast response time
Report, Graphical and CSV output
Bookmarkable Reports
Date controlled Institution/Database list
Simplified Interface
A major change that we have made along with the new Reporting Tool is the way we are reporting EBSCO Discovery Service (EDS) Search data. With FY15 data we started reporting EDS Searches separately, so there will no longer be an exponential inflation in Search data for EBSCO databases. Search data for EDS will be broken out separately and listed in the GALILEO Usage Statistics Reporting Tool as a separate database (EBSCO Discovery Service) with the option to view the data by GALILEO user interface (Scholar, High School, Kid's Page etc…).page.
Starting with FY15 data, a new stats type (Database Session) will be available for the following vendors in the new GALILEO Usage Statistics Reporting Tool: EBSCO (ehost databases and EBSCO Discovery Service [EDS]), LexisNexis and SIRS. This stats type counts the number of user visits to a database interface.page.
Also, please consider signing up for the new Statistics Listserv, which will mostly be used to announce the monthly loading of vendor data into the GALILEO Reporting Tool and the occasional message concerning statistics. Please Contact Us to have your name added.
Posted September 21, 2014
Happy 19th Birthday, GALILEO!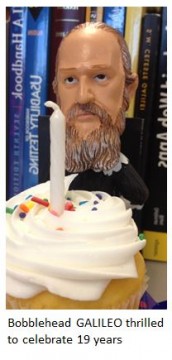 Before there was Blogger, before YouTube, before MySpace, even before Google, there was GALILEO. The GALILEO website went live on September 21, 1995, opening up a world of reliable, authoritative information for Georgians. Visit A Vision for One Statewide Library to read about the origins of the GALILEO initiative. The GALILEO Scrapbook documents GALILEO's history with images and milestones of nearly two decades.
Posted September 9, 2014
September is Update Your Resume Month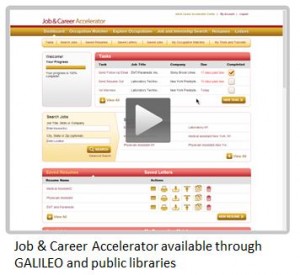 September is International Update Your Resume Month, and GALILEO offers tools that can help. Job & Career Accelerator, available to all Georgia citizens through their public libraries, features a resume builder, eBooks on creating the perfect resume for your career field, and tutorials. This robust resource also helps users write cover letters and follow-up letters, match occupations to their interests and skills, and prepare for interviews. It even includes a job bank.
LearningExpress Library offers tools that can help you shine on your resume with career certification and licensing exam preparation, college entrance and graduate school admissions exam preparation, GED exam preparation, tutorials, eBooks related to job search and workplace skills improvement, and more. For example, complete one of the software courses included in LearningExpress Library to add knowledge of that software on your resume. You can even list that course on your resume to show that you are an active learner keeping up in your field.
Remote Access for Public Library Users
1) Log in via your PINES account, or
2) Try this! (geolocation), or
3) Contact your public library.
Posted September 2, 2014
150th Anniversary of General Sherman Capturing Atlanta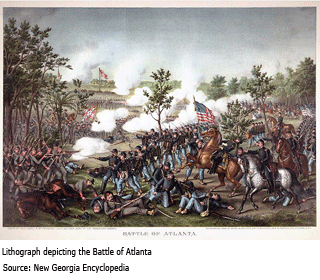 September 2, 1864, marks the 150th anniversary of General William T. Sherman capturing Atlanta where he was quoted famously saying, "Atlanta is ours, and fairly won."
Read more about the Atlanta Campaign and Sherman's March to the Sea in the New Georgia Encyclopedia. Also, be sure to check out The Cornelius C. Platter Civil War Diary which details Sherman's march through Georgia from the point of view of a soldier in the Union Army, and George N. Barnard's photos of the Sherman Campaign in the Digital Library of Georgia.
Some links may not work off site. Log in to GALILEO first for access.