GALILEO Planet News
Posted June 2, 2015
EBSCO Explora is now live!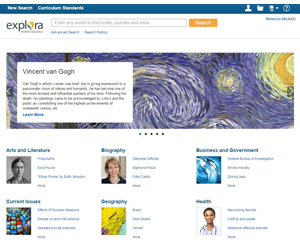 EBSCO Explora, a new interface for schools and public libraries, is now live. Explora is designed to support student research and classroom instruction with reliable content and easy-to-use functionality.
Here are the Express Links for you to use on your library or media center website:
Explora for Elementary: http://www.galileo.usg.edu/express?link=zbxe
Explora for Middle School: http://www.galileo.usg.edu/express?link=zbxm
Explora for High School: http://www.galileo.usg.edu/express?link=zbxh
Explora for Public Libraries: http://www.galileo.usg.edu/express?link=zbxp
See the GALILEO Training page for upcoming sessions on Explora.
Please note that links to Searchasaurus: Primary/Elementary, Searchasaurus: Middle Search Plus, Kids Search, and Student Research Center will no longer work. You will need to remove those from your websites and subject guides.
If you have any questions or need more information, please use the GALILEO Contact Us feature or contact the ITS Helpdesk at helpdesk@usg.edu or 1-888-875-3697.
Posted May 24, 2015
Happy Birthday, Henry Grady!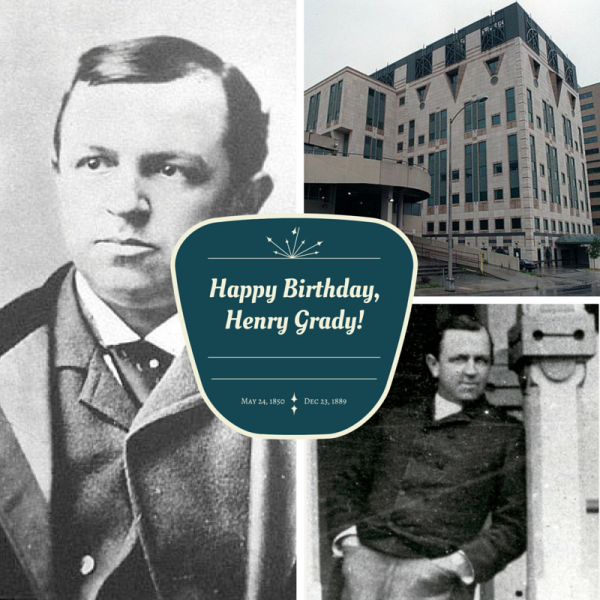 On this day in 1850, Henry W. Grady was born in Athens, Georgia. Grady was the managing editor of the Atlanta Constitution in the 1880s and a proponent of the New South. He published an article titled "The New South" in the Atlanta Daily Herald on March 14, 1874. Grady's New South advocated unity between the South and North and promoted the advancement of industry in Atlanta. Grady's campaigning worked and partnerships with the North increased investment in Atlanta industry. One example is the cotton expositions Atlanta hosted in 1881, 1887, and 1895. These events brought in millions of investment dollars to Atlanta. Grady also lobbied to establish the Georgia Institute of Technology in Atlanta after proclaiming the superiority of Atlanta over other smaller cities in Georgia. As you can imagine, these claims did not make the other cities happy. While Grady's New South was not universally accepted, Grady attempted to attach northern interests to Atlanta until his abrupt death from pneumonia on December 23, 1889.
We are still reminded of Henry Grady in our everyday lives. The Georgia county of Grady was named after him in 1905, as is Grady Memorial Hospital in Atlanta which opened on June 1, 1892.
Read the original article "The New South" in the Atlanta Daily Herald in the Atlanta Historic Newspapers Archive from the Digital Library of Georgia.
Images are from the New Georgia Encyclopedia.
Posted May 21, 2015
OCLC Databases: New Platform is Live
For institutions that subscribe to the OCLC FirstSearch base package (academic and public libraries), the FirstSearch databases have now been migrated to the new, mobile-friendly platform. Now that OCLC allows databases to be searched at the same time, we have added a link for OCLC Databases, which will search all of the OCLC resources.
Here are the Express Links:

OCLC Databases
http://www.galileo.usg.edu/express?link=zods
Please note that this defaults to a search of all of the former FirstSearch databases listed below as well as CAMIO and ArchiveGrid. In Advanced Search, users can choose which databases to search.
ArchiveGrid and CAMIO will continue to utilize their unique interfaces:
ClasePeriodica
OCLC has told us that ClasePeriodica is not available on the new OCLC platform and will be discontinued in December. For now, it will continue to utilize the old FirstSearch platform until it is removed your GALILEO menus in December 2014.
http://www.galileo.usg.edu/express?link=zocp

Holdings for Institutions with Cataloging Subscription
OCLC has changed how authentication is handled. Institutions now have an institution-specific URL that allows users to search your OCLC resources all at once. For institutions with a cataloging subscription, your holdings will be listed first in search results.

If you have any questions or need to report a problem, please use the GALILEO Contact Us form (http://www.galileo.usg.edu/contact) or contact the ITS Help Desk at helpdesk@usg.edu or 1-888-875-3697.
Posted May 19, 2015
Atlanta University Center Robert W. Woodruff Library now included in the GKR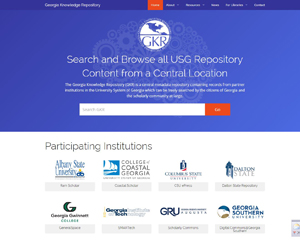 We are pleased to announce that the records from the institutional repository of Atlanta University Center Robert W. Woodruff Library are now included in the Georgia Knowledge Repository (GKR).
Search the Georgia Knowledge Repository here: http://www.gaknowledge.org/
Posted May 12, 2015
Graduates, Take GALILEO with You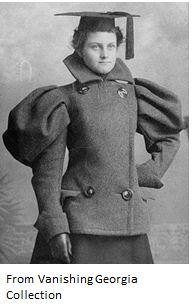 Congratulations to all 2015 graduates of Georgia's schools and colleges!
You may be leaving your school behind, but you can still access GALILEO through your Georgia public library. Just contact your local public library for the GALILEO password or information on accessing your public library's online resources.
Public libraries in Georgia offer a premier set of job and career resources. Chief among these is LearningExpress Library, which offers practice tests, tutorials, and eBooks related to job search and workplace skills improvement, career certification and licensing exam preparation, college entrance and graduate school admissions exam preparation, GED exam preparation, and more.
Job and Career Accelerator helps you create professional and effective resumes and cover letters, master interviewing techniques, improve your work skills, and prepare for occupation-related exams. It will also help you explore occupations and find your occupation match and generate ideas about possible career paths to take.
Some of the databases will be different, but you still have access to reliable, authoritative resources using the GALILEO Discover search featured on the GALILEO website.
Stay Connected! Twitter | Facebook | News Feed
Contact GALILEO with questions or suggestions.