GALILEO Planet News
Posted July 2, 2014
50th Anniversary of The Civil Rights Act of 1964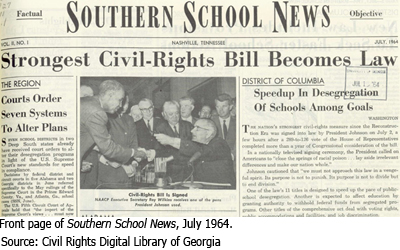 July 2, 2014, marks the 50th anniversary of Civil Rights Act of 1964 becoming law after a 289-to-125 vote by the House of Representatives. The Civil Rights Act of 1964 outlawed discrimination based on race, color, religion, sex, or national origin. It also provided equal voting rights by lifting prior requirements and procedures and prohibited segregation in places of public accommodation involved interstate commerce.
The image to the right was the front page of Volume 11, Issue 1, of the Southern School News published in July 1964. The Digital Library of Georgia recently added the Southern School News Archive to the Civil Rights Digital Library of Georgia; it will soon be included in the Digital Public Library of America. The Southern School News Archive provides online access to the complete run of the newspaper from 1954 until 1965. You can view the entire July 1964 issue here.
You can read the entire South School News Archive announcement on the Digital Library of Georgia Blog.
Some links may not work off site. Log in to GALILEO first for access.
Posted June 18, 2014
This Day in Georgia History: June 18, 1927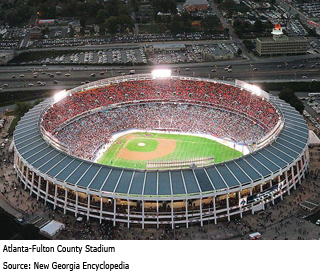 On this day in 1927, one of the pioneers of modern architecture in post-war Georgia, George Heery, was born in Athens, Georgia. If you have ever been to downtown Atlanta, you no doubt have seen Heery's work. Heery would design, build and collaborate on some of Atlanta's most notable buildings: Atlanta-Fulton County Stadium, the Georgia Dome, the Georgia Aquarium, the Five Points MARTA station, Atlanta History Museum at the Atlanta History Center and the Coca-Cola U.S.A. Building.
Find more interesting facts about Georgia by visiting the New Georgia Encyclopedia.

Some links may not work off site. Log in to GALILEO first for access.
Posted June 16, 2014
FY2015 Changes
We are pleased to announce the following changes for FY15 (July 2014-June 2015) in GALILEO.
All GALILEO Institutions
Adding: NoveList Plus and NoveList K-8 Plus (NoveList with nonfiction recommendations)
Georgia Public Libraries
Adding: NoveList Select (book recommendations in the library catalog)
Please contact PINES staff for information.
Technical College System of Georgia
Adding: LexisNexis Academic
Canceling: Campus Research (WestLaw)
Institution Changes:
- Coastal Pines Technical College is a consolidation of Altamaha Technical College and Okefenokee Technical College
- We welcome Swift School, Roswell as a new private K-12 GALILEO participant through Georgia Independent School Association (GISA)
- Herzing College (GPALS) and Brandon Hall School, Christian Heritage School, Furtah Preparatory School, and Westminster Christian Academy (private K-12 schools) will no longer participate in GALILEO
- Kennesaw State University and Southern Polytechnic State University consolidation effective January 1, 2015
We are working with vendors to make changes in a timely manner, but some changes may take place before others.
Thank you for your support over the past year, and we look forward to serving you in this next year.
Posted June 13, 2014
Get Outdoors!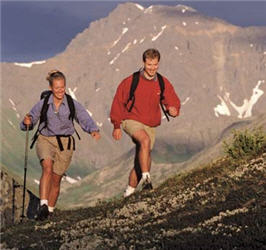 This Saturday is National Get Outdoors Day, an annual event to encourage healthy, active outdoor fun. GALILEO includes quite a few magazines with ideas, tips, and other information to help you and your family make the most of enjoying the great outdoors.
MasterFILE Elite includes many magazines with articles on your favorite outdoor activities, such as:
You can set up a journal alert if you want to be notified when a new issue of the magazine has been added to the database.
You can also search MasterFILE Elite or other GALILEO resources for your favorite activities. Find ways to enjoy the water with articles on boating, canoeing, or fishing. Think about different ways to spend some time in the woods by hiking, camping, hunting, or birding. If you're interested in navigation, geocaching or orienteering may be fun activities to try. Finally, for a broad range of tips and ideas, just search for outdoor recreation. Don't forget to also find some great picnic and outdoor cooking recipes and tips so you can continue to enjoy the outdoors even while you eat.
Some links may not work off site. Log in to GALILEO first for access.
Image from Encyclopædia Britannica
Posted June 13, 2014
EBSCO Content Changes
EBSCO is discontinuing three databases that were part of the GALILEO EBSCO package due to low usage and coverage in other databases.
Insurance Periodicals Index has already been discontinued and has been removed from GALILEO menus. Please check Business Source Complete for comparable content. If you have links to this resource on your library site, they no longer work.
The following databases will be discontinued on June 30:
* Internet and Personal Computing Abstracts – See Computer Source, Information Science and Technology Abstracts, and/or Academic Search Complete for comparable content.
* World History Collection – This was a subset of Academic Search Complete; check Academic Search Complete for titles from this collection.

Please note that links to these resources will no longer work after June 30.
To replace the discontinued content, EBSCO will substitute unique topical content.
* Child Development and Adolescent Studies
* Peace Research Abstracts
* Race Relations Abstracts

GALILEO staff is working with EBSCO to make these available and will announce when this content is accessible in GALILEO.
If you have any questions or need more information, please use the GALILEO Contact Us feature or contact the ITS Helpdesk at helpdesk@usg.edu.