GALILEO Planet News
Posted October 21, 2013
Open Access Week

Open Access Week, organized by The Scholarly Publishing and Academic Resources Coalition (SPARC), is an opportunity for the academic and research community to continue to learn about the potential benefits of Open Access, to share what they have learned with colleagues, and to help inspire wider participation in helping to make Open Access a new norm in scholarship and research.
The Georgia Knowledge Repository (GKR) offers scholarly resources from institutions in the University System of Georgia. Part of its mission is to advance the state of scholarly communication in the United States by exploring open access for university press content.
As part of the celebration for Open Access Week, please join the USG Faculty Development Monthly Series webinar, entitled "Scholarly Open Access Publishing and the Peril of Predatory Publishers" with Jeffrey Beall from the University of Colorado Denver on Tuesday, October 22 from 12:00pm - 1:30pm. Register at the USG Faculty Development Month Series site.
To find articles about the open access publishing, go to Discover GALILEO and search for "open access" or "open access publishing."
Posted October 16, 2013
Celebrating Medical Librarians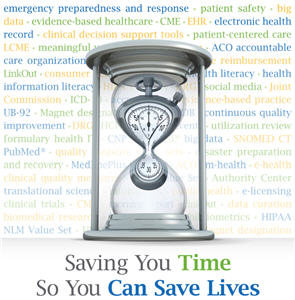 October is National Medical Librarians Month (NMLM). This year's NMLM theme is "Saving You Time So You Can Save Lives" to highlight how medical librarians' knowledge of resources, search skills, and response time ensures that medical professionals receive the highest quality health information available.
Medical librarians are trained to assist health care professionals in finding the right information. Talk to your medical librarian to see what services they offer.
We would also like to recognize the medical libraries that participate in GALILEO:
Emory University School of Medicine
Georgia Regents University Medical College of Georgia
Mercer University Medical School
Morehouse School of Medicine

Posted October 8, 2013
Celebrate Georgia Archives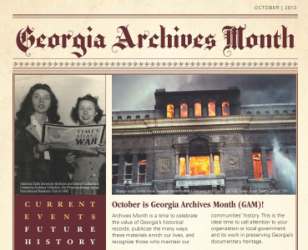 October is Georgia Archives Month, a way to celebrate the value of Georgia's historical records, publicize the many ways historical records enrich our lives, and recognize those who maintain our communities' historical records. You can read more about this celebration and related events in October is Georgia Archives Month from ajc.com.
Check out the Virtual Vault at the Georgia Archives or the Digital Library of Georgia to see images, maps, manuscripts, government records, and more from the people, places, and events that made Georgia what it is today. Check out these tips on how to find images and documents and historical newspapers as well as records from your county in the Digital Library of Georgia.
If you would like to see Georgia historical records in person, you can visit an archives near you to see what treasures they may hold. ArchiveGrid will allow you to expand your search for archival collections to the world.
To find even more historical documents, see the Archives and Primary Sources section of GALILEO Scholar.
Posted October 5, 2013
Government Resources in GALILEO Affected by the Shutdown
This is a summary of the government resources listed in GALILEO that are affected by the shutdown.
Find updates on the government shutdown at usa.gov.
For assistance with research and possible alternative sources of information, please contact your local public library or your college or university library.
Posted October 2, 2013
Georgia Knowledge Repository (GKR) now available through GALILEO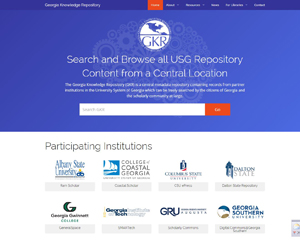 The Georgia Knowledge Repository (GKR), an Initiative of GALILEO, is a rich database of open access digital scholarship from institutions around the state of Georgia. The GKR is now available through GALILEO:
http://www.galileo.usg.edu/express?link=gakr
The GKR brings together research, scholarly and archival content from institutional repositories at the following Georgia colleges and universities:
Albany State University
College of Coastal Georgia
Columbus State University
Georgia Gwinnett College
Georgia Institute of Technology
Georgia Regents University
Georgia Southern University
Georgia State University
Kennesaw State University
University of Georgia
Valdosta State University
Information in the GKR includes scholarly articles, reports and papers, presentations and speeches, theses and dissertations, administrative and archival material, and other selected content representing the scholarly output of these institutions. The GKR is browsable by academic discipline or by institution, and keyword searching (including some full text) is available.
Development of the GKR is supported by a National Leadership Grant from the Institute of Museum and Library Services, led by the Georgia Institute of Technology, the University of Georgia and GALILEO. The GKR program supports the development of institutional repositories at Georgia colleges and universities, through outreach and education, metadata guidelines and practices, and content submission by students of library and archival studies at Valdosta State University and Clayton State University. The GKR program supports open access scholarship and provides programming for Open Access Week (October 21-27, 2013).
Plans are underway to add Dalton State College and other Georgia institutions with repositories to the GKR. If your institution is planning to start a repository and would like to participate in GKR, please click the Contact link from the GKR site.