GALILEO Planet News
Posted May 28, 2014
Vienna Progress added to South Georgia Historic Newspaper Archive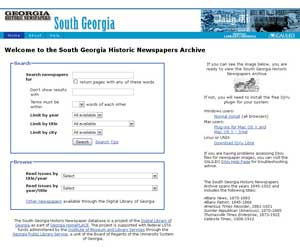 The addition of the Vienna Progress to the South Georgia Historic Newspapers Archive brings the total number of newspapers in this resource to seventeen newspaper titles in ten south Georgia cities from 1845 to 1922. This resources is available at http://www.galileo.usg.edu/express?link=sgan or through the GALILEO website.
This archive is one of several historical newspaper collections in the Digital Library of Georgia. See a full list here: http://dlg.galileo.usg.edu/MediaTypes/Newspapers.html
An announcement from the Digital Library of Georgia describing the resource is available below.
——————- ANNOUNCEMENT ——————-
The South Georgia Historic Newspapers Archive now provides access to seventeen newspaper titles published in ten south Georgia cities (Albany, Americus, Bainbridge, Brunswick, Cuthbert, Thomasville, Tifton, Valdosta, Vienna, and Waycross) from 1845 to 1922. Consisting of over 152,000 newspaper pages, the archive provides historical images that are both full-text searchable and can be browsed by date.
The archive includes the Vienna Progress (1893-1904), in addition to the titles previously available in the archive: Albany Herald (1892-1893, 1900-1901, 1906), Albany News (1867-1892), Albany Patriot (1845-1866), Americus Times Recorder (1881-1921), Bainbridge Democrat (1872-1909), Bainbridge Search Light/Post-Search Light (1901-1922), Brunswick Advertiser/Advertiser and Appeal (1875-1889), Cuthbert Appeal (1866-1886), Sumter Republican (1870-1885), Tifton Gazette (1892-1919), Thomasville Times Enterprise (1873-1922), Valdosta Times (1908-1912), Vienna News (1902-1918), Waycross Headlight (1884-1887), Waycross Herald (1892-1914), and Waycross Journal (1901-1914).
The South Georgia Historic Newspapers Archive is a project of the Digital Library of Georgia as part of the Georgia HomePLACE initiative. The project is supported with federal LSTA funds administered by the Institute of Museum and Library Services through the Georgia Public Library Service, a unit of the Board of Regents of the University System of Georgia. Digitization is also made possible through the generosity of Randy Sullivan.
Other newspaper archives available through the Digital Library of Georgia include the Atlanta Historic Newspapers Archive (1847-1922), the Macon Telegraph Archive (1826-1908), the Athens Historic Newspapers Archive (1827-1928), the Columbus Enquirer Archive (1828-1890), the Milledgeville Historic Newspapers Archive (1808-1920), the Southern Israelite Archive (1929-1986), the Red and Black Archive (1893-2006), and the Mercer Cluster Archive (1920-1970).
——————- END ——————-
If you have any questions or need more information, please use the GALILEO Contact Us form or contact the ITS Help Desk at helpdesk@usg.edu or 1-888-875-3697.
Posted May 16, 2014
NoveList Enhancements and Summer Reading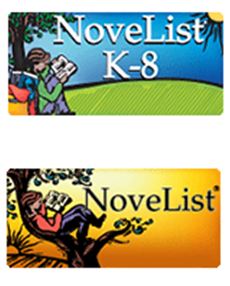 Run a search on summer reading in Discover GALILEO, and you will find articles that support the importance of bridging the summer reading gap to keep students engaged and even to boost comprehension. NoveList and NoveList K-8 are the perfect resources for finding books based on Lexile and grade levels, reading interests, and reliable reviews.
NoveList and NoveList K-8 users will find a few changes to the interface, including an updated design, as well as all-new autocomplete search functionality. The "Readers Advisory Toolbox" appears front and center with tools for learning about genres, finding read-alikes, spotlight articles, and more. Contributors to the articles and reading lists include librarians and other book experts who help users keep up with new titles and rediscover older titles.
The current spotlight is on award winners, a reminder that NoveList is the go-to place for a comprehensive list of international, national, and regional awards for adults, teens, and children. Awards lists are useful in finding ideas for collection development, book displays, summer reading lists, and book discussions.
NoveList offers several newsletters to help educators, librarians, parents, and all readers keep up with the database features and reading recommendations. Subscribe to a newsletter or check out previous issues.
Featured NoveList videos:
Finding Books Using Appeal Looking for a book that's bleak and haunting with a lush, lyrical prose style? Using appeal terms in NoveList makes it easy to find just what you're looking for.
Five Ways Power Users Search Novelist One way includes searching by plot. Just enter a plot description into the search box to discover a long-lost favorite or a match for an interesting topic.
GALILEO News Feed
Subscribe to GALILEO News
Subscribe to GALILEO System Status Announcements
Subscribe to GALILEO listserv
Contact GALILEO with questions or suggestions.
Posted May 8, 2014
Job and Career Resources for Graduates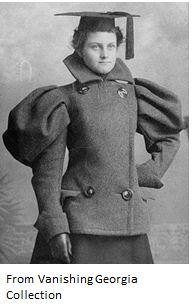 Congratulations to all 2014 graduates of Georgia's schools and colleges!
You may be leaving your school behind, but you can still access GALILEO through your Georgia public library. Just contact your local public library for the GALILEO password or information on accessing your public library's online resources.
Public libraries in Georgia offer a premier set of job and career resources. Chief among these is LearningExpress Library, which offers practice tests, tutorials, and eBooks related to job search and workplace skills improvement, career certification and licensing exam preparation, college entrance and graduate school admissions exam preparation, GED exam preparation, and more.
Job and Career Accelerator helps you create professional and effective resumes and cover letters, master interviewing techniques, improve your work skills, and prepare for occupation-related exams. It will also help you explore occupations and find your occupation match and generate ideas about possible career paths to take.
Georgia Career Information System can help you explore occupations, identify occupations based on your skills, locate schools with your program of study, find job opportunities, create resumes and cover letters, prepare for job interviews and more. You will need to log in to GALILEO through PINES or with a public library password, and then you will need to get the GCIS username and password for your library to access the database.
Find these resources and more in the Browse by Subject > Careers section of GALILEO and see this handout for a list of resources.
Some links may not work off site. Log in to GALILEO first for access.
GALILEO News Feed
Subscribe to GALILEO News
Subscribe to GALILEO System Status Announcements
Subscribe to GALILEO listserv
Contact GALILEO with questions or suggestions.
Posted April 24, 2014
This Day in Georgia History: April 24, 1979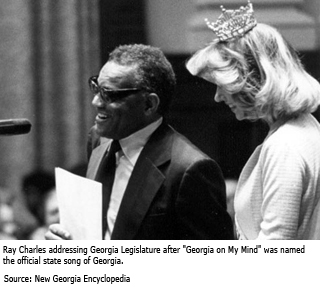 On this day in 1979, the song "Georgia on My Mind" by Albany-born Ray Charles became the official state song of Georgia. Did you know that the well-known Ray Charles' version of the song is actually a cover? Ray Charles recorded it in 1960 for his album The Genius Hits the Road; however, the music was originally composed by Hoagy Carmichael with lyrics by Staurt Gorrell in 1930. While the most popular version of the song is by Ray Charles, Willie Nelson also covered it in 1978 for his album Stardust.

Ray Charles was also the first performer inducted into the Georgia Music Hall of Fame in 1979.

Find more interesting facts about Georgia by visiting the New Georgia Encyclopedia.

Some links may not work off site. Log in to GALILEO first for access.
Posted April 18, 2014
Lives Changed and Your Community Changed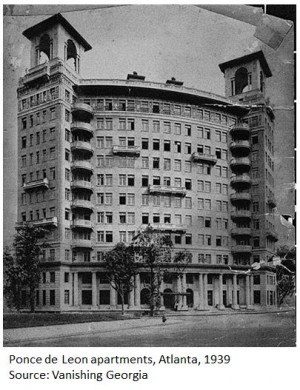 Looking at resources that show your community through the years is fun, but a study of local history also broadens an understanding of the people, the culture, and the issues you encounter every day. For exploring Georgia communities, GALILEO and the Digital Library of Georgia provide a wealth of resources.
The Sanborn Fire Insurance Maps for Georgia Towns and Cities, 1884-1922 are a good starting place for looking at how communities have changed. The highly-detailed, color-coded maps document the changing faces of Georgia cities by depicting, not only the community, but also each building, block, and neighborhood. The maps detail building construction, sizes, and usage, as well as city services such as water and fire services. Each town included in the collection has multiple maps from as early as 1884 to 1922.
GeorgiaInfo includes maps through the ages, as well as other historical information for each county and city. County pages include historical populations for each decade that the county existed. You can also find a list of historical markers by county that show the location, image, and text from the marker.
The New Georgia Encyclopedia is an authoritative resource on Georgia's rich history, diverse culture, and still-unfolding story. To find the article about your county or city, click the Counties, Cities & Neighborhoods link. In addition to pages on specific counties and cities, try the General County & City Topics for articles on the county unit system, Georgia's Historic Capitals, and more.
The Digital Library of Georgia is a gateway to Georgia's history and culture, including books, photographs, newspapers, maps, and more. You can start by searching for your county or city, or you can try Browse by County to see collections in the Digital Library of Georgia that include items from your county.
There are a couple of ways to find local history information in HeritageQuest Online. See an earlier post for finding information on how county lines changed over time. You can also find local history books by choosing the Search Books section and searching for your city or county in the Places section.
To limit your search to Georgia information in Ancestry Library Edition, click the Show Advanced button then scroll down to Explore by Location to see collections from Georgia. Ancestry Library Edition is only available on-site in public and academic libraries.
Some links may not work off site. Log in to GALILEO first for access.