GALILEO Planet News
Posted March 7, 2016
Celebrate Open Education Week with Affordable Learning Georgia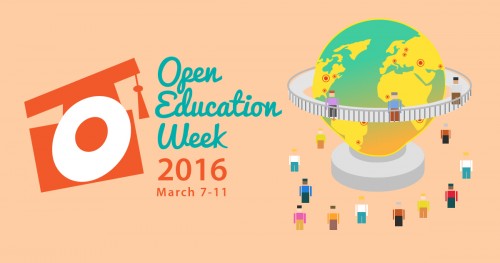 Open Education Week, a celebration to raise awareness of free and open resources for education, is March 7-11, 2016. Affordable Learning Georgia, a University System of Georgia initiative, is celebrating this event by releasing new exciting content in a daily newsletter during Open Education Week. If you are new to the newsletter, please remember to subscribe in order to get these daily updates.
As part of Open Education Week, Affordable Learning Georgia will be hosting the 2nd annual Celebrate Open USG online event, featuring faculty, administrators, librarians, and designers supporting open education efforts throughout the University System of Georgia. The Textbook Transformation Awards will also be announced at the event.
Many events are taking place during Open Education Week across the globe. These events are listed in the Open Education Week Schedule of Online Events.
Image from: http://openeducationweek.org/
Posted March 2, 2016
March is National Reading Month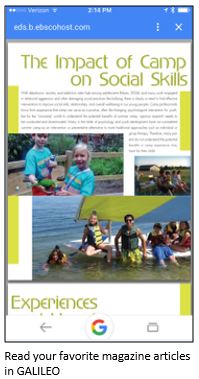 March is Reading Month, and GALILEO counts. Read magazines and journals, ebooks, and lots of other great content, or look for your next fiction or nonfiction book to read in NoveList Plus. If you work in a library or media center, use readers' advisory tools in NoveList Plus and NoveList K-8 Plus to help match readers to books. These include Lexile ranges, Accelerated Reader assignments, mood- and subject-matching tools, and lots of tips.
Journals and magazines cover a wide range of content, from camping and bicycling to psychology to science and history for leisure reading. GALILEO databases include titles for children, teens, adults, and everyone in-between.
Remember GALILEO is now device-responsive, making it easy to read articles on tablets and smartphones. Just go to GALILEO and you will be presented with the best interface for your device or computer.
Each community subscribes to at least some ebook that can be read on a reader or device. All GALILEO users have access to the academic collection in ebrary. Higher ed institutions subscribe to ebooks on EBSCOhost. K-12 users have access to a small collection of nonfiction books in SIRS Discoverer. Visit our FAQ on ebooks for more information on devices and reading apps.
Posted February 23, 2016
Government Documents for Research: U.S. Documents Webinar and Georgia Documents Resources
A free ACRL webinar on "Enhancing Research Through Government Documents" is designed to help researchers and librarians to understand and find government documents to aid in research on most topics. The webinar will focus mostly on federal government documents, but don't forget Georgia researchers have a vast storehouse of state government documents in the Georgia Government Publications database. The GGP includes 70,000 documents produced by Georgia state agencies, including annual reports, books and pamphlets, newsletters, transcripts, and Journals of both the House and Senate through 2010.
ACRL Webinar: Enhancing Research Through Government Documents
March 10, 2:00-3:00 PM
Historic and current U.S. government documents offer researchers an opportunity to gain insight into the laws and regulations that impact individuals across all sectors of society. This webinar provides examples of specific government documents that can be used in various research areas including Native American studies, financial regulation, African American studies, environmental protection, and Women's studies, with a focus on how understanding the past informs our understanding of the present.
Register
Posted February 11, 2016
New SAT and ACT Content in LearningExpress Library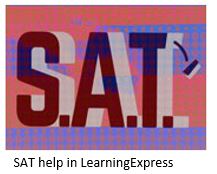 The new SAT test will be administered next month, and LearningExpress Library can help students prepare with 16 new practice tests and 5 test preparation tutorials. An "Introduction to the 2016 SAT" tutorial will be added soon. New ACT and AP practice tests have also been added. Visit the College Preparation Center in LearningExpress to get ready for these tests.
LearningExpress Library includes test prep and practice tools for the GED, college exams (e.g., MCAT, GRE, MAT.), occupation exams (e.g., dental assistant, CDL, pharmacy tech), and K-12 exams. It also includes online courses in computer skills and applications, including Adobe Illustrator, PhotoShop, and Microsoft Office products.
Job and Career Accelerator, one of LEL's centers, includes career exploration, a resume builder, job search tools, and other features to help with the job search and career advancement. Users can create an account to store and manage test preparation, online courses, resumes, and job applications in one place, accessible from any computer or mobile device.
LearningExpress is available in Georgia's public libraries and technical colleges through GALILEO.
Posted February 5, 2016
Happy Birthday, Hank Aaron!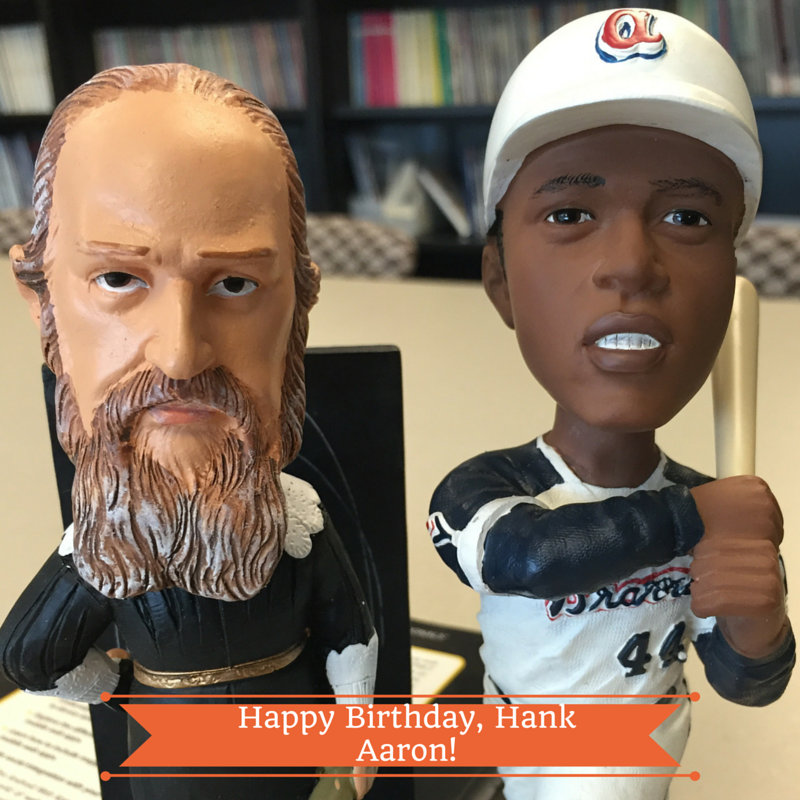 "Hammerin' Hank" Aaron is considered one of the greatest baseball players of all-time. Aaron of was born on this day in 1934 in Mobile, Alabama to Estalla and Herbert Aaron. He decided to become a baseball player after seeing Jackie Robinson give a speech during a spring training game he attended in Mobile with his father. Since his high school did not have a baseball team, he decided to play softball. He was offered a contract his junior year for the Negro American League's Indianapolis Clowns. It wasn't long before major league scouts noticed him and the Boston Braves bought out contract midway through his first season with the Clowns. After the Atlanta Braves' starting left fielder, Bobby Thomson, injured his ankle, Aaron was called to fill his spot in the lineup where he hit a home run in his first at-bat. This was the first of many homeruns during his 21-season career with the Atlanta Braves. He set many records during his career including breaking Babe Ruth's home run record by hitting his 715th on April 8, 1974, at Atlanta–Fulton County Stadium. He ended his career with 755 home runs. This record stood until 2007.
Some links may not work off site. Log in to GALILEO first for access.