GALILEO Planet News
Posted April 11, 2015
National Library Week 2015: Unlimited Possibilities at GALILEO

National Library Week 2015 has an appropriate theme for Georgia's libraries and GALILEO, who work together to provide "Unlimited Possibilities" to students and Georgia citizens. The partnership has been going on since September 1995 when a group of librarians envisioned "One Statewide Library" with core resources and services available to students in Georgia's schools and academic institutions and to all Georgians through the public libraries. A 1997 video archived in the GALILEO Scrapbook demonstrates that spirit of possibility. Fashions in clothing and computers, the look and functionality of interfaces, and the size of the content has changed, but GALILEO remains a reliable, authoritative source for research at all levels. The possibilities are still as unlimited as they were at the start.
Watch the video Raising Awareness of GALILEO in 1997
Happy National Library Week and enjoy unlimited possibilities @ GALILEO!
Stay Connected! Twitter | Facebook | News Feed
Posted April 8, 2015
Celebrate National Poetry Month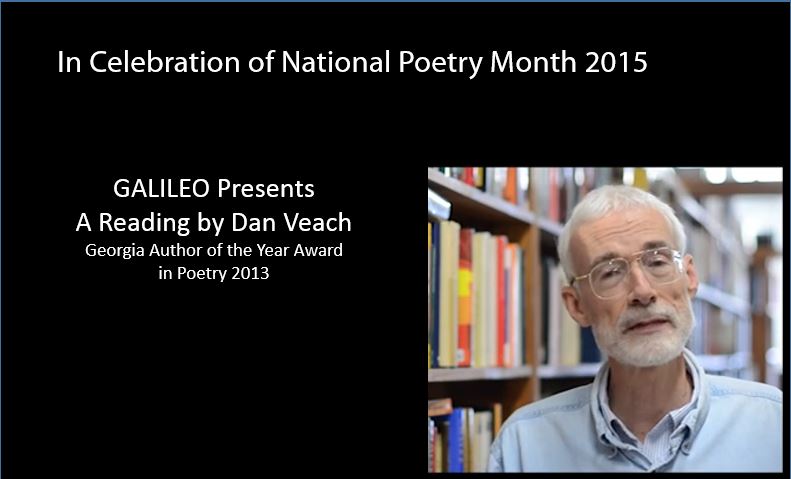 "Georgia libraries offers the best of all worlds, the books we love and the online information we need. We in Georgia can be especially glad of GALILEO…" says Dan Veach, winner of the Georgia Author of the Year Award for Poetry for 2013. In celebration of National Poetry Month, GALILEO presents a reading of Dan's poem "Age of Information" from Elephant Water read by the author. Click on the link to the video below and feel free to share it.
We hope Dan's reading is an inspiration to the poet in everyone to write, read, share, and showcase poetry in April and all year long. In libraries and GALILEO, Georgia citizens and students will find poems, resources for explication and criticism, and educational information to help teachers instill a love of poetry to their classes.
"Age of Information" video
Tips for Librarians from Academy of American Poets
Tips for Teachers from Academy of American Poets
Stay Connected! Twitter Facebook News Feed
Posted April 6, 2015
This Day in Georgia History: April 6, 1935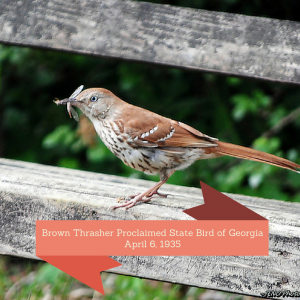 On this day in 1935, Governor Eugene Talmadge proclaimed the Brown Thrasher as the official state bird of Georgia. Thirty five years later, in 1969, the question was raised if the governor could legally designate state symbols. Later that year, on April 11, an official opinion was made by Georgia's attorney general that designating state symbols was exclusively a legislative function. The following year, on March 20, 1970, the Brown Thrasher was designated the official state bird of Georgia after a joint resolution was signed between Governor Lester Maddox and the Georgia General Assembly.
Source image is by Jeff Bloodworth.
Posted April 3, 2015
Ace Your Golf Game with GALILEO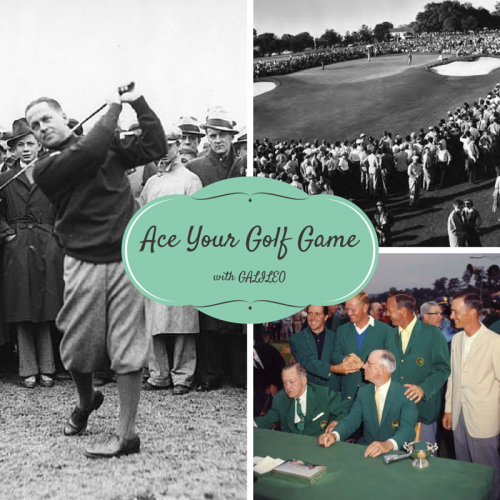 In celebration of the Masters Tournament in Augusta next week, let's take a look at what GALILEO offers for golf enthusiasts in Georgia.
Use the Discover GALILEO search box to search for golf* to find articles about all aspects of golf, or search for golf courses, golf equipment, golf clubs, golf techniques, or another related topic. For a more specific search, try searching for a particular golfer, tournament, or course to see articles, images, and more.
GALILEO also includes several golf magazines, including Golf Digest, Golf Magazine, Golf World, Sports Illustrated, and more. Note that you can receive email alerts when a new issue of a magazine is added to GALILEO by clicking the Alert/Save/Share link in the upper right of the page and then clicking the Email Alert link.
For a look at golf in Georgia, the New Georgia Encyclopedia has several interesting articles about the Masters Tournament and several golfers, including Bobby Jones, Tommy Aaron, Louise Suggs, and more. The Digital Library of Georgia includes many wonderful historical images of golfers and golf courses in the Vanishing Georgia and Picturing Augusta collections.
Images from the Vanishing Georgia collection in the Digital Library of Georgia
Some links may not work off site. Log in to GALILEO first for access.
Posted March 30, 2015
Mercer University now included in the Georgia Knowledge Repository
We are pleased to announce that the records from URSA, the Mercer University Libraries Institutional Repository, are now included in the Georgia Knowledge Repository.
Also, the Georgia Knowledge Repository records can be added to any institution's Discover GALILEO search results to give academic users access to more scholarly research from our state. If your institution is interested in adding this to your discovery search, please use the GALILEO Contact Us form to put in a request.
If you have any questions or need more information, please use the GALILEO Contact Us feature or contact the ITS Helpdesk at helpdesk@usg.edu or 1-888-875-3697.