News and Announcements | Digital Library of Georgia
New Online Exhibit Explores Hidden and Untold Georgia Stories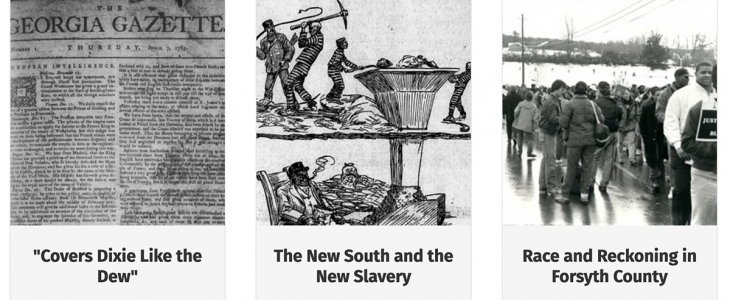 The Digital Library of Georgia and the New Georgia Encyclopedia are collaborating on a new, online exhibit site that amplifies often untold and hidden Georgia history.
Georgia Exhibits uses materials drawn from 25 Georgia libraries, archival institutions, and museums, whose collections are available through the DLG. With these resources, curators examined the history of race relations in Forsyth County, Georgia's use of convict labor, and newspaper journalism in the state.
"Georgia Exhibits promises to shed new light on understudied corners of the state's history," said Edward Hatfield, managing editor of the New Georgia Encyclopedia. "What's more, it showcases the remarkable depth of collections offered through the Digital Library of Georgia."
The first three exhibits are:
DLG and NGE staff and graduate student interns spent over a year and hundreds of hours curating the exhibitions to explore Georgia's history and to showcase valuable content available from partners. New exhibits are planned for twice yearly.
"I hope it will help everyone understand just how important newspapers have been to the history of Georgia," said Donald Summerlin, an archivist with Digital Library of Georgia, who worked on the newspaper journalism project.
"They are not only a source of news for the people who read them, but they have also helped shape our view of the world around us and have represented an aspirational view of what Georgia might become."
Visit the online exhibit at https://georgia-exhibits.galileo.usg.edu/. Read about the experience of the student curators: Sidonia Serafini (UGA) and Davis Winkie (UWG).