News and Announcements
Bento Boxes are Coming to GALILEO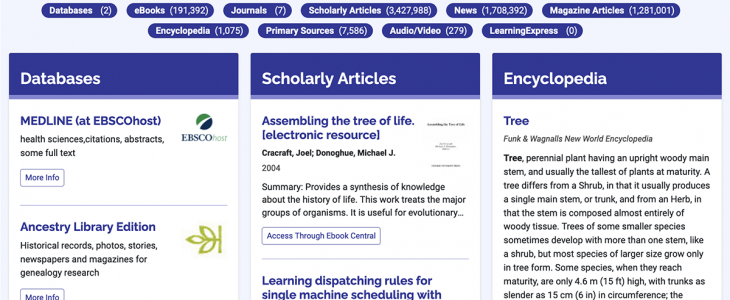 In July, GALILEO will launch the second phase of an ongoing redesign project for GALILEO Search. The official go-live date is July 19, but you may see it a few days earlier.
This second launch primarily focuses on introducing a new way to sort results. Beginning Monday, users will be able to sort results into boxed categories, such as magazine articles, databases, and primary sources.
(Sign up for training on the redesign.)
This technique is commonly referred to as the bento box method, due to its resemblance to the popular Japanese lunch box that divides food into perfectly portioned compartments. On library websites, the bento box method is intended to make finding information easier, quicker and more intuitive.
GALILEO developers have been refining these changes for a year, and the bento box search is expected to become the default in December. For now, users will be able to toggle this on and off.
Other changes you may notice include:
A distinct change to the GALILEO Search header that welcomes users—a step toward more personalization
A new tour feature that takes users through changes and other useful page features
Links to "all databases," "all journals," and "in the spotlight" in the header for faster access
A new search box for libraries that want to embed the bento search onto their site
Updated and simplified descriptions for popular databases so they're easier for everyone to understand
We look forward to your feedback on the new changes.