Events | News and Announcements
Register Now for the 2022 GALILEO Annual Conference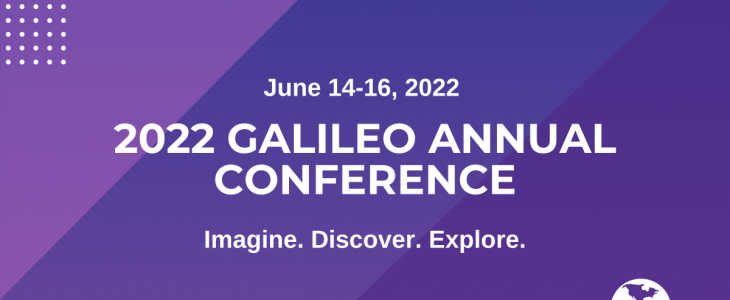 Registration is now open for the GALILEO Annual Conference, which takes place virtually June 14-16. Registration is free.
This year's theme is "Imagine. Discover. Explore." We are focusing on the importance of primary sources in preserving history and lifelong learning, a key part of the GALILEO mission.
The keynote speakers will be Danna Bell, of the Library of Congress, and Robin Katz, of the University of California - Riverside. Bell will give the opening keynote address, and Katz will give the closing keynote address.
The conference brings together the Georgia library community to share best practices and ideas in the use of GALILEO. This year, GALILEO also will be honoring one advocate with the GALILEO Ambassador Award during the event.
Submit ambassador award nominations here through May 2.
For conference updates, visit the webpage: https://about.galileo.usg.edu/conference