Events | General
Open Access Week 2021: Highlighting OpenALG and the Georgia Knowledge Repository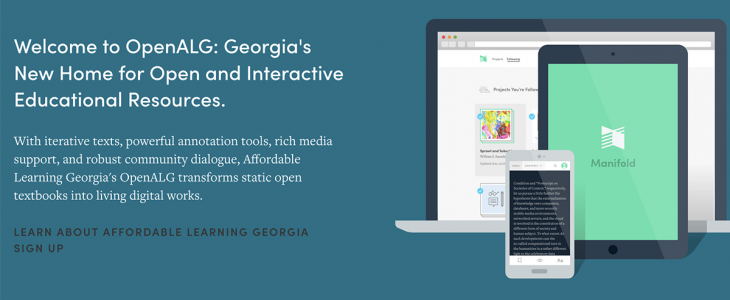 During Open Access Week 2021, we want to highlight two of our resources that are open and free for you to use.
First, the Georgia Knowledge Repository.
Launched in September 2013, the Georgia Knowledge Repository is a digital archive that includes academic and intellectual works of Georgia's colleges and universities. Its purpose is to highlight the scholarship of participating institutions, while also making these works available to Georgia residents.
Several institutions featured include Albany State University, Augusta University, College of Coastal Georgia, Georgia Gwinnett College and Mercer University, among others.
GKR's goal fits with the universal idea of open access materials. The open access movement is centered on barrier free, online access to scholarly literature for the public. Through the GKR website, Georgians have easy access to thousands of free materials.
Read the GKR's latest newsletter.
---
Second, we're highlighting Affordable Learning Georgia's OpenALG platform.
Affordable Learning Georgia started working with Manifold on a pilot project in 2019. ALG was looking for a better way to present static textbooks in an open and accessible way. By January 2020, OpenALG was live, and it is now ALG's home for transforming traditional textbooks into living digital works.
In less than two years, OpenALG has grown to include nearly 200 projects, many created as part of ALG's grants program. Topics include big data, chemistry, geography, art, music and more.
Read the latest ALG newsletter.