DLG Hits 2 Million Digitized Pages and Counting!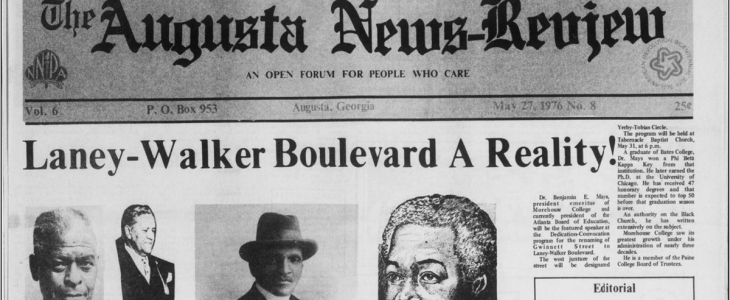 Since 2007, the Digital Library of Georgia has provided access to the state's historic newspapers, with the majority digitized from microfilm produced by the Georgia Newspaper Project (GNP). This June, DLG reached its 2 millionth page digitized—a titled page of the May 27, 1976 issue of the Augusta News-Review.
The newspaper, published by Mallory Millender from 1971 to 1985, identified itself as a "community paper with a predominantly Black readership" that presented the issues of the Central Savannah River Area (CSRA) from a "Black perspective." The digitization of the title was made possible by Georgia Public Library Service.
"The news that the Digital Library of Georgia's Georgia Historic Newspapers has reached its 2 millionth page milestone is great news. This is an amazing free resource that all Georgians should be proud that has been made available for researchers and historians to have access to.
"Having researched in newspapers of other states, I can attest that Georgia is far and ahead of its southern neighbors in this area and we hope that there are another million pages to go."
Annually, DLG digitizes over 400,000 historic newspaper pages with funding from GALILEO, the University of Georgia Libraries, Georgia Public Library Service, the National Endowment for the Humanities, the R. J. Taylor, Jr. Foundation, the Knox Foundation in Thomson, Ga.; and dozens of cultural heritage institutions across the state.
Historic newspaper pages are consistently the most visited of any DLG site.
To learn more about the 2 millionth page and the impact of DLG, visit this Digital Library of Georgia topic page. (This information was taken from a longer DLG press release.)