Community Stories | Digital Library of Georgia
Community Stories: Creating a Funeral Program Collection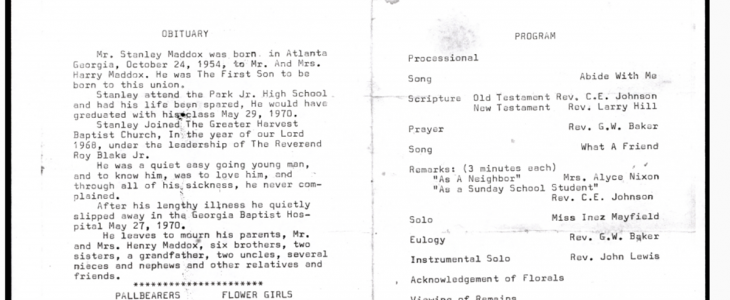 It all began with a one-sided friendly competitive thought: If Augusta could do it, so could Atlanta.
This immediately came to mind after reading an article in Georgia Library Quarterly written in 2009 by Dottie Demarest, then the genealogy and local history librarian at the East Central Georgia Regional System (now the Augusta-Richmond County Public Library), about the Eula M. Ramsey Johnson Memorial Funeral Program Collection.
In the article, Ms. Demarest spoke about how a single donation from Gloria Ramsey Lucas, the niece of Eula Johnson, of nearly 200 programs in 2005 became the beginning of the Library's African American Funeral Program Collection. The collection has since grown to more than 1500 programs dating back to the 1930s.
After reading the article, I was excited that such a collection existed and had been digitized and made available through the Digital Library of Georgia (DLG). I was also inspired, knowing that we, the royal we, could create a similar collection in Atlanta.
It was then that the African American Funeral Program Project, as I call it, was born.
The goals for the project were to collect African American funeral programs and donate them to the Auburn Avenue Research Library on African American Culture and History where they would be preserved, and people would have access to them for many years to come.
The goal for the programs was to have them digitized and added to DLG and in May 2020, that dream became a reality. Now, several thousand funeral programs collected and housed at the Auburn Avenue Research Library are available for everyone to see.
– Tamika Strong, Reference Archivist, Georgia Archives, Wesley Chapel Genealogy and Historical Research Group
(This piece is taken from a longer blog post originally published on Digital Library of Georgia.)