Events
Black History Month: Georgia Archives to Co-Host African-American History and Genealogy Event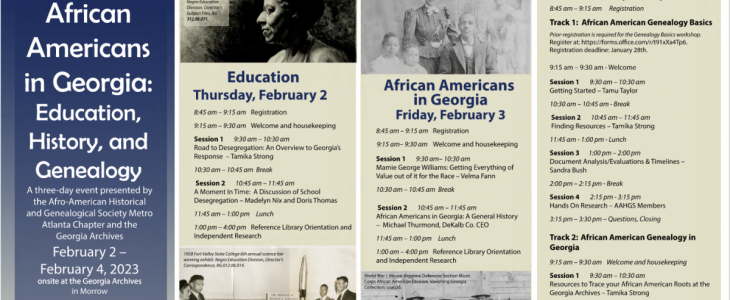 The Georgia Archives and the Afro-American Historical and Genealogical Society (AAHGS) Metro Atlanta Chapter will host a three-day event focusing on the topic of African-Americans in Georgia in education, history, and genealogy.
The event takes place at the Feb. 2 – 4 at the Georgia Archives in Morrow, Ga. Visit the Georgia Archives website for more information.
Feb. 2 will feature speakers discussing African-American education in Georgia, with a focus on desegregation.
Feb. 3 will feature speakers discussing African-American history in Georgia, including a presentations by award-winning author and historian Velma Maia Fann and DeKalb County CEO Michael Thurmond.   Feb. 4 will feature a series of presentations divided into two tracks on African-American genealogy in Georgia.
An accompanying exhibit, "Treasures from the Vaults: African American History in Georgia" will be open for viewing. It closes on March 18.
This event is sponsored in large part by a grant from the Clayton County Tourism Authority.
The Georgia Archives is a unit of the Board of Regents of the University System of Georgia. The Georgia Archives identifies, collects, manages, preserves, provides access to, and publicizes records and information of Georgia and its people, and assists state and local government agencies with their records management.