News and Announcements
Filtering Comes to GALILEO's Bento Boxes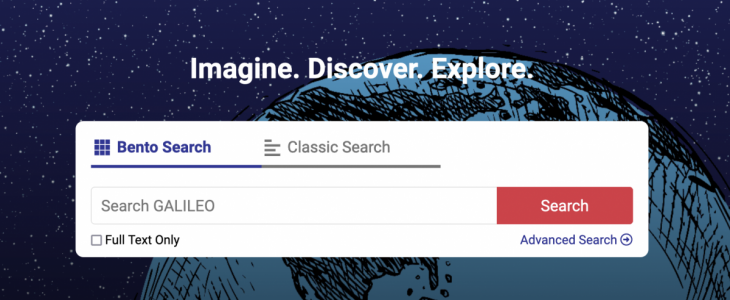 GALILEO users will soon see one of our most powerful GALILEO Search updates yet – the addition of facets and filters to the bento box search. 
Beginning Monday (Dec. 19), users will be able to click a bento box (scholarly articles, magazines, or databases, for example) and unlock sorting capabilities not previously available.
The filters now allow you to limit the year, Lexile range (where available), language, publication and more on the right-hand side of the bento search results.
Previously, users could refine their results in classic GALILEO only.
Other key changes, include:
Tour: Next to the red support button, be sure to click "tour." It will let you know about new changes on the page you are located on.
Bento Boxes: New and standalone bentos for Learning Express, Digital Library of Georgia, Civil Rights Digital Library and Points of View Reference Center.
The Civil Rights Digital Library bento searches for information about key events during the Civil Rights Movement.
The Digital Library of Georgia bento searches digital collections that reflect the full wealth of Georgia's history and culture.
Searching and Sorting:
We have decreased what is visible in abstracts, but also given you the option to expand what you see for all your search results.
Permalinks: Share a persistent link to the bento search results from your current bento, or capture a persistent link to a standalone bento search box for your current bento type.
---
Training Information
Want to know more? Take one of our upcoming training sessions that will review the GALILEO Search enhancements in a 45-minute webinar with our support team.
Dates:
Dec. 21, 10-10:45 a.m.

Jan. 5, 3-3:45 p.m.

Jan. 10, 2-3:45 p.m.
Recordings will be available on our training page and YouTube.