News and Announcements | General
Georgia Knowledge Repository: Fueling Open Access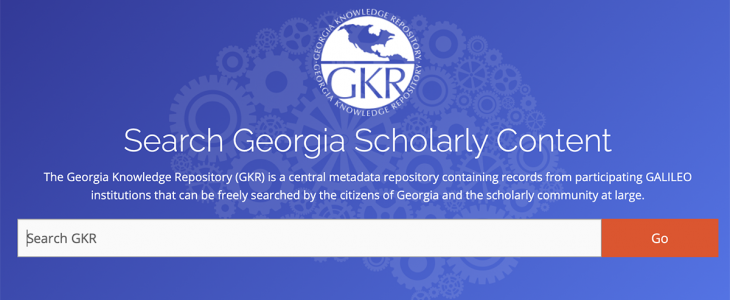 It's Open Access Week, and we're highlighting the Georgia Knowledge Repository.
Launched in September 2013, the Georgia Knowledge Repository is a digital archive that includes academic and intellectual works of Georgia's colleges and universities. Its purpose is to highlight the scholarship of participating institutions (17), while also making these works available to Georgia residents.
Its goal fits with the universal idea of open access materials. The open access movement is centered on barrier free, online access to scholarly literature for the public. Through the GKR website, Georgians have easy access to thousands of free materials.
Learn more about GKR in the first edition of its newsletter released today (Oct. 19). The GKR committee highlights several of open access works from the website, along with weeklong webinars hosted by Kennesaw State University libraries to celebrate Open Access Week Oct. 19-25.
Newsletter: https://about.galileo.usg.edu/docs/website_docs/GKR_Newsletter_October20201.pdf