News and Announcements | K-12 | Public Library | Scholar/Academic | Tips and Training
December GALILEO Update: Bento Search Becomes the Default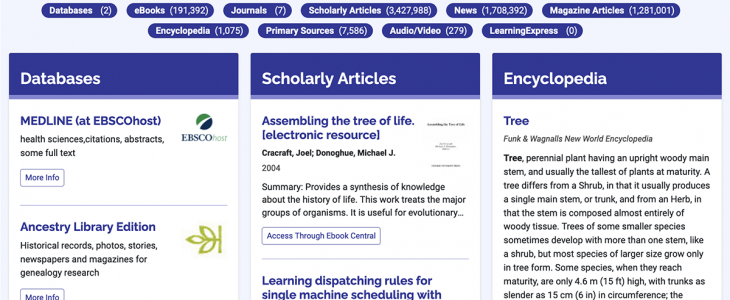 Bento boxes are here to stay!
Beginning Dec. 20, the bento box functionality becomes the default search mode for all GALILEO users. (If you want to return to the classic view, you still can.)
Other features you can expect to see:
Bento customization for libraries at the GALILEO admin level
Improvements and additions to bento box content (We've added New Georgia Encyclopedia, for example.)
Improved relevance ranking when browsing by subject or type
New and improved publication finder
GALILEO support staff will host two upcoming sessions to review updates over the past several months, as well as larger changes coming this December. Register here.
Friday, Dec. 17, 2021, 1:00 PM
Tuesday, Jan. 4, 2021, 3:00 PM
The sessions will be recorded and available on the GALILEO YouTube channel. Other helpful videos on-demand, include:
You may also visit our support page and type in "bento" to see FAQs related to this new feature. Additionally, the GALILEO training LibGuide has links to many presentation slides and training videos.
If you have questions or feedback, please reach out to us using the contact form on the support page.