Events | News and Announcements | General
2022 GALILEO Annual Conference Call for Proposals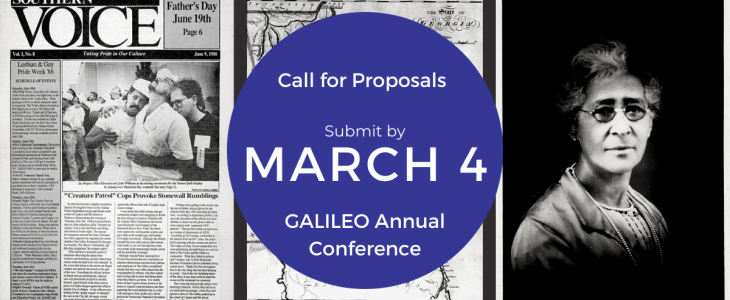 Call for Proposals – Submission period is Feb. 1 to March 4.
This year's theme of the GALILEO Annual Conference is "Imagine. Discover. Explore." There will be a focus on the importance of primary sources in preserving history and lifelong learning, a key part of the GALILEO mission.
So whether you're using the Digital Library of Georgia, Civil Rights Digital Library, or any of other GALILEO resources, we want to hear from you on using GALILEO to inspire learning, research, and a love of history through primary sources.
Additionally, we will accept proposals on any topic related to GALILEO and its resources.
Proposals should center on GALILEO, or any of its programs, partners or e-resources vendors. Conference sessions shall be no longer than 45-50 minutes, with additional time for Q&As. (If you represent a GALILEO vendor resource, please note that your presentations are expected to be pre-recorded for the 2022 conference.)
The conference is being planned by GALILEO, the Digital Library of Georgia and the Georgia Public Library Service.
GAC will be held virtually June 14-16. Look for updates on the conference website.