Posted June 27, 2012
Tips for Genealogy Research in GALILEO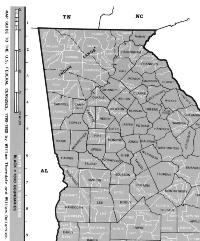 Last week, we listed several resources for researching your family history. Today, we wanted to provide a few tips to help you get more out of these resources.
Historical State Maps

HeritageQuest Online includes historical maps of the states, which are helpful in determining which counties existed (or not) in past years.
To access these maps:
log in to HeritageQuest Online
click on the Census section
click Browse to browse census records
choose a census year
choose a state
click the View State Map link that appears beside the state dropdown
This will open a pop-up window with a map of the state for that year with current county lines as well as the county lines during that year.
Historical Town Maps

The Sanborn Fire Insurance Maps in the Digital Library of Georgia give detailed images of towns over the years and can help you determine where important places were located at some time in the past.
Historical Newspapers

The historical newspapers in the Digital Library of Georgia provide a wealth of information about a town and its history, including the people in it. Historical newspapers include obituaries and reports of social events, a source of rich information about the life of an ancestor. To access the newspapers in the Digital Library of Georgia, you will need the DjVu plugin for your internet browser. If you have any trouble with the plugin, please see our FAQ.
Blank Forms

Ancestry Library Edition includes many blank forms to help your research. This includes blank census forms from the United States, the United Kingdom, and Canada, which can help when you're trying to decipher the text of a census record scan. There are also charts and research forms to help you keep track of all the wonderful information you dig up during your search. To access these, log in to Ancestry Library Edition (only available in the library) and click the Charts and Forms tab at the top.
Comparison Chart

If you're wondering about the difference in HeritageQuest Online and Ancestry Library Edition, the vendor, ProQuest, has created a chart, which you can access here.
Genealogy How-To Videos

HeritageQuest Online now includes a Learning Center with over sixty genealogy training videos and slide presentations for users. Beginner researchers will find videos to help them get started in genealogy research, and intermediate and advanced users will find information on many topics, such as conducting courthouse research, finding military records, using church records for genealogy, searching newspapers, and much more. To access these training videos and presentations, go to HeritageQuest Online and choose any of the sections (e.g., Search Census, Search Books, etc.). Look for the Learning Center link at the top of the screen.
Image from historical state maps in HeritageQuest Online