Posted November 2, 2010
Happy Election Day!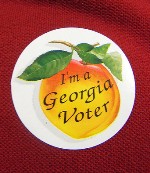 If you are looking for voter information, check out the Elections site from the Georgia Secretary of State, which includes a place to help you find your polling location. Links to voter information can also be found in GeorgiaInfo.
Now, in celebration of the day, let's take a peek at past elections.
The Digital Library of Georgia includes many political cartoons and photographs from past Georgia elections. Georgia Government Publications includes results of past elections, and you can learn more about past elected officials in the Georgia Official and Statistical Register. For a nice overview of the history of elections in the state, see the New Georgia Encyclopedia.
Over the years, quite a few national elections have greatly impacted America. You can read about 10 Elections That Changed America in History Reference Center. For inaugural speeches as well as other speeches and documents surrounding national elections, search for elections in Annals of American History.
Finally, search for elections in History Reference Center or search in World History Collection for articles about past elections in America and around the world, or read about the long history of elections in Encyclopædia Britannica Online.
Image from Ezra Freelove
Article and search links may not work off site. Click the database name first for access.