Posted October 26, 2017
Digital Library Hits 1 Million Newspaper Pages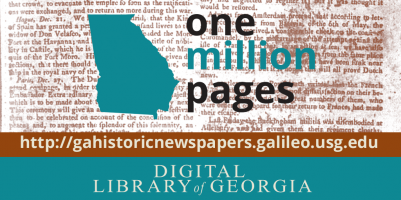 The Digital Library of Georgia (DLG) is celebrating its 1 millionth digitized historic newspaper page. The premier issue of the Georgia Gazette, Georgia's first newspaper, published from 1763-1776 in Savannah, will become the 1 millionth page of historic newspapers to be made freely available online through the Georgia Historic Newspapers (GHN):
James Johnston, the first printer in Georgia, published the state's first newspaper issue on April 7, 1863.
Check out the online press kit for a curriculum guide, PowerPoint template, social media posts, graphics, and more to promote the GHN and this event.
Sheila McAlister, director of the DLG, remarks: "Making Georgia's first newspaper freely available online is the perfect way for us to celebrate this important milestone. Historic newspapers reflect the social and cultural values of the time that they were created and are invaluable to scholars and the general public. With the help of our partners, we will continue add more of this sought-after content."