Posted February 2, 2018
African American Funeral Programs Collection Expanded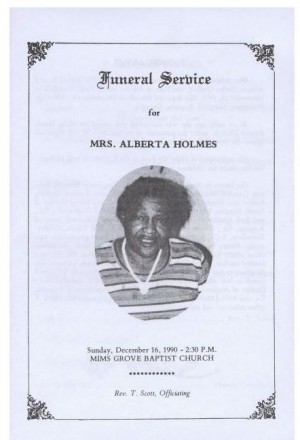 The African American Funeral Programs Collection from the Augusta-Richmond County Public Library System has been expanded by 10,000 digitized pages. Spanning 1933-2017 and consisting of over 3,000 programs, this collection provides both a rich source of genealogical information and local history about the African American community. The Digital Library of Georgia (DLG), Georgia HomePLACE, and the Augusta-Richmond County Library make this collections available freely online through the DLG.
The current project more than doubles the total number of programs originally available in the digital collection. In 2009, HomePLACE and the DLG digitized the approximately 1,000 funeral programs available in the Georgia Heritage Room of the Augusta-Richmond County Public Library System. The bulk of the collection was donated in the early 2000s by local historian Gloria Ramsey Lucas. An avid genealogist and former president of the Augusta Genealogical Society, Ms. Lucas is known for her award-winning work, Slave Records of Edgefield County, a compilation which came about during her own search for enslaved ancestors. The donated funeral programs belonged to her aunt, Eula M. Ramsey Johnson, who had been collecting them for over 30 years and for whom the collection is named.
Read the DLG blog for more information on this collections and on other rich content on the culture and history of Georgia.