Filed Under: K-12
Posted April 3, 2015
Ace Your Golf Game with GALILEO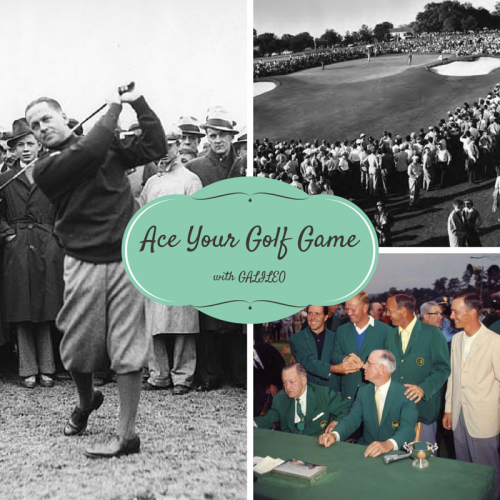 In celebration of the Masters Tournament in Augusta next week, let's take a look at what GALILEO offers for golf enthusiasts in Georgia.
Use the Discover GALILEO search box to search for golf* to find articles about all aspects of golf, or search for golf courses, golf equipment, golf clubs, golf techniques, or another related topic. For a more specific search, try searching for a particular golfer, tournament, or course to see articles, images, and more.
GALILEO also includes several golf magazines, including Golf Digest, Golf Magazine, Golf World, Sports Illustrated, and more. Note that you can receive email alerts when a new issue of a magazine is added to GALILEO by clicking the Alert/Save/Share link in the upper right of the page and then clicking the Email Alert link.
For a look at golf in Georgia, the New Georgia Encyclopedia has several interesting articles about the Masters Tournament and several golfers, including Bobby Jones, Tommy Aaron, Louise Suggs, and more. The Digital Library of Georgia includes many wonderful historical images of golfers and golf courses in the Vanishing Georgia and Picturing Augusta collections.
Images from the Vanishing Georgia collection in the Digital Library of Georgia
Some links may not work off site. Log in to GALILEO first for access.
Posted February 23, 2015
EBSCO Explora - coming this summer
Some of you may have seen announcements from EBSCO about the recent launch of Explora, the new interface that will be replacing Searchasaurus, Kids Search, and Student Research Center.
GALILEO staff will be working with EBSCO to determine our process for migrating to these new interfaces.
Because we know that major interface changes during the semester can be a challenge, we are tentatively planning for the new interface to go live in June of this year.
You can see sample screenshots of the elementary and middle/high interfaces at EBSCO's Explora site.
If you have any questions or need more information, please use the GALILEO Contact Us feature or contact the ITS Helpdesk at helpdesk@usg.edu or 1-888-875-3697.
Posted February 6, 2015
Britannica High School Sports New Interface

The new Britannica School High School home page brings forward some features to aid access to content, but it also provides an engaging browse experience. The search box is prominent at the top, so students who are looking for specific information can easily retrieve desired results. A drop-down list of popular searches and recommended articles appear as the search term is entered. The carousel just below the search box provides access to interesting content with nice graphics. Here are some of the browse features that make the site fun and interactive.
Features
Behind the News links to articles that give background to various current events and topics
On This Day links to articles, images, and other content on historical events, from Hank Aaron's 715th home run to the ratification of the Fifteenth Amendment
In Their Words showcases quotes from historical figures, authors and poets, athletes, philosophers, inventors, artists, and others
Explore Biographies guides users to find biographies by era, cultural association, category, and gender
Recommended U.S. Primary Sources links to letters, speeches, documents, and other content, much of which is specified in K-12 standards
The Britannica School collection of resources is subscribed by private and public K-12 schools in GALILEO.
Posted January 19, 2015
Happy Martin Luther King, Jr., Day!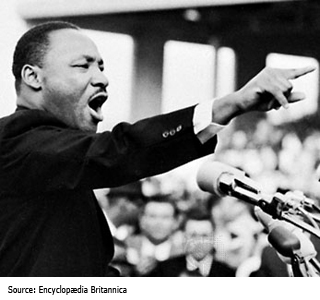 Celebrate Martin Luther King, Jr., Day by exploring some of the resources available through GALILEO. Just search GALILEO for Martin Luther King, Jr. to see articles, images, videos, and more, including items from the Civil Rights Digital Library (CRDL). Below is a list of some of the collections available through the CRDL:
Also, be sure to check out the full text of the "I Have a Dream" speech.
Some links may not work off site. Log in to GALILEO first for access.
Posted January 15, 2015
How is Legislation Made in Georgia?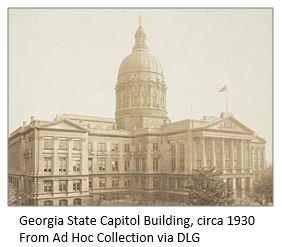 The Georgia General Assembly in session, meaning it's time to turn to GALILEO for resources to illustrate the process of bills going through the Georgia House of Representatives or the Georgia State Senate to become law.
How a Bill is Passed in the Georgia Legislature is an infographic from the Carl Vinson Institute available in GeorgiaInfo. This PDF is perfect for online viewing or making hard copies for the classroom.
Legislative Process: Overview from the New Georgia Encyclopedia includes more detailed information. Click on "Topics" at the top, then Government and Politics for more entries on Georgia government, political figures, and history.
See also the Georgia General Assembly's outline on tracking a bill through the General Assembly.
For more resources, see the Georgia Laws and Legislation section in
GALILEO Scholar
or
GALILEO Library
or the
State Government section in GALILEO High School
.