Filed Under: General
Posted July 8, 2020
GALILEO to Launch Website Redesign July 21

On July 21, GALILEO will launch the first phase of a massive redesign project for its research portal.
This first phase will change the way the GALILEO Search homepage looks, as well as upgrade how users find resources and databases. Highlights include:
New, animated main images for default, elementary and middle school views
Introduction of key spotlight areas that can be tailored locally
New "wayfinder" for logging in that helps patrons more easily find their institutions
Streamlined database searching
New support forms that give users the choice of contacting the support team or other staff
New FAQs and informational pop-ups to help navigate the changes
A redesigned GALILEO department website will launch in two weeks, as well. You will see a new homepage highlighting GALILEO's three programs, a staff page with photos, as well as a new community section for department news, helpful articles and user-generated content.
Once the websites relaunch, a short survey will be available to get feedback. The second phase will include additional refinements and new functionality and will roll out in 2021.
Read more from this month's quarterly e-newsletter.
Posted April 21, 2020
100,000 New Pages in Georgia Historic Newspapers

Digital Library of Georgia will soon begin work to digitize an additional 110,000 pages of Georgia historic newspaper, increasing the number of pages freely available through Georgia Historic Newspapers to almost 2 million.
A second round of funding from the National Digital Newspaper Program (NDNP) is making the additional work possible. An advisory board of academics, librarians, archivists and journalists selected the additional newspaper content, which focuses on the Progressive Era, a period in the U.S. from 1890 to 1920.
The new digital content journeys through the New South, Populist, and Suffrage movements, including the 1906 Atlanta race riot, the notorious murder trial of Leo Frank, and the Cotton States Exhibition held at what is now Piedmont Park.
Two African-American newspapers, a set of populist newspapers edited by Tom Watson, and a World War I military camp publication are among the new resources. Users will begin to see the new content in the winter.
Read more from this month's quarterly e-newsletter.
Posted February 4, 2020
GALILEO 2019 Annual Survey Results

The results of the GALILEO Annual User Survey are in. We continue to see overall positive feedback for GALILEO and the services it provides.
The majority of respondents indicated that they are satisfied (strongly agree or agree) with GALILEO, Georgia's virtual library. The highest satisfaction score centered on value, with nearly 91.9% indicating they see GALILEO as a valuable public resource. This value score is slightly higher than the previous year.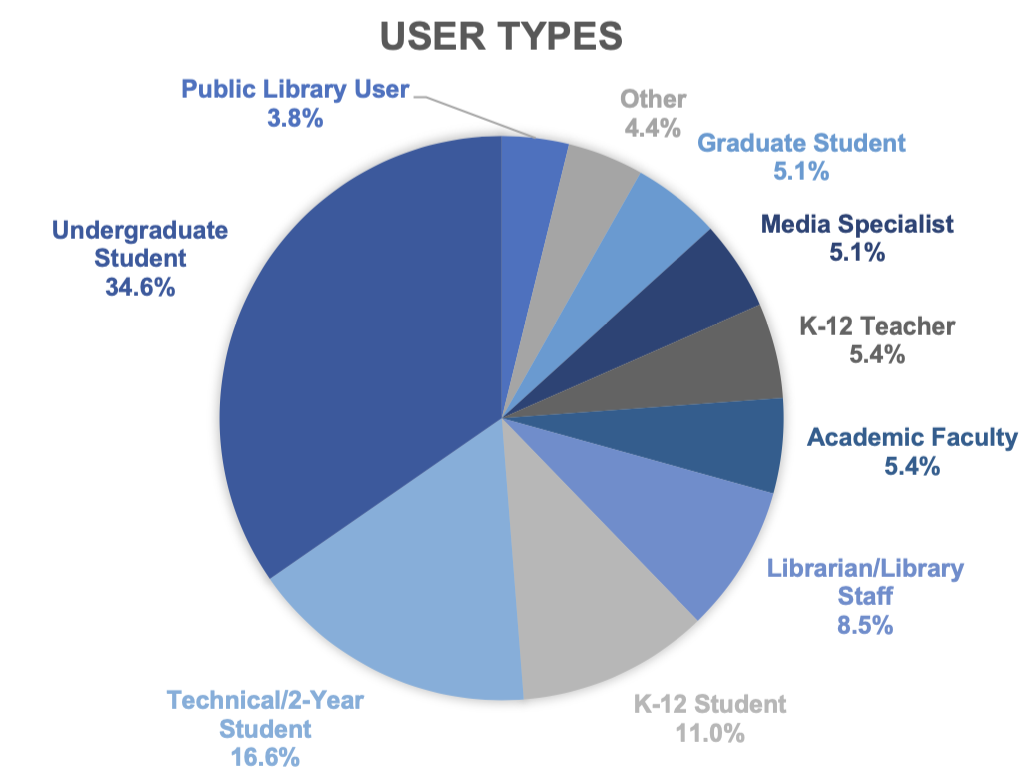 Looking closer at the comments, there continues to be a desire for more and varied GALILEO content, including access to different databases and full-text articles, as well as more user-friendly content for elementary students. Many respondents continue to want a more useful GALILEO interface with better search capabilities and easier logging in. GALILEO continues to make strides in bringing all partners into its new single sign-on initiative, OpenAthens, in addition to efforts to redesign the website/portal.
This year, we also took a closer look at where responses came from to help analyze public engagement. Although most responses came from the metro Atlanta area, the highest concentration of responses of any city was Athens, largely due to participation from Athens Technical College. We aim to have greater survey participation throughout the state, while capitalizing on areas where GALILEO engagement is highest.
Quick Stats:
13.6% of respondents were librarians, library staff or media specialists
26.2% of respondents were affiliated with a technical college
27.8% said they learned of GALILEO from a teacher
50.5% strongly agreed that they would recommend GALILEO to a friend
91.9% strongly agreed or agreed that GALILEO is a valuable resource
AnnualSurveyReport_2019_Final.pdf
Posted January 3, 2020
Healthier You: Check Consumer Reports on Fitness Trackers

If you're looking for the best fitness tracker to get you started on your 2020 health goals, turn to Consumer Reports using your free access through GALILEO.
The normal annual digital subscription is $39, or $10 a month. But, full-text articles from each online edition of Consumer Reports, dating back to 1985, are available free to all Georgia residents and students when accessed from GALILEO.
In its January 2020 edition, Consumer Reports takes on popular fitness trackers. They tested 17 models, including: the Garmin Forerunner 35, Samsung Galaxy Fit, and the Fitbit Inspire HR. Fitness trackers were tested for ease of use, interaction and pairing with another device, step counting, and more. Scores ranged from 35-85.
The No. 1 fitness tracker, according to Consumer Reports, was the Samsung Gear Fit2 Pro. It had the highest overall score of 85, with "excellent" marks in versatility and ease of use. The Garmin Forerunner 35 followed with a rating of 84. In addition to the January 2020 issue, you can read the2020 Buying Guide for more on fitness trackers
Access Consumer Reports via GALILEO with these steps:
Go to GALILEO and click the Journals A-Z tab.
Type "Consumer Reports" into the search bar
Choose the Consumer Reports (Full Text) option from the list
Choose EBSCOhost MasterFILE Elite from the database list
Click on an issue to the right to access the magazine
To search across multiple issues for a particular product, click "Search within this publication" [Note: Type the word "and" along with your topic in the search box (e.g., "and digital cameras")]
Click "Share" to set up an alert
(You can access MasterFILE Elite from this express link: https://www.galileo.usg.edu/express?link=zbel. Some links may not work off site. Click the database name or log in to GALILEO first for access.)
Posted December 26, 2019
Healthier You: Free Access to Yoga Journal, Popular Science in GALILEO

We are days away from a new year, and after spending the holidays eating comfort food, what better time than now to reset?
GALILEO gives you access to past and current issues of popular health magazines, including Yoga Journal and Popular Science. Take a look at the Consumer Health Complete database for access to these magazines and others.
Consumer Health Database inside ProQuest is another resource for information on health and wellness. There you can search for articles and publications on an array of topics, including children's health, eye care and dentistry.
And, if you'd rather search terms using the GALILEO search bar, you can do that, too. Narrow your search down by subject and chose "medicine and health" subject for a list of articles in nutrition, weight loss, psychology and more.
Remember that you also can set up a search alert in the individual databases so you receive emails when a new article matching your search is added. For more information on this, visit our FAQ.
Some links may not work off site. Click the database name or log in to GALILEO first for access.