Filed Under: GALILEO Newsletters
Posted October 26, 2017
Digital Library Hits 1 Million Newspaper Pages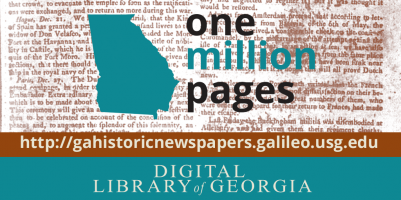 The Digital Library of Georgia (DLG) is celebrating its 1 millionth digitized historic newspaper page. The premier issue of the Georgia Gazette, Georgia's first newspaper, published from 1763-1776 in Savannah, will become the 1 millionth page of historic newspapers to be made freely available online through the Georgia Historic Newspapers (GHN):
James Johnston, the first printer in Georgia, published the state's first newspaper issue on April 7, 1863.
Check out the online press kit for a curriculum guide, PowerPoint template, social media posts, graphics, and more to promote the GHN and this event.
Sheila McAlister, director of the DLG, remarks: "Making Georgia's first newspaper freely available online is the perfect way for us to celebrate this important milestone. Historic newspapers reflect the social and cultural values of the time that they were created and are invaluable to scholars and the general public. With the help of our partners, we will continue add more of this sought-after content."
Posted September 25, 2017
September-October GALILEO Newsletter

The fall newsletter includes information on new resources for disaster recovery, gearing up for Teen Read Week (October 8-14), and examples of the Consumer Reports widget on library websites. You will also find information on all the library and education conferences where you can learn more about GALILEO in presentations and in the exhibit booth. Read the newsletter
Posted April 20, 2017
April GALILEO Newsletter

Check out the top 50 GALILEO searches and the top 10 e-book views in the April GALILEO newsletter. You will also find info on the new LearningExpress placards displaying in Discover GALILEO searches for technical colleges and public libraries and tips on keeping National Library Week alive all year. Finally, executive director Lucy wants to visit your library! Read the newsletter.
Posted March 22, 2017
GALILEO Newsletter, March 2017

The March newsletter includes information on research starters in Discover GALILEO, training, the Digital Library of Georgia, and a slate of web events from Affordable Learning Georgia to celebrate Open Education Week 2017. Being the information lovers you are, you will also enjoy the top searches and top ebooks lists. Finally, executive director Lucy Harrison catches you up on resource renewals, strategic planning, and the GALILEO user group meeting on June 16. GALILEO News, March 2017
Posted February 9, 2017
GALILEO Newsletter, February 2017

The February newsletter includes information on authentication by geolocation, training and professional development information, and spotlights on NoveList and the 2017 Statistical Abstract of the U.S. Executive Director Lucy Harrison gives an update on the strategic planning events and announces a partnership with the award-winning Knowledge Unlatched project. More