Filed Under: Events
Posted October 26, 2017
Digital Library Hits 1 Million Newspaper Pages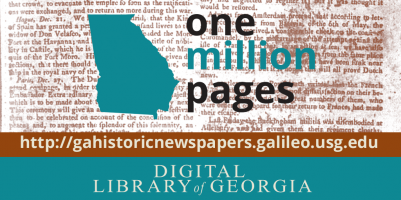 The Digital Library of Georgia (DLG) is celebrating its 1 millionth digitized historic newspaper page. The premier issue of the Georgia Gazette, Georgia's first newspaper, published from 1763-1776 in Savannah, will become the 1 millionth page of historic newspapers to be made freely available online through the Georgia Historic Newspapers (GHN):
James Johnston, the first printer in Georgia, published the state's first newspaper issue on April 7, 1863.
Check out the online press kit for a curriculum guide, PowerPoint template, social media posts, graphics, and more to promote the GHN and this event.
Sheila McAlister, director of the DLG, remarks: "Making Georgia's first newspaper freely available online is the perfect way for us to celebrate this important milestone. Historic newspapers reflect the social and cultural values of the time that they were created and are invaluable to scholars and the general public. With the help of our partners, we will continue add more of this sought-after content."
Posted May 25, 2017
Registration Open for GALILEO Annual Conference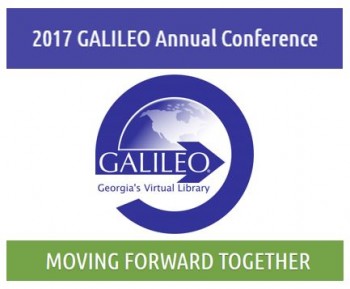 GALILEO and Georgia Public Library Service (GPLS) are pleased to present the second GALILEO Annual Conference on Friday, June 16th. This one-day event is an opportunity for all of Georgia's library community to learn more about GALILEO, touch base with content providers, and network with colleagues across the state. The conference will take place at the Middle Georgia State University, Macon campus. Seats are capped at 250, so register soon.
This year's theme, Moving Forward Together, will lay out the groundwork for GALILEO's future. GALILEO has spent the last year working with and listening to stakeholders and representatives from libraries in Georgia to develop a new strategic plan that will take GALILEO into the next 10-15 years. In addition to all the learning opportunities, you'll have a chance to share your thoughts on the new vision and direction for GALILEO at this conference.
Session topics have been planned to meet the interests of the different kinds of libraries participating in GALILEO, including academic, K-12, and public. This conference is free and lunch is included.
GALILEO Annual Conference website
Posted March 2, 2017
March is Women's History Month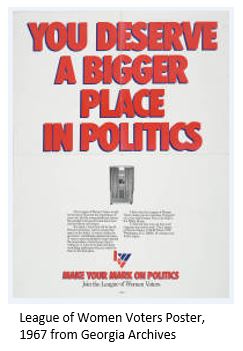 In honor of Women's History Month, here are a few resources in GALILEO to help you find the stories of women throughout history.
Start by looking for a woman in the Discover GALILEO search box. Try finding Susan B. Anthony, Marie Curie, Helen Keller, Sally Ride, Coretta Scott King, Sonia Sotomayor, Jane Goodall, and others. For some major events in women's history, look for women's rights, women suffrage, women work*, feminism, or other topics of interest. Tip: If you are getting a lot of book reviews in the results, use Limit by Type to remove Reviews (click Show More to see all types, click Name, then uncheck Reviews).
For institutions that purchase it, Encyclopædia Britannica offers a spotlight on women, Women's History at a Glance. For speeches, letters, and other primary source documents, search for women in Annals of American History to see a letter from Horace Greeley on women's rights or a declaration of rights for women from Susan B. Anthony.
NoveList Plus and NoveList K-8 Plus offer book recommendations for all ages. Search terms may include "women scientists,"women's power,"women in history," and really, "women" and anything.
Interested in important women in Georgia? Take a look at the results list in the New Georgia Encyclopedia. You can read about interesting women like Mary Musgrove, Hazel Raines, Rosalyn Carter, Alice Walker, and many more fascinating women. The Digital Library of Georgia offers many historical images and documents related to women, and it also includes two collections focused on women's history, For Our Mutual Benefit: The Athens Woman's Club and Social Reform, 1899-1920 and Georgia Women's Movement Oral History Project Collection.
Some links may not work off site. Log in to GALILEO first for access.
Posted September 21, 2016
Happy 21st Birthday, GALILEO!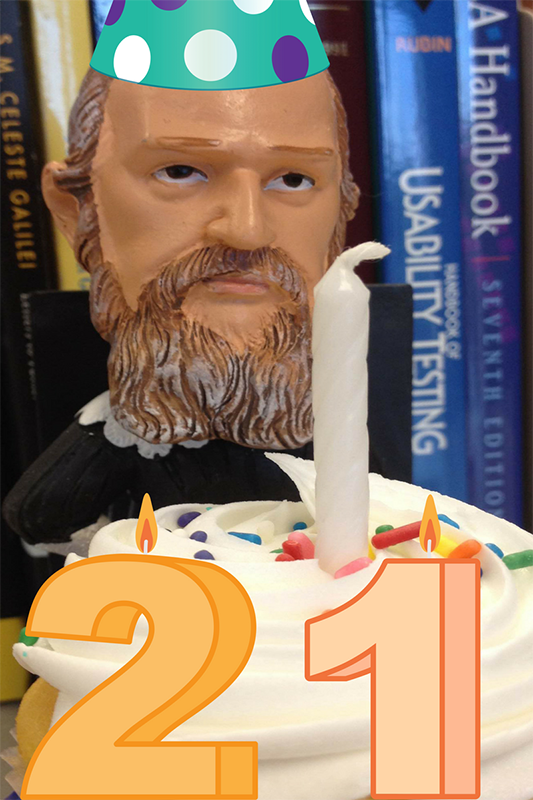 Before there was Blogger, before YouTube, before MySpace, even before Google, there was GALILEO. The GALILEO website went live on September 21, 1995, opening up a world of reliable, authoritative information for Georgians. Visit A Vision for One Statewide Library to read about the origins of the GALILEO initiative. The GALILEO Scrapbook documents GALILEO's history with images and milestones of nearly two decades
What was your first research project using GALILEO? Were you looking for information on animals and their habitats, for peer-reviewed articles for a research paper, for authoritative information on cancer research, for ancestors to fill out your family tree? What did the GALILEO environment look like then? Check out the video and timeline to tweak your memory.
20th Birthday Video
GALILEO Timeline
Posted September 20, 2016
GALILEO is Ready for COMO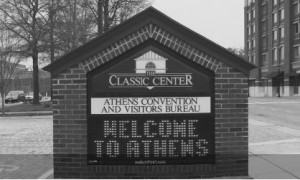 COMO is only two weeks away, and we're getting excited to see you. Come by booth #74 to catch up on what's going on the GALILEO world. We also hope to see you at the GALILEO concurrent sessions and in the preconference.
The GALILEO preconference is scheduled on Wednesday morning, October 5th, at the Classic Center. Each year, the GALILEO preconference includes concurrent sessions on topics different from those GALILEO staff present at the main COMO conference.
GALILEO Preconference Presentations
GALILEO What's New/Q and A: Okay, this one is included in the greater COMO schedule, but your questions make each presentation different
GALILEO 101: The Basics: New GALILEO staff member Russell Palmer will give you a basic introduction to the GALILEO website
eBooks in GALILEO: An overview of the eBook offerings from EBSCO, ProQuest, and TumbleBook Library includes a look at content in the different collections and downloading
Ancestry Library Edition: This popular genealogy database is subscribed by public and academic libraries. This introduction will be presented by a ProQuest trainer.
Explora: This EBSCO resource includes an elementary, middle, and high school edition with interfaces and content appropriate for the audience. Explora is available to all GALILEO communities.
Registration for the preconference is available within the COMO registration. If you are interested in attending only the preconference, or if you are already registered for COMO and want to add the preconference, just select "Preconference Workshops Only" in the "Choose Conference Length" box.
GALILEO Concurrent Sessions
See you in Athens!