Filed Under: Birthdays
Posted May 24, 2017
Happy Birthday, Henry Grady!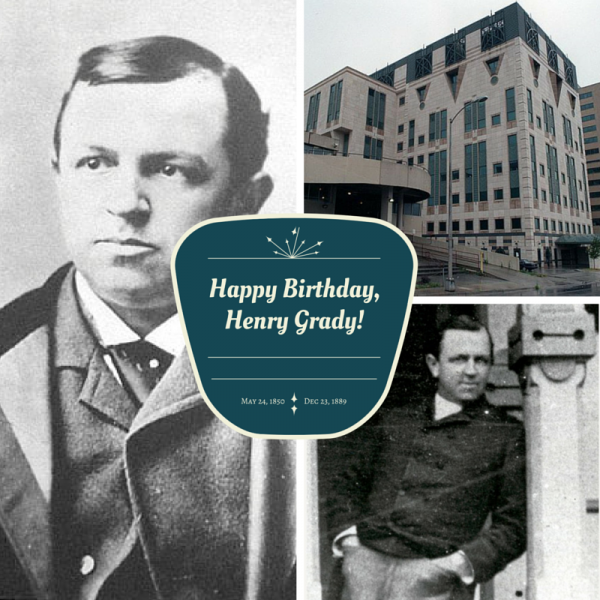 On this day in 1850, Henry W. Grady was born in Athens, Georgia. Grady was the managing editor of the Atlanta Constitution in the 1880s and a proponent of the New South. He published an article titled "The New South" in the Atlanta Daily Herald on March 14, 1874. Grady's New South advocated unity between the South and North and promoted the advancement of industry in Atlanta. Grady's campaigning worked and partnerships with the North increased investment in Atlanta industry. One example is the cotton expositions Atlanta hosted in 1881, 1887, and 1895. These events brought in millions of investment dollars to Atlanta. Grady also lobbied to establish the Georgia Institute of Technology in Atlanta after proclaiming the superiority of Atlanta over other smaller cities in Georgia. As you can imagine, these claims did not make the other cities happy. While Grady's New South was not universally accepted, Grady attempted to attach northern interests to Atlanta until his abrupt death from pneumonia on December 23, 1889.
We are still reminded of Henry Grady in our everyday lives. The Georgia county of Grady was named after him in 1905, as is Grady Memorial Hospital in Atlanta which opened on June 1, 1892.
Read the original article "The New South" in the Atlanta Daily Herald in the Atlanta Historic Newspapers Archive from the Digital Library of Georgia.
Images are from the New Georgia Encyclopedia.
Posted April 14, 2017
Happy Birthday, Greg Maddux!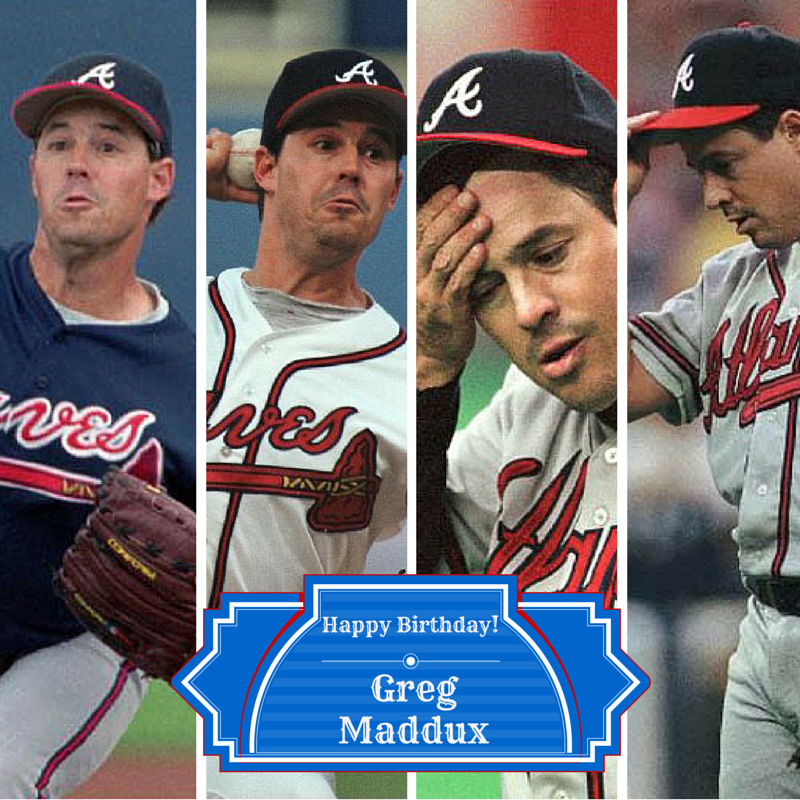 Former Atlanta Braves pitcher, Greg Maddux, celebrates his 49th birthday today. Nicknamed "Mad Dog" and "The Professor," Maddux played for the Atlanta Braves from 1993 to 2003, and won the Cy Young Award four consecutive years from 1992 to 1995; he is the only pitcher to do so. He is known for his excellent control and fielding ability. He won 18 Gold Gloves, the most of any player. He was inducted into the Baseball Hall of Fame on January 8, 2014 along with former teammate, Tom Glavine. As of 2013, he works for the Texas Rangers as the special assistant to the general manager.
Images are from Academic Search Complete.
Some links may not work off site. Log in to GALILEO first for access.
Stay Connected! Twitter Facebook News Feed
Posted March 25, 2017
Happy Birthday, Flannery O'Connor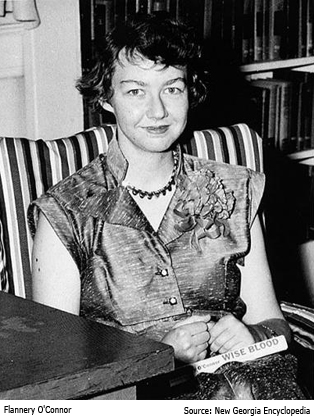 One of America's greatest fiction writers, Flannery O'Connor was both on this day in 1925. She would have been 92 years old. O'Connor was born in Savannah and moved to Milledgeville with her family in 1938. She attended the Peabody Laboratory School associated with Georgia State College for Women, now Georgia College and State University, where she served as an editor for the college's literary magazine, The Corinthian.
Although O'Connor is primarily known as a short-story writer, her novels Wise Blood and The Violent Bear It Away are recognized as valuable lasting works of American literature.
See more photos of Flannery O'Connor in the Digital Library of Georgia.
Posted September 23, 2016
Happy Birthday, Ray Charles!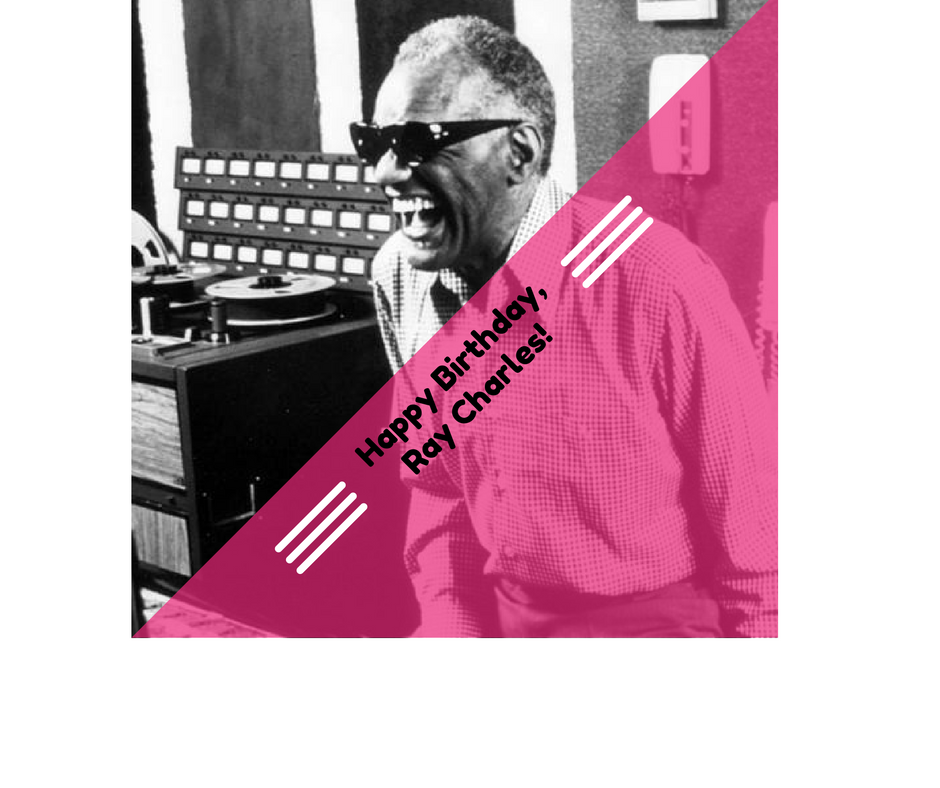 Ray Charles was born on this day in 1930 in Albany, Georgia. Charles pioneered the style that came to be known as "soul," a blend of gospel music, blues, and jazz. He performed for over four decades; however, he may be best known for the song "Georgia on My Mind," which became the number-one hit of 1960. The song was originally written by Hoagy Carmichael on the same year of Charles' birth.
On April 24, 1979, the song became the official state song of Georgia. While the most popular version of the song is by Ray Charles, Willie Nelson also covered it in 1978 for his album Stardust.
Ray Charles was also the first performer inducted into the Georgia Music Hall of Fame in 1979.
Find more interesting facts about Georgia by visiting the New Georgia Encyclopedia.
Posted September 21, 2016
Happy 21st Birthday, GALILEO!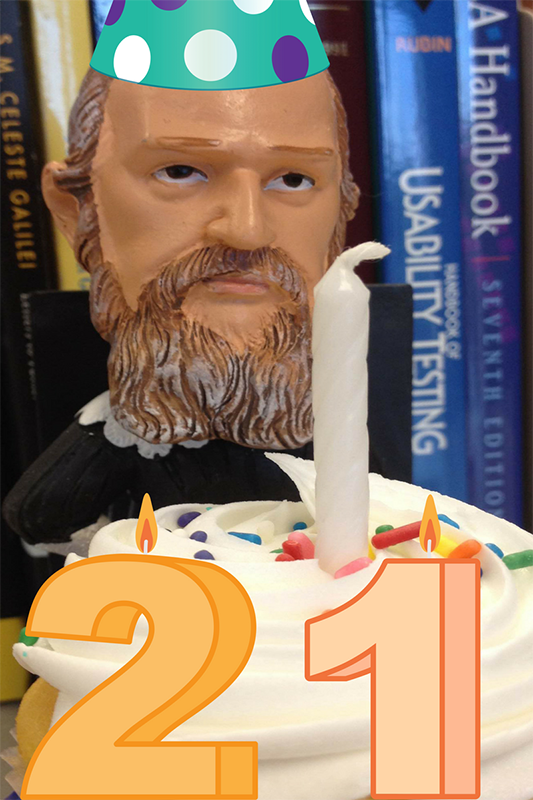 Before there was Blogger, before YouTube, before MySpace, even before Google, there was GALILEO. The GALILEO website went live on September 21, 1995, opening up a world of reliable, authoritative information for Georgians. Visit A Vision for One Statewide Library to read about the origins of the GALILEO initiative. The GALILEO Scrapbook documents GALILEO's history with images and milestones of nearly two decades
What was your first research project using GALILEO? Were you looking for information on animals and their habitats, for peer-reviewed articles for a research paper, for authoritative information on cancer research, for ancestors to fill out your family tree? What did the GALILEO environment look like then? Check out the video and timeline to tweak your memory.
20th Birthday Video
GALILEO Timeline