News for September 2011
Posted September 29, 2011
eBooks Now Available for Download via eBooks on EBSCOhost (Formerly NetLibrary)
GALILEO is happy to announce that eBooks can now be checked out and downloaded onto many different devices from eBooks on EBSCOhost (formerly NetLibrary.) This functionality is available to all GALILEO institutions who have purchased Solinet/Lyrasis Shared Collections via GALILEO:
University System of Georgia
Technical College System of Georgia
AMPALS
GPALS
Public Libraries
Users will now see the option "Download (Offline)" appearing within the record for each eBook. When a user selects this option, they will be prompted to sign into their My EBSCOhost account. If the user does not have a My EBSCOhost account, they will be asked to create one. Once the user logs in, a screen will appear where the user can select the "Check out Period" and then download the eBook.
In order to view the eBook on their device, the user will need to download Adobe Digital Editions 1.7.1 or higher. This is necessary to manage the checkout process.
The following GALILEO FAQ provides access to a word document that outlines this download process, provides a link to Adobe Digital Editions, and also provides a list of all supported devices.
http://help.galileo.usg.edu/faqs/how_can_i_view_ebooks_in_ebooks_at_ebscohost/
If you have any questions regarding this new functionality, please submit a comment to GALILEO Support Services via our Contact Us form.
Posted September 26, 2011
Banned Books Week 2011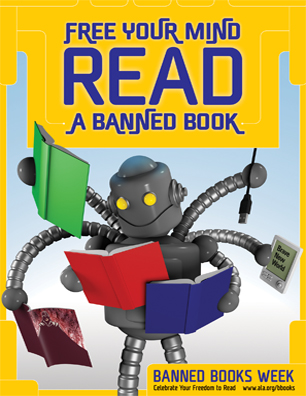 Banned Books Week is an opportunity to celebrate our freedom to read and our First Amendment rights by focusing on the benefits of having free access to information and the freedom to express ideas and how attempts to censorship can detract from these freedoms. The American Library Association offers a calendar of events for this week-long celebration, and the OIF Blog is offering a series of informative posts related to Banned Books Week.
If you're wondering which books have been banned or challenged over the years or are looking for books to help you to celebrate your freedom to read, the American Library Association provides a list of the top ten books that have been challenged each year since 2001 as well as the 100 most frequently challenged books from 1990-1999 and from 2000 to 2009. If you're curious about classics that have been banned or challenged, ALA provides a list for the classics as well.
You can learn more about each of these banned or challenged books in NoveList and Literary Reference Center in GALILEO and find these books in a library near you through WorldCat, including a list of the Top 100 Banned/Challenged Books from 2000-2009 and a list of the 100 Most Frequently Challenged Books 1990-2000.
Posted September 21, 2011
Happy 16th Birthday, GALILEO!

On September 21, 1995, GALILEO brought index searching and full-text retrieval to the University System of Georgia libraries, students, faculty, and staff. GALILEO has grown and changed a great deal in the last 16 years, and you can see some of these changes in the GALILEO Scrapbook. For more background history, see the Vision for One Statewide Library and Early History of GALILEO under About GALILEO.
Posted September 20, 2011
Resources for National Hispanic Heritage Month

National Hispanic Heritage Month, which is celebrated from September 15 to October 15, is here. If you're looking for resources to celebrate this month, GALILEO offers quite a few.
Encyclopædia Britannica includes a spotlight, Hispanic Heritage in the Americas, which offers profiles of Latin American countries, biographies of famous Hispanic American figures, an overview of the culture and history of Latin America, historical documents, multimedia, editorially-selected websites, and learning activities for ages 10 and up.
A search for resources in History Reference Center reveals several interesting articles and book chapters, including an article about Supreme Court Justice Sonia Sotomayor, the literary language of U.S. Hispanics, and the history of Hispanic immigration as well as ideas for teaching about migration and race from a Latino historian's perspective.
For biographies of Hispanic American authors along with plot summaries, reviews, and literary criticism, go to Literary Reference Center. Click the Advanced Search and leave the search box blank, but scroll down to the Literary Author's Cultural Identity box to search for resources about Cuban American, Latino or Latina, Mexican American, and/or Puerto Rican American authors.
NoveList and NoveList K-8 offer an article for elementary level reading, Exploring Hispanic Heritage in Children's Literature, along with great recommendations for books set in Latin America or books portraying Hispanic culture for all ages.
Finally, GALILEO does include a few Spanish-language resources. Check out the Spanish/Español Resources area under Browse by Subject in Scholar, Library, High School, or Teen.
Image from Encyclopædia Britannica
Some links may not work off site. Log in to GALILEO first for access.
Posted September 16, 2011
Council on Undergraduate Research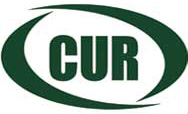 The Council on Undergraduate Research (CUR) focus on providing undergraduate research opportunities for faculty and students at all institutions serving undergraduate students. CUR provides support for faculty development. Their publications and outreach activities are designed to share successful models and strategies for establishing and institutionalizing undergraduate research programs. They assist administrators and faculty members in improving and assessing the research environment at their institutions. CUR also provides information on the importance of undergraduate research to state legislatures, private foundations, government agencies, and the U.S. Congress. CUR welcomes faculty and administrators from all academic institutions.
Find out more at their website.