Posted July 18, 2012
Find Your Next Favorite Author in GALILEO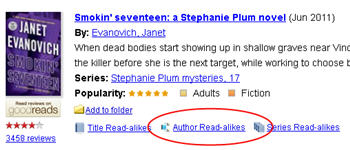 Have you already read every book by your favorite author and know you just can't wait until his or her next book comes out? Well, NoveList can help you find a similar author to love while you're waiting.
1) Log in to NoveList
2) Search for your favorite author by name
3) In the list of books by that author, click any link to Author Read-alikes
You'll get a printable list of similar authors with notes explaining how their writing is like your favorite author's.
Find your next book at your local public library.
Happy Summer Reading!