Posted June 14, 2012
Celebrating Flag Day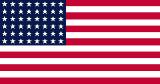 On Flag Day, we celebrate the adoption of the United States flag.
You can read the history of the United States flag and read more about the establishment of Flag Day in Encyclopædia Britannica. Find images and more about the history of Flag Day from American Memory at the Library of Congress.
Image from Encyclopædia Britannica
Some links may not work off site. Log in to GALILEO first for access.