Posted April 17, 2014
Lives Change with Education
Helping Students with Homework
Public libraries play a big role in students' education, whether the students attend a public or private school, home school, or college. GALILEO is available in all public libraries to help students succeed in their assignments.
By default, anyone logging in to GALILEO at their public library will see the GALILEO Library view for general use; however, K-12 students can try going to the GALILEO High School, GALILEO Teen, or GALILEO Elementary views to easily search age-appropriate resources from the Discover GALILEO search box.
College students can go to the GALILEO Scholar view to search scholarly resources from the Discover GALILEO search box or click Browse by Subject to drill down in a particular subject. Students can also log in with their school passwords for additional resources.

Search results from a Discover GALILEO search will include articles from magazines, journals, encyclopedias, and other formats. For thousands of topics searched, the results list will lead with a "Research Starter" article, which gives an overview of the topic. Look to the right for related images.
Another valuable feature is the citation tool. Click on a title from the results list to view information about the article, such as subject terms and an abstract. Click on "Cite" on the right to see the article citation in MLA, APA, and many other styles.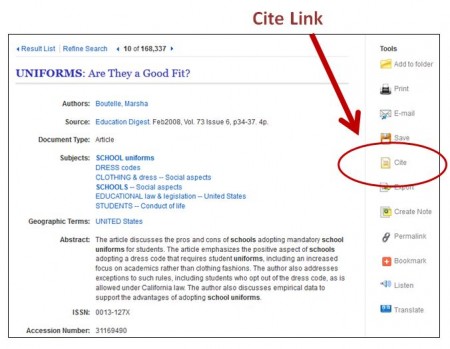 Contact your local public library for assistance with these resources and to see what additional homework help your library offers.