Filed Under: Public Library
Posted April 24, 2013
Find 2013 Pulitzer Prize Winners in GALILEO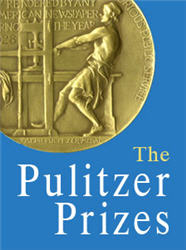 The 2013 Pulitzer Prize winners were recently announced.
Just search for these works in the Discover GALILEO search box to find reviews.
Fiction - The Orphan Master's Son by Adam Johnson (Random House)
Drama - Disgraced by Ayad Akhtar
History - Embers of War: The Fall of an Empire and the Making of America's Vietnam by Fredrik Logevall (Random House)
Biography or Autobiography - The Black Count: Glory, Revolution, Betrayal, and the Real Count of Monte Cristo by Tom Reiss (Crown)
Poetry - Stag's Leap by Sharon Olds (Alfred A. Knopf)
General Nonfiction - Devil in the Grove: Thurgood Marshall, the Groveland Boys, and the Dawn of a New America by Gilbert King (Harper)
Music - Partita for 8 Voices by Caroline Shaw (New Amsterdam Records)
Posted April 19, 2013
Georgia Well-Represented in Digital Public Library of America
The Digital Public Library of America (DPLA) recently launched, making the riches of America's libraries, archives, and museums freely available to the world. The DPLA builds on existing resources and leverages years of hard work by special collections librarians, archivists, and others to make images and documents from our rich history available to the public.
The Digital Library of Georgia (DLG) serves as a regional service hub for the DPLA, working with other institutions to help them share their content with the public. Thousands of items from the DLG can be found in the DPLA, with more items to be added over time.
Read more about the Digital Library of Georgia's participation in the DPLA and about some of the included DLG collections, and see the announcement from DPLA about the launch.
Take some time to explore the Digital Public Library of America, including items from the Digital Library of Georgia.
Check out the exhibit, Activism in the U.S., featuring items from the Digital Library of Georgia.
Posted April 12, 2013
Celebrate National Library Week 2013 with GALILEO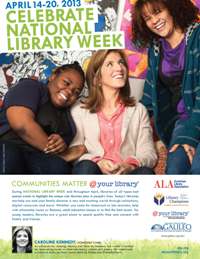 National Library Week is an annual celebration of the contributions of our nation's libraries and librarians. The theme this year is "Communities matter @ your library," and, in honor of this theme, we'll be sharing ways that GALILEO is there to support your community's needs.
Here's of sneak peek at what's coming this next week:
So, be ready for National Library Week. It's time to celebrate!
Posted April 10, 2013
Ace Your Golf Game with GALILEO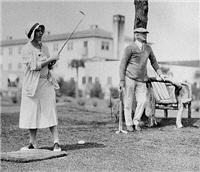 In celebration of the Masters Tournament in Augusta this week, let's take a look at what GALILEO offers for golf enthusiasts in Georgia.
Use the Discover GALILEO search box to search for golf* to find articles about all aspects of golf, or search for golf courses, golf equipment, golf clubs, golf techniques, or another related topic. For a more specific search, try searching for a particular golfer, tournament, or course to see articles, images, and more.
GALILEO also includes several golf magazines, including Golf Digest, Golf Magazine, Golf World, Sports Illustrated, and more. Note that you can receive email alerts when a new issue of a magazine is added to GALILEO by clicking the Alert/Save/Share link in the upper right of the page and then clicking the Email Alert link.
For a look at golf in Georgia, the New Georgia Encyclopedia has several interesting articles about the Masters Tournament and several golfers, including Bobby Jones, Tommy Aaron, Louise Suggs, and more. The Digital Library of Georgia includes many wonderful historical images of golfers and golf courses in the Vanishing Georgia and Picturing Augusta collections.
Image from the Vanishing Georgia collection in the Digital Library of Georgia
Some links may not work off site. Log in to GALILEO first for access.
Posted April 9, 2013
UGA Press National Poetry Month Picks

Looking for some poetry to celebrate National Poetry Month?
UGA Press offers National Poetry Month Picks and invites you to discover or rediscover some current and past poets.