Filed Under: Public Library
Posted January 19, 2015
Happy Martin Luther King, Jr., Day!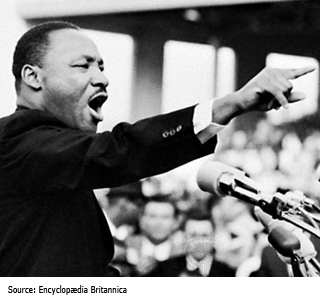 Celebrate Martin Luther King, Jr., Day by exploring some of the resources available through GALILEO. Just search GALILEO for Martin Luther King, Jr. to see articles, images, videos, and more, including items from the Civil Rights Digital Library (CRDL). Below is a list of some of the collections available through the CRDL:
Also, be sure to check out the full text of the "I Have a Dream" speech.
Some links may not work off site. Log in to GALILEO first for access.
Posted January 15, 2015
How is Legislation Made in Georgia?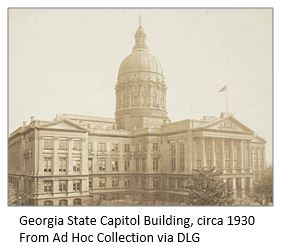 The Georgia General Assembly in session, meaning it's time to turn to GALILEO for resources to illustrate the process of bills going through the Georgia House of Representatives or the Georgia State Senate to become law.
How a Bill is Passed in the Georgia Legislature is an infographic from the Carl Vinson Institute available in GeorgiaInfo. This PDF is perfect for online viewing or making hard copies for the classroom.
Legislative Process: Overview from the New Georgia Encyclopedia includes more detailed information. Click on "Topics" at the top, then Government and Politics for more entries on Georgia government, political figures, and history.
See also the Georgia General Assembly's outline on tracking a bill through the General Assembly.
For more resources, see the Georgia Laws and Legislation section in
GALILEO Scholar
or
GALILEO Library
or the
State Government section in GALILEO High School
.
Posted September 9, 2014
September is Update Your Resume Month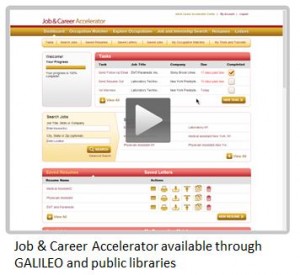 September is International Update Your Resume Month, and GALILEO offers tools that can help. Job & Career Accelerator, available to all Georgia citizens through their public libraries, features a resume builder, eBooks on creating the perfect resume for your career field, and tutorials. This robust resource also helps users write cover letters and follow-up letters, match occupations to their interests and skills, and prepare for interviews. It even includes a job bank.
LearningExpress Library offers tools that can help you shine on your resume with career certification and licensing exam preparation, college entrance and graduate school admissions exam preparation, GED exam preparation, tutorials, eBooks related to job search and workplace skills improvement, and more. For example, complete one of the software courses included in LearningExpress Library to add knowledge of that software on your resume. You can even list that course on your resume to show that you are an active learner keeping up in your field.
Remote Access for Public Library Users
1) Log in via your PINES account, or
2) Try this! (geolocation), or
3) Contact your public library.
Posted September 2, 2014
150th Anniversary of General Sherman Capturing Atlanta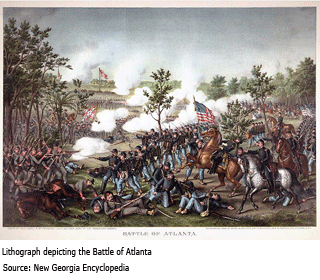 September 2, 1864, marks the 150th anniversary of General William T. Sherman capturing Atlanta where he was quoted famously saying, "Atlanta is ours, and fairly won."
Read more about the Atlanta Campaign and Sherman's March to the Sea in the New Georgia Encyclopedia. Also, be sure to check out The Cornelius C. Platter Civil War Diary which details Sherman's march through Georgia from the point of view of a soldier in the Union Army, and George N. Barnard's photos of the Sherman Campaign in the Digital Library of Georgia.
Some links may not work off site. Log in to GALILEO first for access.
Posted August 22, 2014
Athens Historic Newspapers Archive enhanced; DjVu no longer required
The Athens Historic Newspapers Archive is now compatible with all current browsers. Users are no longer required to download the DjVu plugin to view Athens newspaper pages in this archive.
GALILEO Express Link:
http://www.galileo.usg.edu/express?link=athn
The full announcement from the Digital Library of Georgia is below.
==
The Digital Library of Georgia is pleased to announce the re-release of the enhanced Athens Historic Newspapers Archive:
http://dlg.galileo.usg.edu/athnewspapers
The Athens Historic Newspapers Archive is now compatible with all current browsers and provides access to nine newspaper titles published in Athens from 1827 to 1928 without the use of plug-ins or additional software downloads. Consisting of over 77,000 newspaper pages, the archive provides historical images that are both full-text searchable and can be browsed by date. The site will provide users with a view into the history of Athens in its early years as the home to the first state-chartered university in the nation and its eventual growth into the largest city in northeast Georgia.
The archive includes the following Athens newspaper titles: Athens Herald (1913-1923), Athens Banner-Herald (1923-1928), Southern Whig/Southern Herald (1838-1850), Clarke County Courier (1903-1913), in addition to the titles previously included in the archive: Athenian (1827-1832), Southern Banner (1832-1882), Southern Watchman (1855-1882), Daily/Weekly Banner-Watchman (1882-1889), Daily/Weekly Athens Banner (1889-1922).
The Athens Historic Newspapers Archive is a project of the Digital Library of Georgia, as part of the Georgia HomePLACE initiative. The Digital Library of Georgia is a project of Georgia's Virtual Library GALILEO and is based at the University of Georgia. Georgia HomePLACE is supported with federal LSTA funds administered by the Institute of Museum and Library Services through the Georgia Public Library Service, a unit of the Board of Regents of the University System of Georgia. Digitization is also made possible through a grant provided by the Francis Wood Wilson Foundation, Inc.
Other newspaper archives available through the Digital Library of Georgia include the Atlanta Historic Newspapers Archive (1847-1922), the Savannah Historic Newspapers Archive (1819-1880), the South Georgia Historic Newspapers Archive (1845-1922), the Macon Telegraph Archive (1826-1908), the Columbus Enquirer Archive (1828-1890), the Milledgeville Historic Newspapers Archive (1808-1920), the Southern Israelite Archive (1929-1986), and the Red and Black Archive (1893-2006). These archives can be accessed athttp://dlg.galileo.usg.edu/MediaTypes/Newspapers.html
==
If you have any questions or need more information, please use the GALILEO Contact Us feature or contact the ITS Helpdesk at helpdesk@usg.edu.