Filed Under: Public Library
Posted August 21, 2014
PINES Kids' Catalog link can be added to GALILEO Elementary
The PINES staff recently unveiled the new PINES Kids' Catalog, a colorful, child-friendly interface for the children's materials in PINES.
We can now add a link to the PINES Kids' Catalog on the GALILEO Elementary user view for your library or school system.
Here is a preview:
http://www.galileo.usg.edu/kids/gpls-demo/
If you would like to add the PINES Kids' Catalog to GALILEO Elementary, please use the GALILEO Contact Us form to let us know.
Posted August 12, 2014
LearningExpress Library Updates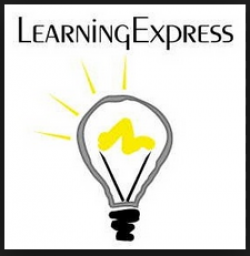 New resources have been added to LearningExpress Library, and a new School Center with resources aligned to Common Core Standards is now available through Georgia Public Libraries. LearningExpress Library provides a collection of test preparation tools, skill-building materials, and career resources for elementary students through adult learners. Over 1,000 online practice tests and interactive skill-building tutorials are available, along with more than 200 eBook titles.
New Resources
- Practice tests and an introductory tutorial for the Spanish-language version of the 2014 GED test
- New e-book titles in almost every center
- Microsoft 2013 software tutorials
- Vocabulary and Spelling Skills tutorial
- New Flash Reviews for Nursing Assistant/Nurse Aid, Pharmacy Technician, and TOEFL iBT
- New practice tests for plumber's license, correction officer, police officer, court officer, and civil service exams

LearningExpress Library is available in Georgia public libraries.
Remote Access for Public Library Users
1) Log in via your PINES account or
2) Try this! or
3) Contact your public library.
LearningExpress Library Express LInk: http://www.galileo.usg.edu/express?link=zxle
GALILEO News Feed
Subscribe to GALILEO News
Subscribe to GALILEO System Status Announcements
Subscribe to GALILEO listserv
Contact GALILEO with questions or suggestions.
Posted July 30, 2014
PINES catalog can now be added to Discover GALILEO
We are excited to announce that the PINES catalog can now be added to your Discover GALILEO search, which means that users accessing GALILEO resources through the search box in GALILEO can also see items from PINES.
Search the following to see example search results with PINES included.
If you are interested in adding the PINES catalog to your Discover GALILEO search, please email Courtney McGough.
Also, if you are a non-PINES library interested in adding your catalog in the Discover GALILEO search, please email Courtney McGough.
If you have any questions or need more information, please use GALILEO's Contact Us feature or contact the ITS Help Desk at helpdesk@usg.edu
Posted July 2, 2014
50th Anniversary of The Civil Rights Act of 1964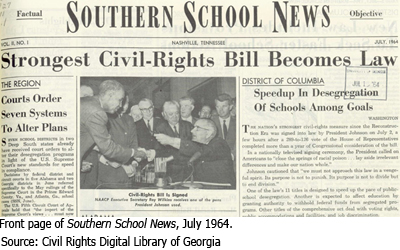 July 2, 2014, marks the 50th anniversary of Civil Rights Act of 1964 becoming law after a 289-to-125 vote by the House of Representatives. The Civil Rights Act of 1964 outlawed discrimination based on race, color, religion, sex, or national origin. It also provided equal voting rights by lifting prior requirements and procedures and prohibited segregation in places of public accommodation involved interstate commerce.
The image to the right was the front page of Volume 11, Issue 1, of the Southern School News published in July 1964. The Digital Library of Georgia recently added the Southern School News Archive to the Civil Rights Digital Library of Georgia; it will soon be included in the Digital Public Library of America. The Southern School News Archive provides online access to the complete run of the newspaper from 1954 until 1965. You can view the entire July 1964 issue here.
You can read the entire South School News Archive announcement on the Digital Library of Georgia Blog.
Some links may not work off site. Log in to GALILEO first for access.
Posted June 13, 2014
Get Outdoors!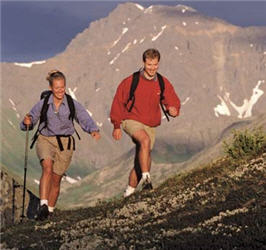 This Saturday is National Get Outdoors Day, an annual event to encourage healthy, active outdoor fun. GALILEO includes quite a few magazines with ideas, tips, and other information to help you and your family make the most of enjoying the great outdoors.
MasterFILE Elite includes many magazines with articles on your favorite outdoor activities, such as:
You can set up a journal alert if you want to be notified when a new issue of the magazine has been added to the database.
You can also search MasterFILE Elite or other GALILEO resources for your favorite activities. Find ways to enjoy the water with articles on boating, canoeing, or fishing. Think about different ways to spend some time in the woods by hiking, camping, hunting, or birding. If you're interested in navigation, geocaching or orienteering may be fun activities to try. Finally, for a broad range of tips and ideas, just search for outdoor recreation. Don't forget to also find some great picnic and outdoor cooking recipes and tips so you can continue to enjoy the outdoors even while you eat.
Some links may not work off site. Log in to GALILEO first for access.
Image from Encyclopædia Britannica