Filed Under: K-12
Posted October 8, 2013
Celebrate Georgia Archives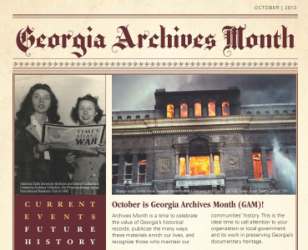 October is Georgia Archives Month, a way to celebrate the value of Georgia's historical records, publicize the many ways historical records enrich our lives, and recognize those who maintain our communities' historical records. You can read more about this celebration and related events in October is Georgia Archives Month from ajc.com.
Check out the Virtual Vault at the Georgia Archives or the Digital Library of Georgia to see images, maps, manuscripts, government records, and more from the people, places, and events that made Georgia what it is today. Check out these tips on how to find images and documents and historical newspapers as well as records from your county in the Digital Library of Georgia.
If you would like to see Georgia historical records in person, you can visit an archives near you to see what treasures they may hold. ArchiveGrid will allow you to expand your search for archival collections to the world.
To find even more historical documents, see the Archives and Primary Sources section of GALILEO Scholar.
Posted October 5, 2013
Government Resources in GALILEO Affected by the Shutdown
This is a summary of the government resources listed in GALILEO that are affected by the shutdown.
Find updates on the government shutdown at usa.gov.
For assistance with research and possible alternative sources of information, please contact your local public library or your college or university library.
Posted September 24, 2013
Banned Books Week 2013

Banned Books Week is an opportunity to celebrate our freedom to read and our First Amendment rights by focusing on the benefits of having free access to information and the freedom to express ideas and how attempts to censorship can detract from these freedoms. The American Library Association provides a calendar of events for this week-long celebration, and the Office of Intellectual Freedom provides a 50 State Salute to Banned Book Week featuring videos from each state to demonstrate how they celebrate the freedom to read.
If you're wondering which books have been banned or challenged over the years or are looking for books to help you to celebrate your freedom to read, explore the 30 Years of Liberating Literature Timeline and the 100 Most Frequently Challenged Books by Decade lists from the American Library Association. If you're curious about classics that have been banned or challenged, ALA provides a list for the classics as well.
You can learn more about each of these banned or challenged books in NoveList and Literary Reference Center in GALILEO. Visit your Georgia public library to find these books and more.
Posted September 21, 2013
Happy 18th Birthday, GALILEO!

On September 21, 1995, GALILEO brought index searching and full-text retrieval to the University System of Georgia libraries, students, faculty, and staff. GALILEO has grown and changed a great deal in the last 18 years, and you can see some of these changes in the GALILEO Scrapbook. For more background history, see the Vision for One Statewide Library and Early History of GALILEO under About GALILEO.
Posted September 13, 2013
GALILEO Resources for National Hispanic Heritage Month

National Hispanic Heritage Month, which is celebrated from September 15 to October 15, will be starting soon. If you're looking for resources to celebrate this month, GALILEO offers quite a few.
To find a great list of books to read, search for Hispanic Americans in NoveList or NoveList K-8. There's also an article for elementary level reading, Exploring Hispanic Heritage in Children's Literature, that provides great recommendations for books set in Latin America or books portraying Hispanic culture. For a list of Hispanic American authors, to go the Advanced Search in NoveList, leave the search box blank, but limit the search to Hispanic American authors using the Author's Cultural Identity.
For a variety of articles and other resources, search Discover GALILEO for Hispanic Americans or Latin Americans or for a famous person, place, or event.
For the institutions that purchase Britannica, it includes a spotlight, Hispanic Heritage in the Americas, which offers profiles of Latin American countries, biographies of famous Hispanic American figures, an overview of the culture and history of Latin America, historical documents, multimedia, editorially-selected websites, and learning activities for ages 10 and up.
Finally, GALILEO does include a few Spanish-language resources. Check out the Spanish/Español Resources area under Browse by Subject in Scholar, Library, High School, or Teen.
Image from Britannica
Some links may not work off site. Log in to GALILEO first for access.