Filed Under: K-12
Posted September 21, 2013
Happy 18th Birthday, GALILEO!

On September 21, 1995, GALILEO brought index searching and full-text retrieval to the University System of Georgia libraries, students, faculty, and staff. GALILEO has grown and changed a great deal in the last 18 years, and you can see some of these changes in the GALILEO Scrapbook. For more background history, see the Vision for One Statewide Library and Early History of GALILEO under About GALILEO.
Posted September 13, 2013
GALILEO Resources for National Hispanic Heritage Month

National Hispanic Heritage Month, which is celebrated from September 15 to October 15, will be starting soon. If you're looking for resources to celebrate this month, GALILEO offers quite a few.
To find a great list of books to read, search for Hispanic Americans in NoveList or NoveList K-8. There's also an article for elementary level reading, Exploring Hispanic Heritage in Children's Literature, that provides great recommendations for books set in Latin America or books portraying Hispanic culture. For a list of Hispanic American authors, to go the Advanced Search in NoveList, leave the search box blank, but limit the search to Hispanic American authors using the Author's Cultural Identity.
For a variety of articles and other resources, search Discover GALILEO for Hispanic Americans or Latin Americans or for a famous person, place, or event.
For the institutions that purchase Britannica, it includes a spotlight, Hispanic Heritage in the Americas, which offers profiles of Latin American countries, biographies of famous Hispanic American figures, an overview of the culture and history of Latin America, historical documents, multimedia, editorially-selected websites, and learning activities for ages 10 and up.
Finally, GALILEO does include a few Spanish-language resources. Check out the Spanish/Español Resources area under Browse by Subject in Scholar, Library, High School, or Teen.
Image from Britannica
Some links may not work off site. Log in to GALILEO first for access.
Posted September 6, 2013
Are You Ready for Football Season?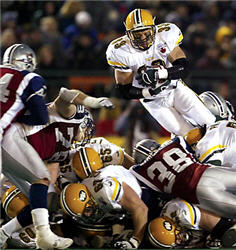 Football season is here! For a little Georgia football history, the New Georgia Encyclopedia has several articles about football in Georgia for you to get a head start this season. Read about famous players like John Heisman and Herschel Walker or read about our teams from the Atlanta Falcons to college teams, Georgia Southern, Georgia Tech, and UGA.
GALILEO also includes several sports magazines, such as Sports Illustrated, Sports Illustrated Kids, and Sporting News to help you keep up with all the action. You can also search Discover GALILEO for football or your favorite player or team to find articles. Note that you can set up a journal alert to get an email when a new issue of a magazine is added or a search alert to receive an email when an article matching your search is added.
Some links may not work off site. Log in to GALILEO first for access.
Image from Encyclopædia Britannica
Posted August 28, 2013
50th Anniversary: "I Have a Dream"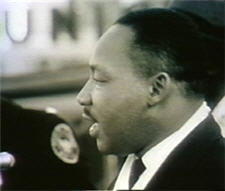 On August 28, 1963, Martin Luther King, Jr. delivered his famous "I Have a Dream" speech in Washington, D.C. On the 50th anniversary of this event, you can read the full text of the "I Have a Dream" speech in MAS Ultra in GALILEO.
Image from the Civil Rights Digital Library
Some links may not work off site. Log in to GALILEO first for access
Posted August 13, 2013
A Redesigned New Georgia Encyclopedia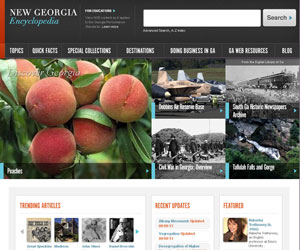 Take a look at the redesigned site of the New Georgia Encyclopedia! More than two years' worth of researching, planning, designing, and legwork have gone into producing the next generation of the NGE. The technology and design upgrade ensures that the encyclopedia's 2,000-plus articles and 6,000-plus images remain available and accessible to users.
Originally launched in 2004, the NGE is the first state encyclopedia to be conceived and designed exclusively for publication online. This authoritative resource contains original content and helps users understand the rich history and diverse culture of Georgia's still-unfolding story.
The NGE is a project of the Georgia Humanities Council in partnership with the University of Georgia Press, the University System of Georgia/GALILEO, and the Office of the Governor.
Express Link: http://www.galileo.usg.edu/express?link=ngen
If you have any questions or need more information, please use the GALILEO Contact Us form or contact the ITS Help Desk at helpdesk@usg.edu or 1-888-875-3697.