Filed Under: K-12
Posted June 13, 2014
Get Outdoors!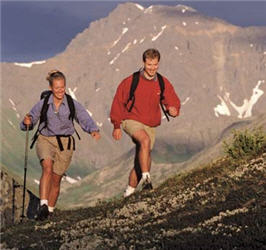 This Saturday is National Get Outdoors Day, an annual event to encourage healthy, active outdoor fun. GALILEO includes quite a few magazines with ideas, tips, and other information to help you and your family make the most of enjoying the great outdoors.
MasterFILE Elite includes many magazines with articles on your favorite outdoor activities, such as:
You can set up a journal alert if you want to be notified when a new issue of the magazine has been added to the database.
You can also search MasterFILE Elite or other GALILEO resources for your favorite activities. Find ways to enjoy the water with articles on boating, canoeing, or fishing. Think about different ways to spend some time in the woods by hiking, camping, hunting, or birding. If you're interested in navigation, geocaching or orienteering may be fun activities to try. Finally, for a broad range of tips and ideas, just search for outdoor recreation. Don't forget to also find some great picnic and outdoor cooking recipes and tips so you can continue to enjoy the outdoors even while you eat.
Some links may not work off site. Log in to GALILEO first for access.
Image from Encyclopædia Britannica
Posted June 12, 2014
The Savannah Historic Newspapers Archive now available in GALILEO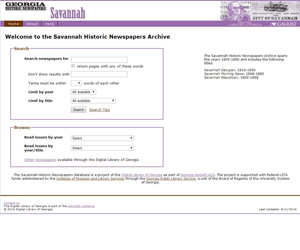 The Savannah Historic Newspapers Archive, which includes online access to three newspaper titles published in Savannah from 1809 to 1880, is now available at http://www.galileo.usg.edu/express?link=savn or through the GALILEO website.
An announcement from the Digital Library of Georgia describing the resource is available below.
————- ANNOUNCEMENT ————-
The Digital Library of Georgia is pleased to announce the availability of a new online resource: The Savannah Historic Newspapers Archive.
http://dlg.galileo.usg.edu/savnewspapers
The Savannah Historic Newspapers Archive provides online access to three newspaper titles published in Savannah from 1809 to 1880. Consisting of over 83,000 newspaper pages, the archive provides historical images that are both full-text searchable and can be browsed by date. The website includes the following Savannah newspaper titles: Savannah Georgian (1819-1856), Savannah Morning News (1868-1880), Savannah Republican (1809-1868).
The Savannah Historic Newspapers Archive is a project of the Digital Library of Georgia, as part of the Georgia HomePLACE initiative. The Digital Library of Georgia is a project of Georgia's Virtual Library GALILEO and is based at the University of Georgia. Georgia HomePLACE is supported with federal LSTA funds administered by the Institute of Museum and Library Services through the Georgia Public Library Service, a unit of the Board of Regents of the University System of Georgia.
Other newspaper archives available through the Digital Library of Georgia include the Atlanta Historic Newspapers Archive (1847-1922), the South Georgia Historic Newspapers Archive (1845-1922), the Macon Telegraph Archive (1826-1908), the Columbus Enquirer Archive (1828-1890), the Athens Historic Newspapers Archive (1827-1928), the Milledgeville Historic Newspapers Archive (1808-1920), the Southern Israelite Archive (1929-1986), and the Red and Black Archive (1893-2006). These archives can be accessed at http://dlg.galileo.usg.edu/MediaTypes/Newspapers.html
——– END ———
If you have any questions or need more information, please use GALILEO's Contact Us feature or contact the ITS Help Desk at helpdesk@usg.edu.
Posted March 26, 2014
Cast Your Vote for the Follett Challenge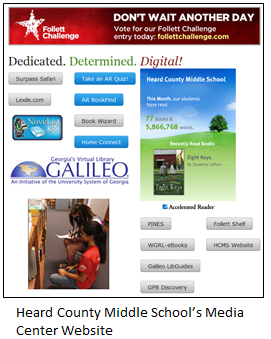 Congratulations to two schools vying to win the Follett Challenge, a contest to recognize innovation in K-12 schools. Is it any coincidence that both schools feature links to GALILEO on their websites? Help these school out by clicking on the links below to cast a vote. Voting closes April 4th.
Dedicated, Determined, and Digital
Heard County, Franklin, GA
Peeple's Cultural Arts Week
Peeple's Elementary School, Fayetteville, GA
Good luck to these schools!
Posted January 23, 2014
Discover GALILEO: Now More Teen Friendly!

The Discover GALILEO search box in the Teen interface has been customized to include results that are age-appropriate and of high interest to students in middle school grades. With the Discover GALILEO search, student researchers can be introduced to features such as a citation tool, a persistent folder, and a section of related images while finding articles geared to their learning and reading levels. The user views for higher education institutions (Scholar), public libraries or general users (Library), High School, and Elementary continue to feature a Discovery Search customized for their users.
GALILEO News Feed
Subscribe to GALILEO News
Subscribe to GALILEO System Status Announcements
Subscribe to GALILEO listserv
Contact GALILEO with questions or suggestions.
Posted November 13, 2013
GALILEO Libguides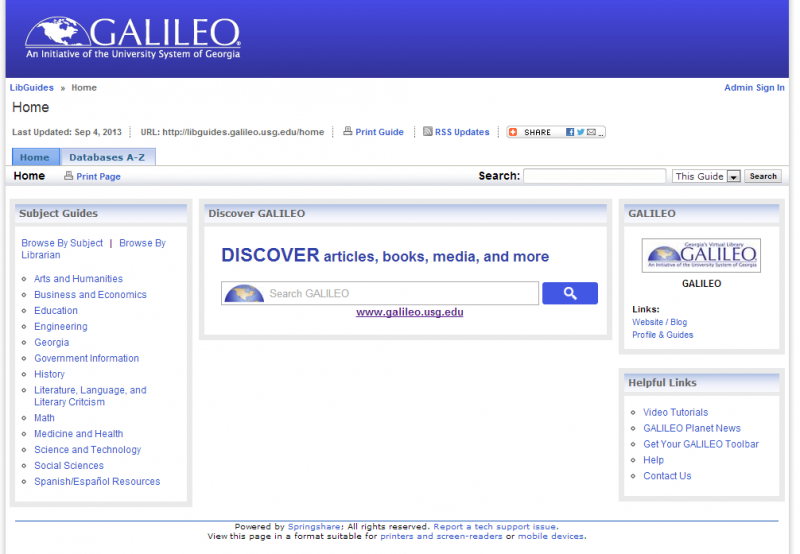 GALILEO would like to invite you to check out our new Libguides site, setup especially to make it easier for GALILEO libraries that use Libguides to include GALILEO content. Libguides is a content management system built specifically for librarians and can easily be used to create content, embed multimedia, and share library resources. Libguides also provides a flexible and easy to use interface from which librarians can create customized pages or "guides" that contain correlated resources to a specific subject area or class. Once the guide has been created, librarians have full control and can update content with ease. All content can also be easily shared using integrated support for Facebook, Twitter, and RSS Feeds.
GALILEO's Libguides page has taken all resources available through GALILEO, and sorted them into easy to navigate guides which are then separated into thirteen subject guides. This creates a streamlined portal that faculty and students can use to quickly find resources they can use for their research. We have also included an embedded Discover GALILEO search, so you can search GALILEO straight from Libguides. Another great feature of Libguides is the ability to easily copy guides from other library's Libguides into your Libguides. If you already have Libguides, and would like to adopt the layout or any guides within GALILEO Libguides into your own, feel free to do so.
GALILEO's Libguides can be found at: http://libguides.galileo.usg.edu
If you have any questions please contact us using the GALILEO Contact Us form.