Filed Under: General
Posted April 6, 2015
This Day in Georgia History: April 6, 1935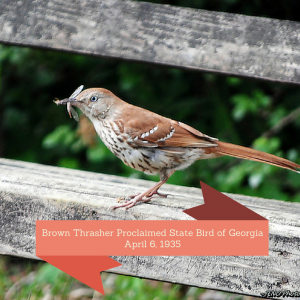 On this day in 1935, Governor Eugene Talmadge proclaimed the Brown Thrasher as the official state bird of Georgia. Thirty five years later, in 1969, the question was raised if the governor could legally designate state symbols. Later that year, on April 11, an official opinion was made by Georgia's attorney general that designating state symbols was exclusively a legislative function. The following year, on March 20, 1970, the Brown Thrasher was designated the official state bird of Georgia after a joint resolution was signed between Governor Lester Maddox and the Georgia General Assembly.
Source image is by Jeff Bloodworth.
Posted April 3, 2015
Ace Your Golf Game with GALILEO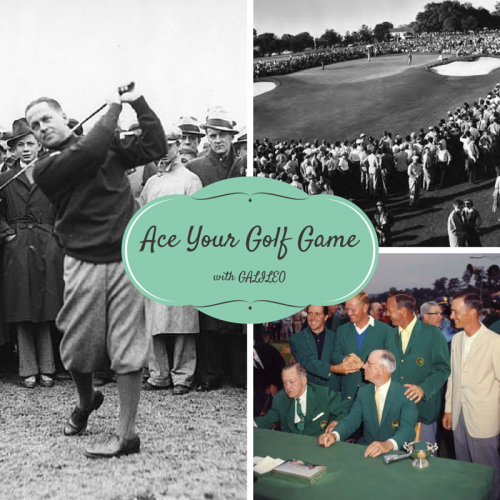 In celebration of the Masters Tournament in Augusta next week, let's take a look at what GALILEO offers for golf enthusiasts in Georgia.
Use the Discover GALILEO search box to search for golf* to find articles about all aspects of golf, or search for golf courses, golf equipment, golf clubs, golf techniques, or another related topic. For a more specific search, try searching for a particular golfer, tournament, or course to see articles, images, and more.
GALILEO also includes several golf magazines, including Golf Digest, Golf Magazine, Golf World, Sports Illustrated, and more. Note that you can receive email alerts when a new issue of a magazine is added to GALILEO by clicking the Alert/Save/Share link in the upper right of the page and then clicking the Email Alert link.
For a look at golf in Georgia, the New Georgia Encyclopedia has several interesting articles about the Masters Tournament and several golfers, including Bobby Jones, Tommy Aaron, Louise Suggs, and more. The Digital Library of Georgia includes many wonderful historical images of golfers and golf courses in the Vanishing Georgia and Picturing Augusta collections.
Images from the Vanishing Georgia collection in the Digital Library of Georgia
Some links may not work off site. Log in to GALILEO first for access.
Posted March 25, 2015
Flannery O'Connor is born March 25, 1925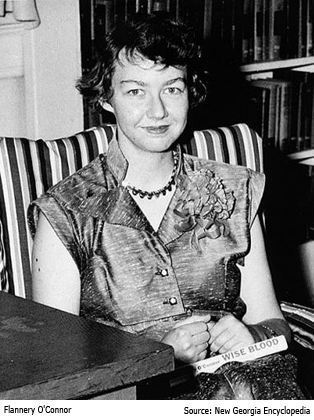 One of America's greatest fiction writers, Flannery O'Connor was both on this day in 1925. She would have been 90 years old. O'Connor was born in Savannah and moved to Milledgeville with her family in 1938. She attended the Peabody Laboratory School associated with Georgia State College for Women, now Georgia College and State University, where she served as an editor for the college's literary magazine, The Corinthian.
Although O'Connor is primarily known as a short-story writer, her novels Wise Blood and The Violent Bear It Away are recognized as valuable lasting works of American literature.
See more photos of Flannery O'Connor in the Digital Library of Georgia.
Posted March 17, 2015
Bobby Jones is born March 17, 1902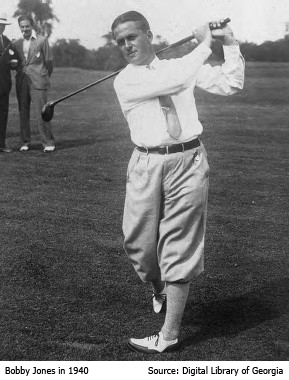 Robert Tyre "Bobby" Jones II was born on this day in 1902 in Atlanta. Jones was the most successful amateur golfer ever. During his career he won thirteen major championships. He also won all four major titles in one season, completing the "Grand Slam" of golf.
After retiring from competition in 1930, Jones went on to start the Masters Tournament, then called the Augusta National Invitational, in 1934. He even came out of retirement to compete in the first tournament.
In 1964, Bobby Jones, along with Ty Cobb and William Alexander, was one of the first three professional athletes inducted into the Georgia Sports Hall of Fame.
You can see more photos of Bobby Jones in the Digital Library of Georgia, or see a video of him with the Duke and Duchess of Windsor, and playing against Walter Hagen in the Walter J. Brown Media Archives and Peabody Awards Collection.
Posted March 9, 2015
Celebrate Open Education Week with Affordable Learning Georgia
Open Education Week, a celebration to raise awareness of free and open resources for education, is March 9-13, 2015. Affordable Learning Georgia, a University System of Georgia initiative, is celebrating this event with new exciting content and communications. Affordable Learning Georgia's mission is to promote student success by providing affordable textbook solutions. The ALG is a one-stop service to help USG and others identify lower-cost, electronic, free, and open educational resources (OER), building on the cost-effective subscription resources provided by GALILEO and the USG libraries.
ALG will be releasing a newsletter edition daily from March 9-13. These daily newsletters will showcase new and interesting content:
An exciting online celebration of OER initiatives throughout the USG
A new animated video about Affordable Learning Georgia
Streaming video recordings of keynote speeches from the ALG Symposium on the Future of the Textbook
A new modular step-by-step guide on identifying and finding OER
A "Top 10" list of things to see from Open Education Week projects outside of GA
Subscribe to the ALG newsletter