Filed Under: General
Posted February 20, 2014
Research Starters Available in GALILEO Discovery Search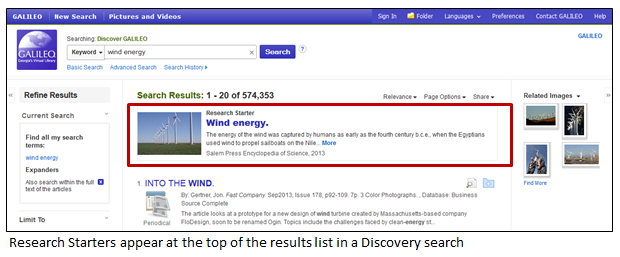 Research Starters is a new feature in Discovery search results that provides citable, authoritative summary articles for thousands of popular topics. Research Starters appear at the top of the results list and include an overview of the topic, links to related information, helpful images, and a bibliography. Content in this feature comes from a variety of reliable sources, both proprietary and encyclopedic, including Salem Press, Encyclopaedia Britannica, Magills, and more. Research Starters articles feature the same Discovery tools as other articles, including tools for citation, translation, Text-to-Speech, and the option to add the article to a personal folder. This enhancement is available to all GALILEO communities.
Users can launch a search from the Discover GALILEO search box on the GALILEO website. If there is a Research Starter for the topic, it will appear as the first article in the list of results (outlined in red in the image above). If you're stumped for a search term to investigate this new feature, try one of these: mythology, cancer, John Steinbeck, pollution, global warming, mitosis, Nelson Mandela, common core, cuisine, Ukraine, brain disorders, girl scouts, Olympics, Korean War, witchcraft, tourism, evolution of the universe, bipolar disorders, net neutrality, exercise physiology, nuclear fusion, or baseball.
GALILEO News Feed
Subscribe to GALILEO News
Subscribe to GALILEO System Status Announcements
Subscribe to GALILEO listserv
Contact GALILEO with questions or suggestions.
Posted February 5, 2014
2014 Edition of Statistical Abstract of the United States Available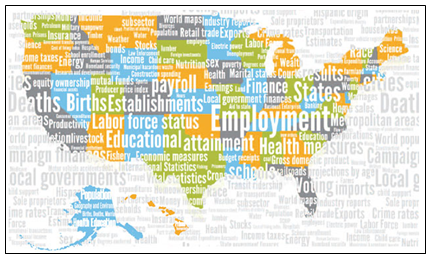 The 2014 edition of the ProQuest Statistical Abstract of the United States has been loaded into the database and is available to all GALILEO libraries and media centers. Users can search the 2013 and the 2014 content together or the 2014 content on its own.
Sample reference questions that can be answered with Statistical Abstract of the United States:
* In the future will more men or women live to be 100?
* What state awards the largest number of science and engineering degrees?
* Where is medical information most vulnerable?
* Who goes to the vet more often – cat owners or dog owners?
* Is the homeless population increasing or decreasing?
To join a webinar on the Statistical Abstract of the United States that includes a look at content, browse and search tips, Facets and Excel options, and fun trivia, visit the GALILEO training page
Express Link for Statistical Abstract of the United States: http://www.galileo.usg.edu/express?link=zusa
Posted January 21, 2014
GeorgiaInfo Features New Interface and Site Organization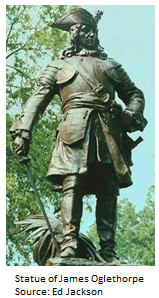 GeorgiaInfo, the online almanac for the state of Georgia, boasts a graphically rich new interface and new site organization to optimize intuitive navigation. GeorgiaInfo is valuable as a ready reference resource for all things Georgia and is rich in information to support the K-12 Georgia studies curriculum. It provides historical and current information on Georgia's economy, geography, government, military, people, sports, tourism, wildlife, and other topics. GeorgiaInfo also features current and historical maps, as well as city and county information with statistics, courthouse pictures, historical markers, and more. Popular features Include This Day in Georgia History and This Day in Georgia Civil War History. Please see the redesign announcement from GeorgiaInfo below and visit the new site today. GeorgiaInfo is a part of the Digital Library of Georgia.
ANNOUNCEMENT Jan. 15, 2014
GeorgiaInfo, state's online almanac, launches redesigned website
ATHENS, Ga – GeorgiaInfo, the state's online almanac based at the University of Georgia, is launching a redesigned website Jan. 21.
GeorgiaInfo is part of the Digital Library of Georgia, and is hosted by GALILEO and the University of Georgia Libraries. GeorgiaInfo was created in 1996 by the UGA Carl Vinson Institute of Government. In 2008 the site became a part of the Digital Library of Georgia and GALILEO, the state's virtual library.
"GeorgiaInfo is complementary to resources like the award-winning New Georgia Encyclopedia and the millions of primary resources included in our Digital Library of Georgia," said Merryll Penson, executive director of library services with the University System's Office of Information and Instructional Technology. Having this information in a new format will be very beneficial to our GALILEO users, particularly those in 8th grade social studies."
The purpose of the makeover is two-fold:
"The redesigned site contains the information from the previous site, but in an updated, more visually appealing format. It also is designed to work well with the technology available today – GeorgiaInfo should display equally well on desktop computers, laptops, tablets, or phones," said Sheila McAlister, director of the Digital Library of Georgia.
The new site is highlighted by a revolving photo gallery on the home page; it will feature six rotating images showing the beauty of Georgia. The images will be changed regularly.
Navigation throughout the site is by "topics" and "features" listed on drop-down menus at the top of each page – each of these links will take the reader to a page with information about a specific aspect of Georgia – history, maps, counties, wildlife, etc. There are 15 topics and 12 features, plus pages with basic information about Georgia and recent updates to the site. There is also a search function available on the navigation bar at the top of each page.
The four columns below the photo gallery on the home page will highlight some of the most heavily used or timely topics. These topics will change occasionally, but all of the site information will remain available at all times – through the navigation bar.
"Some of GeorgiaInfo's most popular features have always been This Day in Georgia History and This Day in Georgia Civil War History. Both of these features – with the same information in a new format – are located at the bottom of the home page, and are also listed under features in the navigation bar," McAlister said.
http://georgiainfo.galileo.usg.edu/
GALILEO News Feed
Subscribe to GALILEO News
Subscribe to GALILEO System Status Announcements
Subscribe to GALILEO listserv
Contact GALILEO with questions or suggestions.
Posted January 15, 2014
GALILEO Resources for Black History Month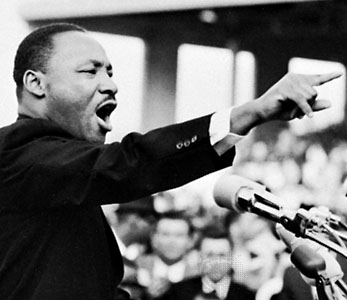 Black History Month will soon be here, and GALILEO includes many articles, images, and videos to help Georgia schools and libraries celebrate.
Start by entering a person or event associated with African American history in the Discover GALILEO search box. Examples include Martin Luther King, Jr., Rosa Parks, Zora Neale Hurtson, Civil Rights Movement, Selma Montgomery March, Harlem Renaissance, African American arts. You may even want to try "celebrate black history" for articles to help you come up with new ideas.
The Civil Rights Digital Library (CRDL) offers a variety of primary sources on the Civil Rights Movement, including films clips, images, oral histories, and more.
For a look at the history of African Americans in Georgia, the Digital Library of Georgia offers historical images (Vanishing Georgia in particular), newspapers, and more. You can browse by your county or by subject (such as Peoples and Cultures) to see collections. Several collections of note are "Integrated in All Respects": Ed Friend's Highlander Folk School Films and the Politics of Segregation; Community Art in Atlanta, 1977-1987: Jim Alexander's Photographs of the Neighborhood Arts Center from the Auburn Avenue Research Library; and The Blues, Black Vaudeville, and the Silver Screen, 1912-1930s.
For the institutions that purchase it, Encyclopædia Britannica offers authoritative information on famous African Americans and historical events. Don't miss the spotlight on Black History because Britannica has pulled together a nice collection of biographies, documents, multimedia, a timeline, learning activities, and more.
NoveList and NoveList K-8 offer book recommendations for all ages. Search for African Americans to see books, lists, and articles related to this topic, or check out the Advanced Search where you can limit your search to books written by African American authors (Hint: Leave the search box blank and choose African-American in the Author's Cultural Identity field to see a list of books by African American authors.). Check out the Teaching with Books section on the right of the main page in NoveList K-8 to see award lists (including the Coretta Scott King Awards), BookTalks, Book Discussion Guides, Picture Book Extenders, and more.
For a closer look at these resources, see the archive of the GALILEO Black History Month Resources webinar.
Some links may not work off site. Log in to GALILEO first for access.
Image of Martin Luther King, Jr. by Julian Wasser from Encyclopædia Britannica
Posted November 13, 2013
GALILEO Libguides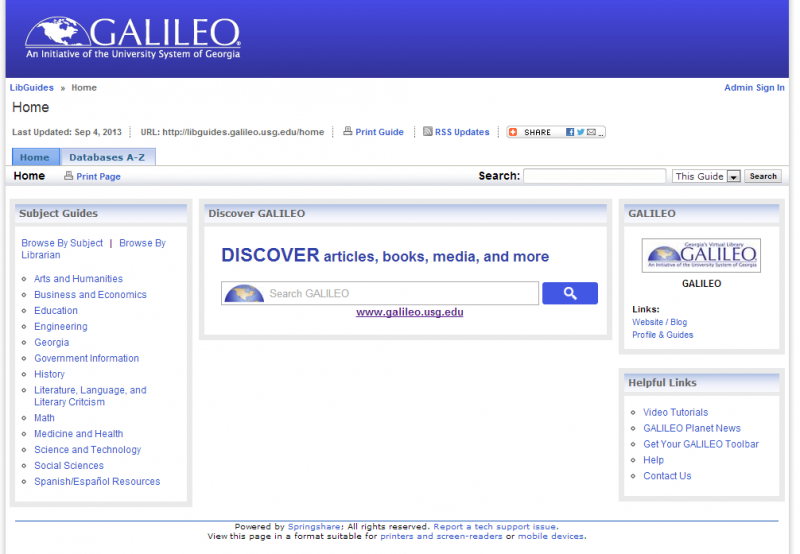 GALILEO would like to invite you to check out our new Libguides site, setup especially to make it easier for GALILEO libraries that use Libguides to include GALILEO content. Libguides is a content management system built specifically for librarians and can easily be used to create content, embed multimedia, and share library resources. Libguides also provides a flexible and easy to use interface from which librarians can create customized pages or "guides" that contain correlated resources to a specific subject area or class. Once the guide has been created, librarians have full control and can update content with ease. All content can also be easily shared using integrated support for Facebook, Twitter, and RSS Feeds.
GALILEO's Libguides page has taken all resources available through GALILEO, and sorted them into easy to navigate guides which are then separated into thirteen subject guides. This creates a streamlined portal that faculty and students can use to quickly find resources they can use for their research. We have also included an embedded Discover GALILEO search, so you can search GALILEO straight from Libguides. Another great feature of Libguides is the ability to easily copy guides from other library's Libguides into your Libguides. If you already have Libguides, and would like to adopt the layout or any guides within GALILEO Libguides into your own, feel free to do so.
GALILEO's Libguides can be found at: http://libguides.galileo.usg.edu
If you have any questions please contact us using the GALILEO Contact Us form.