Filed Under: General
Posted May 4, 2016
LearningExpress Catalog Lists Practice Exams, Tutorials, and Other Content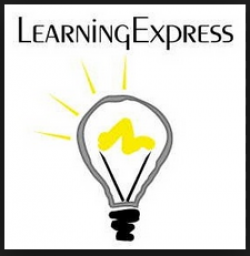 LearningExpress has provided a 96-page PDF that organizes and lists the content available in each LEL module. Sometimes it's easier to look quickly at a print or electronic copy of the contents, especially when you're at the reference desk and someone wants to know if you have any books on taking the ASVAB or other test. LearningExpress Library is purchased through GALILEO by public libraries and technical colleges.
LearningExpress Base Product Catalog
Stay Connected!
Twitter | Facebook | News Feed
Contact GALILEO with questions or suggestions.
Posted April 4, 2016
West Georgia Historic Newspapers Archive now now includes more titles

The West Georgia Historic Newspapers Archive now provides access to thirteen newspaper titles published in seven west Georgia cities (Butler, Carrollton, Dallas, Douglasville, Fayetteville, LaGrange, Newnan) from 1843 to 1942. This resource is available at http://www.galileo.usg.edu/express?link=wgnp or through the GALILEO website.
This archive is one of several historical newspaper collections in the Digital Library of Georgia. See a full list here: http://dlg.galileo.usg.edu/MediaTypes/Newspapers.html
An announcement from the Digital Library of Georgia describing the resource is available below.
======
The Digital Library of Georgia is pleased to announce the expansion of the West Georgia Historic Newspapers Archive:
http://wgnewspapers.galileo.usg.edu
The West Georgia Historic Newspapers Archive now provides access to thirteen newspaper titles published in seven west Georgia cities (Butler, Carrollton, Dallas, Douglasville, Fayetteville, LaGrange, Newnan) from 1843 to 1942. Consisting of over 67,000 newspaper pages, the archive provides historical images that are both full-text searchable and can be browsed by date. The site is compatible with all current browsers and the newspaper page images can be viewed without the use of plug-ins or additional software downloads.
The archive now includes the following west Georgia newspaper titles: Fayetteville Advertiser (1845), Fayetteville Chronicle (1886), Fayetteville News (1888-1925), Herald and Advertiser (Newnan) (1887-1909), Newnan Herald (1865-1921), Newnan Herald & Advertiser (1909-1915), Newnan News (1906-1907) and Newnan Weekly News (1905-1906), in addition to the titles previously included in the archive: Butler Herald (1876-1942), Carroll Free Press (Carrollton) (1883-1922), Douglas County Sentinel (Douglasville) (1917-1922), LaGrange Herald (1843-1844), LaGrange Reporter (1857-1914), and Paulding/Dallas New Era (1883-1908).
The West Georgia Historic Newspapers Archive is a project of the Digital Library of Georgia, a part of Georgia's Virtual Library GALILEO and is based at the University of Georgia. Digitization was also made possible through the generosity of the Taylor County Historical-Genealogical Society and the Flint Energies Foundation.
Other newspaper archives available through the Digital Library of Georgia include the Atlanta Historic Newspapers Archive (1847-1922), the Macon Telegraph Archive (1826-1908), the Savannah Historic Newspapers Archive (1809-1880), the Athens Historic Newspapers Archive (1827-1928), the South Georgia Historic Newspapers Archive (1845-1922), the North Georgia Historic Newspapers Archive (1850-1922), the Columbus Enquirer Archive (1828-1890), the Milledgeville Historic Newspapers Archive (1808-1920), the Southern Israelite Archive (1929-1986), the Red and Black Archive (1893-2006), and the Mercer Cluster Archive (1920-1970). These archives can be accessed at http://dlg.galileo.usg.edu/MediaTypes/Newspapers.html
====
If you have any questions or need more information, please use the GALILEO Contact Us feature or contact the ITS Helpdesk at helpdesk@usg.edu or 1-888-875-3697.
Posted March 25, 2016
Tech Tip: Persistent Links to eBooks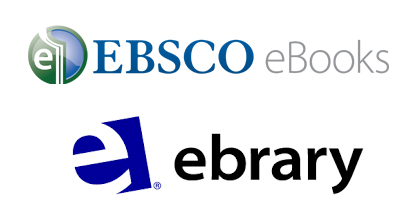 Did you know you can save persistent links to eBooks from EBSCO and ebrary for use in your Libguides or library website? Here is a quick video to show you how: http://screencast.com/t/SRcFDGIY
We have also developed guides to walk you through how to download and view eBooks offline from both EBSCO and ebrary on your mobile device.
Posted March 7, 2016
Celebrate Open Education Week with Affordable Learning Georgia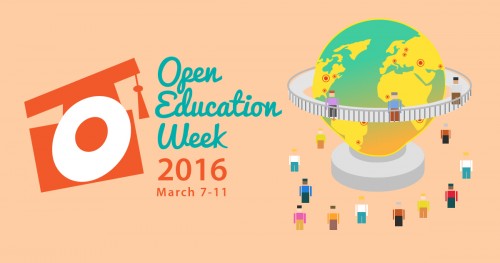 Open Education Week, a celebration to raise awareness of free and open resources for education, is March 7-11, 2016. Affordable Learning Georgia, a University System of Georgia initiative, is celebrating this event by releasing new exciting content in a daily newsletter during Open Education Week. If you are new to the newsletter, please remember to subscribe in order to get these daily updates.
As part of Open Education Week, Affordable Learning Georgia will be hosting the 2nd annual Celebrate Open USG online event, featuring faculty, administrators, librarians, and designers supporting open education efforts throughout the University System of Georgia. The Textbook Transformation Awards will also be announced at the event.
Many events are taking place during Open Education Week across the globe. These events are listed in the Open Education Week Schedule of Online Events.
Image from: http://openeducationweek.org/
Posted March 2, 2016
March is National Reading Month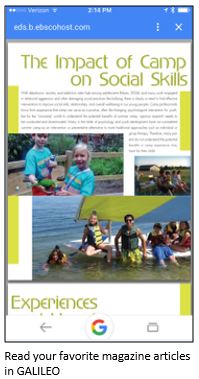 March is Reading Month, and GALILEO counts. Read magazines and journals, ebooks, and lots of other great content, or look for your next fiction or nonfiction book to read in NoveList Plus. If you work in a library or media center, use readers' advisory tools in NoveList Plus and NoveList K-8 Plus to help match readers to books. These include Lexile ranges, Accelerated Reader assignments, mood- and subject-matching tools, and lots of tips.
Journals and magazines cover a wide range of content, from camping and bicycling to psychology to science and history for leisure reading. GALILEO databases include titles for children, teens, adults, and everyone in-between.
Remember GALILEO is now device-responsive, making it easy to read articles on tablets and smartphones. Just go to GALILEO and you will be presented with the best interface for your device or computer.
Each community subscribes to at least some ebook that can be read on a reader or device. All GALILEO users have access to the academic collection in ebrary. Higher ed institutions subscribe to ebooks on EBSCOhost. K-12 users have access to a small collection of nonfiction books in SIRS Discoverer. Visit our FAQ on ebooks for more information on devices and reading apps.