Filed Under: General
Posted September 21, 2013
Happy 18th Birthday, GALILEO!

On September 21, 1995, GALILEO brought index searching and full-text retrieval to the University System of Georgia libraries, students, faculty, and staff. GALILEO has grown and changed a great deal in the last 18 years, and you can see some of these changes in the GALILEO Scrapbook. For more background history, see the Vision for One Statewide Library and Early History of GALILEO under About GALILEO.
Posted September 13, 2013
GALILEO Resources for National Hispanic Heritage Month

National Hispanic Heritage Month, which is celebrated from September 15 to October 15, will be starting soon. If you're looking for resources to celebrate this month, GALILEO offers quite a few.
To find a great list of books to read, search for Hispanic Americans in NoveList or NoveList K-8. There's also an article for elementary level reading, Exploring Hispanic Heritage in Children's Literature, that provides great recommendations for books set in Latin America or books portraying Hispanic culture. For a list of Hispanic American authors, to go the Advanced Search in NoveList, leave the search box blank, but limit the search to Hispanic American authors using the Author's Cultural Identity.
For a variety of articles and other resources, search Discover GALILEO for Hispanic Americans or Latin Americans or for a famous person, place, or event.
For the institutions that purchase Britannica, it includes a spotlight, Hispanic Heritage in the Americas, which offers profiles of Latin American countries, biographies of famous Hispanic American figures, an overview of the culture and history of Latin America, historical documents, multimedia, editorially-selected websites, and learning activities for ages 10 and up.
Finally, GALILEO does include a few Spanish-language resources. Check out the Spanish/Español Resources area under Browse by Subject in Scholar, Library, High School, or Teen.
Image from Britannica
Some links may not work off site. Log in to GALILEO first for access.
Posted September 6, 2013
Are You Ready for Football Season?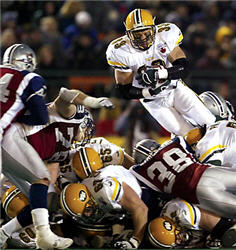 Football season is here! For a little Georgia football history, the New Georgia Encyclopedia has several articles about football in Georgia for you to get a head start this season. Read about famous players like John Heisman and Herschel Walker or read about our teams from the Atlanta Falcons to college teams, Georgia Southern, Georgia Tech, and UGA.
GALILEO also includes several sports magazines, such as Sports Illustrated, Sports Illustrated Kids, and Sporting News to help you keep up with all the action. You can also search Discover GALILEO for football or your favorite player or team to find articles. Note that you can set up a journal alert to get an email when a new issue of a magazine is added or a search alert to receive an email when an article matching your search is added.
Some links may not work off site. Log in to GALILEO first for access.
Image from Encyclopædia Britannica
Posted August 28, 2013
50th Anniversary: "I Have a Dream"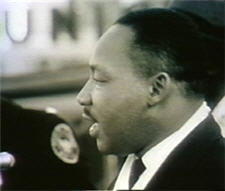 On August 28, 1963, Martin Luther King, Jr. delivered his famous "I Have a Dream" speech in Washington, D.C. On the 50th anniversary of this event, you can read the full text of the "I Have a Dream" speech in MAS Ultra in GALILEO.
Image from the Civil Rights Digital Library
Some links may not work off site. Log in to GALILEO first for access
Posted August 12, 2013
Preview GALILEO Elementary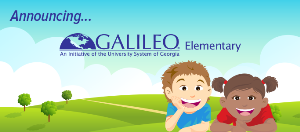 GALILEO Elementary is the newest user view designed for Georgia's younger users. The website features a targeted Discovery search, links to databases that are great for student research, and an engaging interface. The design and navigation were developed with feedback from Georgia elementary school students and incorporate best practices in usability for children. GALILEO Elementary replaces the GALILEO Kids Page, which has been in production since 2002.
Use the preview link below to take a look at the new site, which will go live on August 26. While you're there, run a search from the search box to see the fun, age-appropriate results returned by EBSCO Discovery Service, the same service that powers the Discover search in other GALILEO interfaces. Also, check out the site from your smartphone or tablet. GALILEO Elementary was developed with responsive web design to make viewing optimal on all devices.
All GALILEO communities will have access to GALILEO Elementary, although different groups will see different sets of databases presented, based on their subscriptions. Click on the Preview link below for more information.
Your feedback is welcome, of course. Follow the links below to find out more about GALILEO Elementary, to preview the site, and to provide feedback.
Preview GALILEO Elementary
Provide Feedback