Filed Under: General
Posted June 16, 2015
Create Your Own Genealogy Roadshow with GALILEO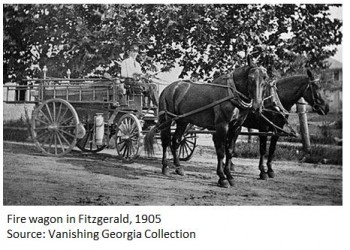 Family reunions and popular television series on finding ancestors are raising users' interest in researching their family histories. GALILEO has a rich collection of resources to help Georgians track their ancestors, famous or infamous.
The recently revised HeritageQuest Online includes census records, local histories, and family histories and is easy to access from home with a public library login. (See list below for ways to log in). This resource also includes genealogy training videos and tip sheets for users; just look for the Research Aids link at the top after you log in.
Ancestry Library Edition is a robust genealogy resource that includes military, immigration, census, court, birth, marriage, and death records, as well as maps, images, obituaries, and much more. Ancestry Library Edition provides blank census forms and research forms to help you keep up with the information you collect; just click the Charts and Forms tab at the top to see these. This database is only available in the library due to licensing restrictions from the vendor, so you'll need to go to your local Georgia public library or participating academic library to access it. You don't need to log in to reach the Ancestry.com Learning Center with research guides and other search help.
For all things Georgia, the Digital Library of Georgia includes over a million digital items on Georgia's history and culture. Popular resources for family history research include:

Remote Access for Public Library Users
1) Log in via your PINES account, or
2) Try this! (geolocation) or
3) Contact your public library.
Posted June 12, 2015
Turner Scrapbook Collection Added to Digital Library of Georgia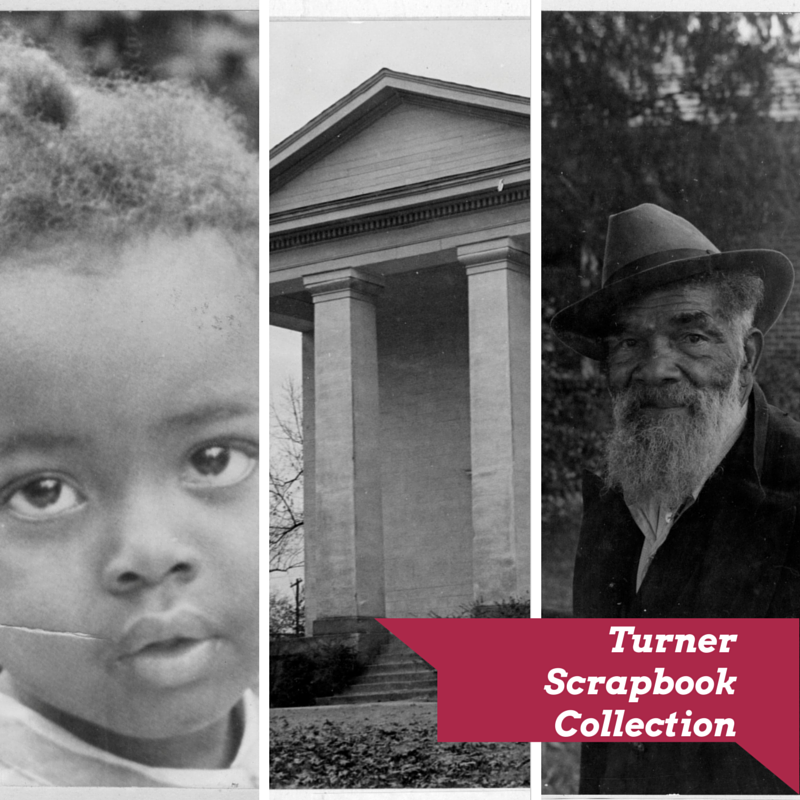 The Digital Library of Georgia (DLG) recently added their first Public Library Partnerships Project (PLPP) collection, the Turner Scrapbook Collection. The Turner Scrapbook Collection is made available courtesy of the Newton County Library System (NCLS). PLPP is funded by the Bill and Melinda Gates Foundation and allows the Digital Library of Georgia to assist public libraries with making their cultural heritage available online by providing digital skills training and resources.
You can read more about the Turner Scrapbook Collection and Public Library Partnerships Project in the original Digital Library of Georgia announcement.
Are photos are from the Turner Scrapbook Collection in the Digital Library of Georgia.
Posted June 10, 2015
Happy Birthday, Rebecca Latimer Felton!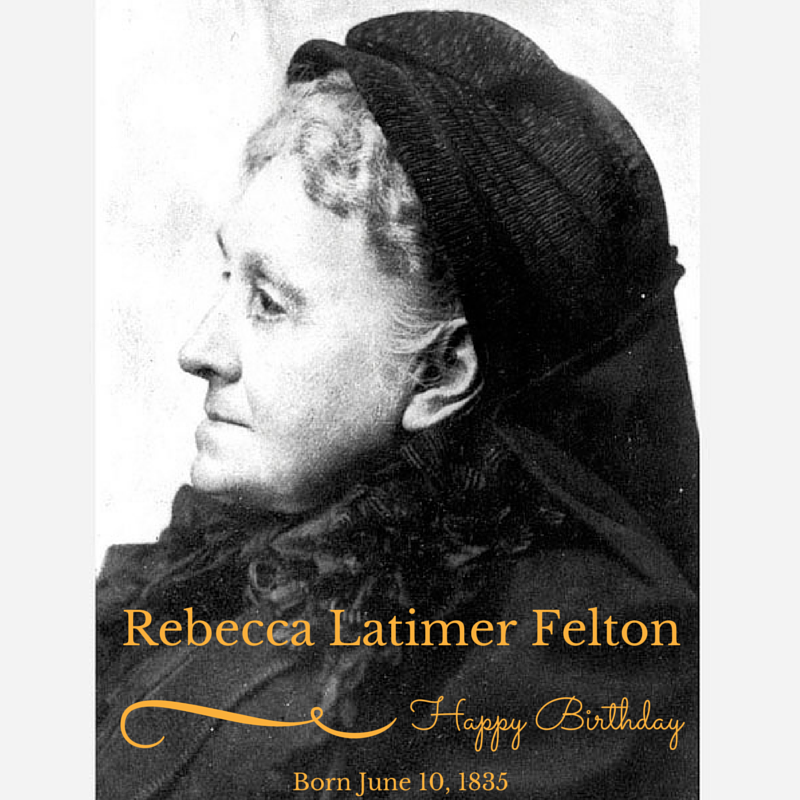 Rebecca Latimer Felton was born on this day in 1835. She became the first woman to serve in the U.S. Senate on November 21, 1922; however, she started her political career behind the scenes. Her husband, William Felton, served in Georgia's 7th congressional district. Rebecca Felton served as his campaign manager and also refined her husband's speeches and wrote several articles on his behalf. The couple purchased a Cartersville newspaper, which she ran and used to promote her husband.
After her husband's retirement, she used her speeches and writing to advocate against the convict lease system, a system which allowed private companies to use convicts for cheap labor, and woman suffrage. She became the South's best known and most effective advocate of woman suffrage; and prompted Corra Harris to write a book entitled The Co-Citizens, which features a protagonist who is loosely based on Felton.
In 1899, Felton began writing "The County Home" for the Atlanta Journal. She wrote the edition for over two decades. In 1922, Governor Thomas Hardwick appointed Felton to the U.S. Senate after the death of Senator Thomas E. Watson; she was eighty-seven years old. She was appointed temporarily until the special election could be held, thus she only served for twenty-four hours.
Image of Rebecca Latimer Felton is from the New Georgia Encyclopedia.
Posted May 24, 2015
Happy Birthday, Henry Grady!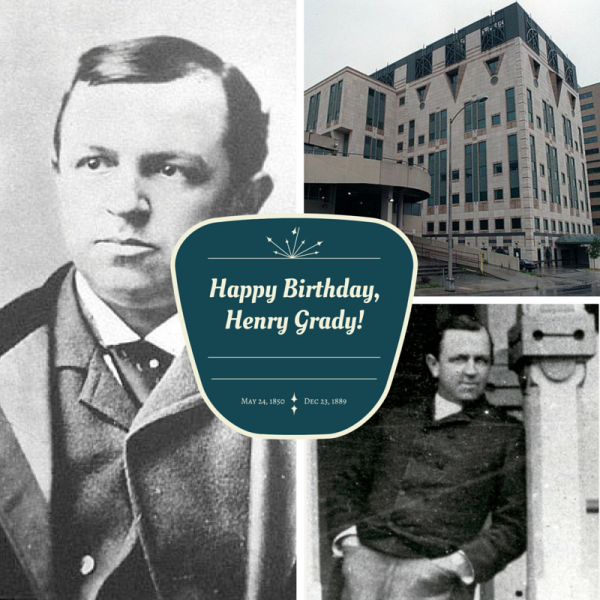 On this day in 1850, Henry W. Grady was born in Athens, Georgia. Grady was the managing editor of the Atlanta Constitution in the 1880s and a proponent of the New South. He published an article titled "The New South" in the Atlanta Daily Herald on March 14, 1874. Grady's New South advocated unity between the South and North and promoted the advancement of industry in Atlanta. Grady's campaigning worked and partnerships with the North increased investment in Atlanta industry. One example is the cotton expositions Atlanta hosted in 1881, 1887, and 1895. These events brought in millions of investment dollars to Atlanta. Grady also lobbied to establish the Georgia Institute of Technology in Atlanta after proclaiming the superiority of Atlanta over other smaller cities in Georgia. As you can imagine, these claims did not make the other cities happy. While Grady's New South was not universally accepted, Grady attempted to attach northern interests to Atlanta until his abrupt death from pneumonia on December 23, 1889.
We are still reminded of Henry Grady in our everyday lives. The Georgia county of Grady was named after him in 1905, as is Grady Memorial Hospital in Atlanta which opened on June 1, 1892.
Read the original article "The New South" in the Atlanta Daily Herald in the Atlanta Historic Newspapers Archive from the Digital Library of Georgia.
Images are from the New Georgia Encyclopedia.
Posted May 19, 2015
Atlanta University Center Robert W. Woodruff Library now included in the GKR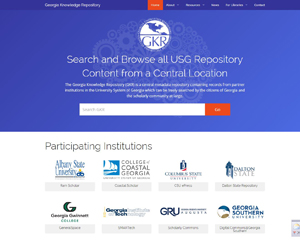 We are pleased to announce that the records from the institutional repository of Atlanta University Center Robert W. Woodruff Library are now included in the Georgia Knowledge Repository (GKR).
Search the Georgia Knowledge Repository here: http://www.gaknowledge.org/