Filed Under: General
Posted November 26, 2015
This Day in Georgia History: November 26, 1941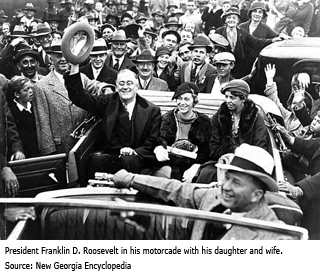 On this day in 1941, President Franklin Roosevelt signed a bill making Thanksgiving Day the next-to-last Thursday in November. Prior to the bill, Thanksgiving had always been the last Thursday in November since President Lincoln declared it a national holiday in 1863. Not all States complied, and after a joint resolution of Congress, Roosevelt issued a proclamation in 1942 designating the fourth Thursday in November as Thanksgiving Day.
GALILEO would like to wish everyone a Happy Thanksgiving!



Posted November 18, 2015
November is National Native American Heritage Month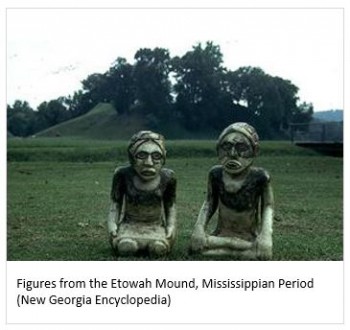 November is National Native American Heritage Month, "a time to celebrate rich and diverse cultures, traditions, and histories and to acknowledge the important contributions of Native people," according to the National Congress of American Indians. The Digital Library of Georgia's DLG Blog entry on Native American Heritage Month describes and links to important and intriguing primary source documents related to the land grant lottery system, in which Cherokee land was given to white Georgia farmers, and the relocation of the Cherokee. The post also includes links to articles in the New Georgia Encyclopedia on the Georgia land lottery system and the Cherokee Removal.
Posts in the DLG blog help bring to the surface some of the million digital objects in more than 200 collections that make up the Digital Library of Georgia. Posts include announcements of new resources, event commemorations, and descriptive information that helps guide the user through the deep content that makes up the DLG.

Posted October 5, 2015
EBSCO eBook Mobile App Now Available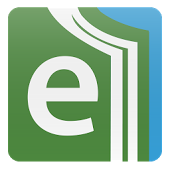 The EBSCO eBooks app is now available. The app lets users check out and read EBSCO eBooks natively on their mobile devices. Some features include:
Download and read eBooks offline
Adjust font size, margins, and contrast
Sync bookmarks and recent positions across mobile devices
The EBSCO eBooks app is available for:
We have developed a guide to walk you through the setup process. You can download a printable copy of the guide here.
If you have any questions or need more information, please use the GALILEO Contact Us form.
Posted September 21, 2015
Happy Birthday, GALILEO!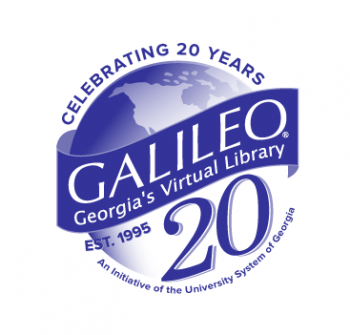 The year is 1995. The World Wide Web is 5 years old. 18 million American homes are now online, but only 3% of online users have ever signed on to the Web, according to the Pew Research Center.* The first planet outside our solar system is found using telescopes on the ground. President Clinton signs the National Highway Designation Act, which ended the 55 mph speed limit. Netscape Navigator faces a competing web browser in Microsoft's Internet Explorer. Microsoft also released Windows 95. eBay, originally Auctionweb, lists its first item, a broken laser pointer. The final original Calvin and Hobbes comic strip is published. Google, MySpace, YouTube, and Facebook are all in the future. Jerry Garcia dies a little over a month before GALILEO goes online on September 21st.
For many users, GALILEO was their first introduction to the Internet, as well as the benefits this technology had for learning and research. Institutions that had only a few journals suddenly had access to hundreds of titles. Over 20 years, GALILEO grew with the fast-paced technological world, adding content to meet the needs of different kinds of researchers and adding tools and services to make that content more discoverable. And over 20 years, GALILEO's user base grew, demonstrated by more than 1.7 billion user experiences.
What was your first research project using GALILEO? Were you looking for information on animals and their habitats, for peer-reviewed articles for a research paper, for authoritative information on cancer research, for ancestors to fill out your family tree? What did the GALILEO environment look like then? Check out the video and timeline to tweak your memory.
20th Birthday Video
GALILEO Timeline
Whether you're hosting a party in your library or just sending good wishes, lift a real or imaginary glass to the future. There are great things to come!
COMO attendees are invited to the GALILEO birthday break on Thursday, October 8, at 2:30 to help celebrate the 20-year milestone.
Posted August 13, 2015
EBSCO Adds Associated Press Videos

You may have noticed something new included in your search results recently. EBSCO has added video content from Associated Press to Discovery, Explora, and EBSCOhost for all institutions. Content includes approximately 60,000 videos from 1930 to present. Users can find videos about current and historical events; famous people including political leaders, celebrities and athletes; as well as videos related to art, music, literature, science and technology. When a search is executed, transcripts from all videos are also searched. If one or more videos contains your search term, a carousel of related videos will show as the third item in your results list.
Tip: From the carousel, click "View All" to see at what point in the video your search term is mentioned. Clicking on a time will then jump to that location in the video.
If you have any questions or need more information, please use the GALILEO Contact Us form.