Filed Under: General
Posted November 26, 2014
This Day in Georgia History: November 26, 1941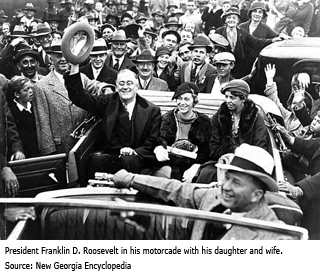 On this day in 1941, President Franklin Roosevelt signed a bill making Thanksgiving Day the next-to-last Thursday in November. Prior to the bill, Thanksgiving had always been the last Thursday in November since President Lincoln declared it a national holiday in 1863. Not all States complied, and after a joint resolution of Congress, Roosevelt issued a proclamation in 1942 designating the fourth Thursday in November as Thanksgiving Day.
GALILEO would like to wish everyone a Happy Thanksgiving!



Posted November 21, 2014
Tips for Book Discussions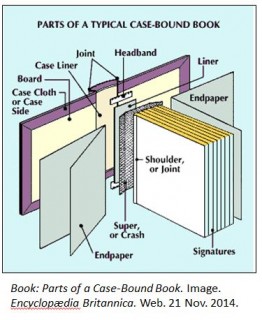 A book discussion is "a collaborative process whereby participants contribute individual ideas to a communal appreciation that reflects the thoughts of everyone involved. We capitalize on skills and perspectives different from our own in order to see things in the text and pictures we cannot immediately see ourselves."*
This quote comes from the first article in a Discover GALILEO search today for < tips book discussion >. The results range from book discussions with youth and teens to group psychotherapy to tips for moderators, evidence that the Discover search is a good starting place for information on starting or revitalizing a book discussion group for multiple audiences.
Another great tool in GALILEO is the "Book Discussion Guides" lists in both Novelist Plus and Novelist K-8 Plus. Find this feature under the "List and Articles" tab at the top of the page. The list of book guides covers a wide range of interests and genres for youth and adults. Each guide includes author information, a synopsis, questions, and recommendations for further reading. Each question has a thoughtful "answer" that can help moderators and group members prepare for the discussion and can act as a discussion springboard.
Bonus Reading: Time-Management Tips for Book-Group Discussion Leaders
*Barthelmess, Thom. "Thom's Rules Of Order: Ten Tips For Good Book Discussion." Horn Book Magazine 90.6 (2014): 28-32. Literary Reference Center. Web. 21 Nov. 2014.
Posted October 20, 2014
Open Access Week 2014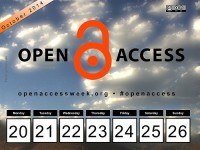 Open Access Week, organized by The Scholarly Publishing and Academic Resources Coalition (SPARC), is an opportunity for the academic and research community to continue to learn about the potential benefits of Open Access, to share what they have learned with colleagues, and to help inspire wider participation in helping to make Open Access a new norm in scholarship and research.
Celebrate Open Access Week by visiting the Georgia Knowledge Repository (GKR), which offers scholarly resources from institutions in the University System of Georgia. Part of its mission is to advance the state of scholarly communication in the United States by exploring open access for university press content.
Subscription databases also provide articles on open access publishing. Search GALILEO resources by going to Discover GALILEO and search for "open access" or "open access publishing."
Posted September 21, 2014
Happy 19th Birthday, GALILEO!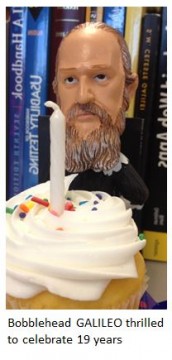 Before there was Blogger, before YouTube, before MySpace, even before Google, there was GALILEO. The GALILEO website went live on September 21, 1995, opening up a world of reliable, authoritative information for Georgians. Visit A Vision for One Statewide Library to read about the origins of the GALILEO initiative. The GALILEO Scrapbook documents GALILEO's history with images and milestones of nearly two decades.
Posted September 2, 2014
150th Anniversary of General Sherman Capturing Atlanta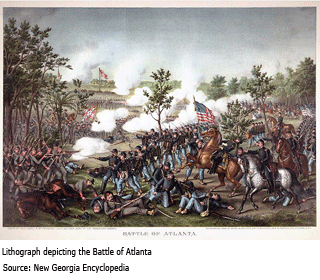 September 2, 1864, marks the 150th anniversary of General William T. Sherman capturing Atlanta where he was quoted famously saying, "Atlanta is ours, and fairly won."
Read more about the Atlanta Campaign and Sherman's March to the Sea in the New Georgia Encyclopedia. Also, be sure to check out The Cornelius C. Platter Civil War Diary which details Sherman's march through Georgia from the point of view of a soldier in the Union Army, and George N. Barnard's photos of the Sherman Campaign in the Digital Library of Georgia.
Some links may not work off site. Log in to GALILEO first for access.