Filed Under: General
Posted May 24, 2017
Happy Birthday, Henry Grady!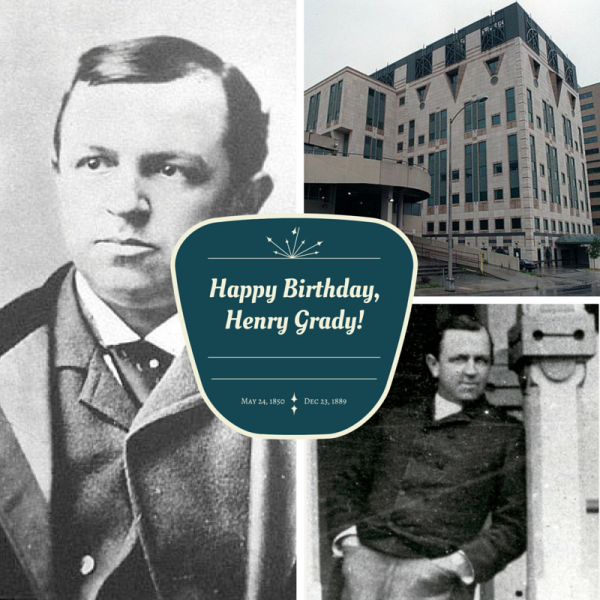 On this day in 1850, Henry W. Grady was born in Athens, Georgia. Grady was the managing editor of the Atlanta Constitution in the 1880s and a proponent of the New South. He published an article titled "The New South" in the Atlanta Daily Herald on March 14, 1874. Grady's New South advocated unity between the South and North and promoted the advancement of industry in Atlanta. Grady's campaigning worked and partnerships with the North increased investment in Atlanta industry. One example is the cotton expositions Atlanta hosted in 1881, 1887, and 1895. These events brought in millions of investment dollars to Atlanta. Grady also lobbied to establish the Georgia Institute of Technology in Atlanta after proclaiming the superiority of Atlanta over other smaller cities in Georgia. As you can imagine, these claims did not make the other cities happy. While Grady's New South was not universally accepted, Grady attempted to attach northern interests to Atlanta until his abrupt death from pneumonia on December 23, 1889.
We are still reminded of Henry Grady in our everyday lives. The Georgia county of Grady was named after him in 1905, as is Grady Memorial Hospital in Atlanta which opened on June 1, 1892.
Read the original article "The New South" in the Atlanta Daily Herald in the Atlanta Historic Newspapers Archive from the Digital Library of Georgia.
Images are from the New Georgia Encyclopedia.
Posted April 14, 2017
Happy Birthday, Greg Maddux!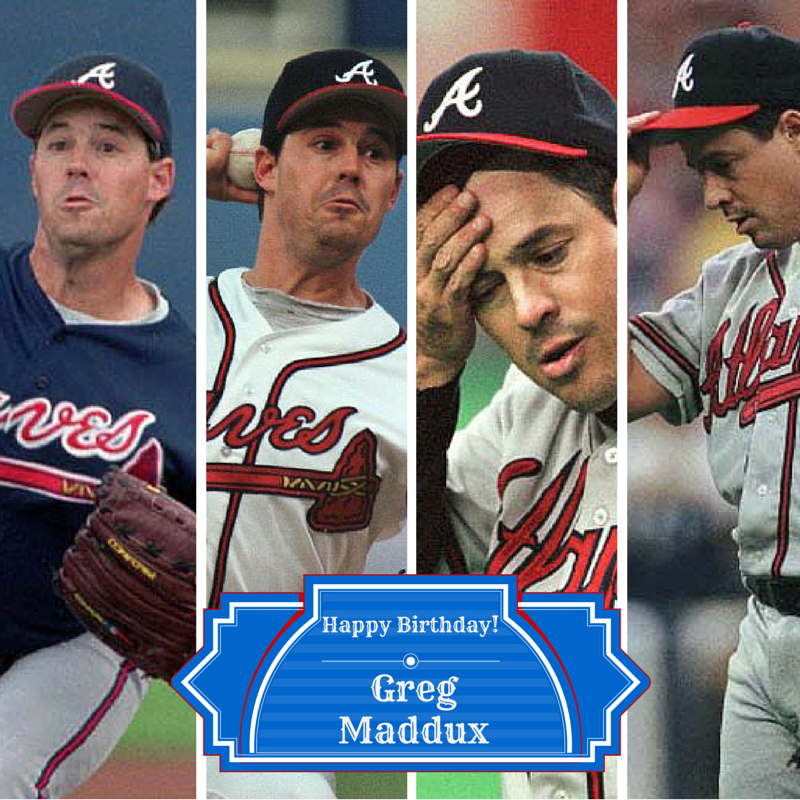 Former Atlanta Braves pitcher, Greg Maddux, celebrates his 49th birthday today. Nicknamed "Mad Dog" and "The Professor," Maddux played for the Atlanta Braves from 1993 to 2003, and won the Cy Young Award four consecutive years from 1992 to 1995; he is the only pitcher to do so. He is known for his excellent control and fielding ability. He won 18 Gold Gloves, the most of any player. He was inducted into the Baseball Hall of Fame on January 8, 2014 along with former teammate, Tom Glavine. As of 2013, he works for the Texas Rangers as the special assistant to the general manager.
Images are from Academic Search Complete.
Some links may not work off site. Log in to GALILEO first for access.
Stay Connected! Twitter Facebook News Feed
Posted April 10, 2017
Introducing LearningExpress Library Placards!

We are happy to announce the release of LearningExpress Library placards to GALILEO community groups who have access to LearningExpress Library (currently, public libraries and technical colleges). LearningExpress Library content has been discoverable in Discover GALILEO for a while; however, placards will bring LearningExpress Library content front and center for easier discoverability.
LearningExpress Library placards are setup in Discover GALILEO and will display automatically when a user searches for keywords which relate to LearningExpress Library. For example, if a user searches for "SAT exam" or "college admission," the user will see a placard telling them that based on their search they might find the LearningExpress Library College Preparation Center helpful. The placard will provide a link directly to that particular center. Keywords have been setup for each of the nine LearningExpress Library centers:
Adult Learning Center
Career Center
School Center
College Preparation Center
College Center
Recursos para Hispanohablantes
Computer Skills Center
High School Equivalency Center
Job & Career Accelerator
If you have any questions regarding LearningExpress Library placards, please submit them through the GALILEO Contact Us form.
Posted March 25, 2017
Celebrate Open Education Week with Affordable Learning Georgia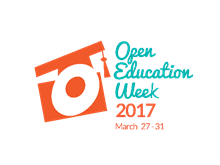 Open Education Week, a celebration to raise awareness of free and open resources for education, is March 27-31, 2017. Affordable Learning Georgia, a University System of Georgia initiative, is celebrating is focusing on OER awareness and education during Open Education Week 2017. ALG will host a series of free instructional web events on open educational resources and our programs.
Introduction to Accessible OER: Monday, March 27, 12:00pm
Katie Bridges, Instructional Designer at Georgia Highlands College, will take you through the easiest ways to make your created open educational resources accessible to all learners.
Introduction to Open Licensing: Wednesday, March 29, 12:00pm
Denise Dimsdale, Education Librarian and ALG Library Coordinator for Georgia State University, will introduce you to how open licenses work and why they are important for sharing your educational resources.
Introduction to Affordable Learning Georgia: Thursday, March 30, 11:00am
Interested in applying for a Textbook Transformation Grant? How does ALG work together with eCore? What is Affordable Learning Georgia, anyway? Jeff Gallant, Program Manager for Affordable Learning Georgia, will introduce you to ALG's programs, answer any questions you have about the initiative, and provide advice on getting started in making your course's resources more affordable.
Many events are taking place during Open Education Week across the globe. These events are listed in the Open Education Week Schedule of Online Events.
Great content related to Open Education Week will also be sent through the ALG's newsletter. If you are new to the newsletter, please remember to subscribe in order to get these updates.
Image from: http://openeducationweek.org/
Posted March 25, 2017
Happy Birthday, Flannery O'Connor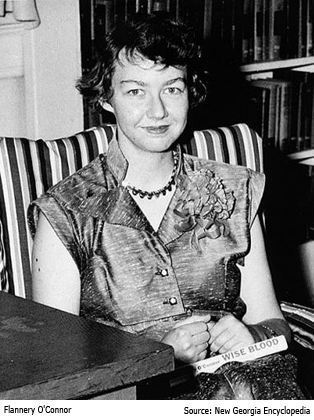 One of America's greatest fiction writers, Flannery O'Connor was both on this day in 1925. She would have been 92 years old. O'Connor was born in Savannah and moved to Milledgeville with her family in 1938. She attended the Peabody Laboratory School associated with Georgia State College for Women, now Georgia College and State University, where she served as an editor for the college's literary magazine, The Corinthian.
Although O'Connor is primarily known as a short-story writer, her novels Wise Blood and The Violent Bear It Away are recognized as valuable lasting works of American literature.
See more photos of Flannery O'Connor in the Digital Library of Georgia.