Filed Under: Events
Posted April 8, 2016
GALILEO Resources for National Poetry Month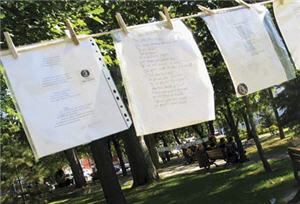 April is National Poetry Month, and if you're looking for resources to create a display, host an event, or find some other way to explore poetry or share poetry with others, GALILEO has a few resources that can help.
From the ancients to recent Pulitzer Prize winners, patrons can find poetry criticism, poet biographies, full-text poems, and more in Literary Reference Center. And if you can't remember what iamb or dactyl means, Literary Reference Center also includes a literary glossary for that.
For a broader search, just type a poet's name, a type of poetry, or the words, poet* or poetry criticism, into the Discover GALILEO search box to find articles and more.
For institutions that purchase it, Encyclopædia Britannica includes a great article about poetry with links to famous poets. If you're interested in poetry in other languages, take a look at the foreign language encyclopedias in Global Reference Center.
Find plenty of interesting Georgia poets in the New Georgia Encyclopedia. Click Topics > Arts & Literature > Literature > Poetry to see Georgia poets and journals.
If you work with children and teens, you can find activities and lesson plans in ERIC. Search for "poetry and activity" and limit by grade level in Advanced Search. Check both ERIC@eric.ed.gov and ERIC@EBSCOhost – each may have different items in full text. Professional Development Collection also includes research articles and practical guidance for the teaching of poetry. Just search for poetry study, poetry slams, or a favorite poetry-related term or type of poetry, such as haiku.
Students of all ages (yes, even the grown-ups!) can write a poem about their own hometown and create a digital story to share their personal narratives in the activities outlined by the Where I'm From in GALILEO lesson plan. See the GALILEO site for the lesson plan, poem template, GPS alignments, guides to resources and tools, and an example video and poster.
Some links may not work off site. Log in to GALILEO first for access.
Image from Encyclopædia Britannica
Posted January 27, 2016
GALILEO Resources for African American History Month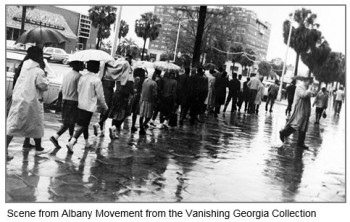 African American History Month, or Black History Month, starts next week, and GALILEO includes many articles, images, and videos to help Georgia schools and libraries celebrate.
Start by entering a person or event associated with African American history in the Discover GALILEO search box. Examples include Martin Luther King, Jr., Rosa Parks, Zora Neale Hurtson, Civil Rights Movement, Selma Montgomery March, Harlem Renaissance, African American arts. You may even want to try "celebrate black history" for articles to help you come up with new ideas.
The Civil Rights Digital Library (CRDL) offers a variety of primary sources on the Civil Rights Movement, including films clips, images, oral histories, and more.
For a look at the history of African Americans in Georgia, the Digital Library of Georgia offers historical images (Vanishing Georgia in particular), newspapers, and more. You can browse by your county or by subject (such as Peoples and Cultures) to see collections. Several collections of note are "Integrated in All Respects": Ed Friend's Highlander Folk School Films and the Politics of Segregation; Community Art in Atlanta, 1977-1987: Jim Alexander's Photographs of the Neighborhood Arts Center from the Auburn Avenue Research Library; and The Blues, Black Vaudeville, and the Silver Screen, 1912-1930s. See this DLG Blog post for links to more collections.
For the institutions that purchase it, Encyclopædia Britannica offers authoritative information on famous African Americans and historical events. Don't miss the spotlight on Black History because Britannica has pulled together a nice collection of biographies, documents, multimedia, a timeline, learning activities, and more.
NoveList Plus and NoveList K-8 Plus offer book recommendations for all ages. Search for "African Americans" to see books, lists, and articles related to this topic, or check out the Advanced Search where you can limit your search to books written by African American authors (Hint: Leave the search box blank and choose African-American in the Author's Cultural Identity field to see a list of books by African American authors). Be sure to click on the "Lists and Articles" tab in your search for supplemental bibliographies and readers' advisory articles on the topic.
GALILEO News Feed
Subscribe to GALILEO News
Subscribe to GALILEO System Status Announcements
Subscribe to GALILEO listserv
Contact GALILEO with questions or suggestions.
Posted November 18, 2015
November is National Native American Heritage Month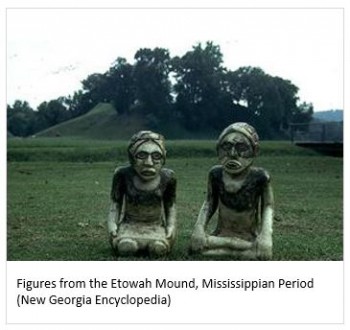 November is National Native American Heritage Month, "a time to celebrate rich and diverse cultures, traditions, and histories and to acknowledge the important contributions of Native people," according to the National Congress of American Indians. The Digital Library of Georgia's DLG Blog entry on Native American Heritage Month describes and links to important and intriguing primary source documents related to the land grant lottery system, in which Cherokee land was given to white Georgia farmers, and the relocation of the Cherokee. The post also includes links to articles in the New Georgia Encyclopedia on the Georgia land lottery system and the Cherokee Removal.
Posts in the DLG blog help bring to the surface some of the million digital objects in more than 200 collections that make up the Digital Library of Georgia. Posts include announcements of new resources, event commemorations, and descriptive information that helps guide the user through the deep content that makes up the DLG.

Posted November 10, 2015
Celebrate University Press Week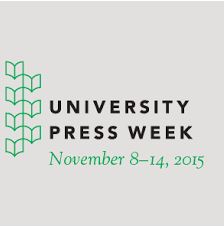 Bill Moyers thinks highly of university presses: "My work as a journalist has been richly and continuously informed by the world of ideas offered by university presses over the years. I can't imagine the life of the mind in America today without them."
This week we celebrate University Press Week, which highlights the contributions of university presses to culture, academia, and society. It was established in June of 1978 when U.S. President Jimmy Carter proclaimed "University Press Week" to mark the centennial of university press publishing in the United States "in recognition of the impact, both here and abroad, of American university presses on culture and scholarship."
Infographic: Launching University Press Week, November 8-14, 2015

To find the websites and publications of university presses in your area, see the membership list of the Association of American University Presses or this map of university presses.
Visit these Georgia university presses
* University of Georgia Press
* Mercer University Press

Posted September 21, 2015
Happy Birthday, GALILEO!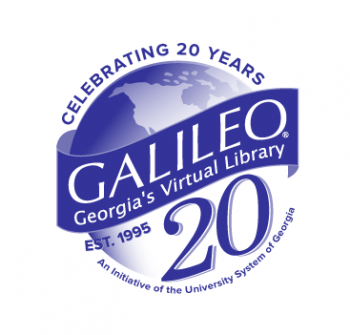 The year is 1995. The World Wide Web is 5 years old. 18 million American homes are now online, but only 3% of online users have ever signed on to the Web, according to the Pew Research Center.* The first planet outside our solar system is found using telescopes on the ground. President Clinton signs the National Highway Designation Act, which ended the 55 mph speed limit. Netscape Navigator faces a competing web browser in Microsoft's Internet Explorer. Microsoft also released Windows 95. eBay, originally Auctionweb, lists its first item, a broken laser pointer. The final original Calvin and Hobbes comic strip is published. Google, MySpace, YouTube, and Facebook are all in the future. Jerry Garcia dies a little over a month before GALILEO goes online on September 21st.
For many users, GALILEO was their first introduction to the Internet, as well as the benefits this technology had for learning and research. Institutions that had only a few journals suddenly had access to hundreds of titles. Over 20 years, GALILEO grew with the fast-paced technological world, adding content to meet the needs of different kinds of researchers and adding tools and services to make that content more discoverable. And over 20 years, GALILEO's user base grew, demonstrated by more than 1.7 billion user experiences.
What was your first research project using GALILEO? Were you looking for information on animals and their habitats, for peer-reviewed articles for a research paper, for authoritative information on cancer research, for ancestors to fill out your family tree? What did the GALILEO environment look like then? Check out the video and timeline to tweak your memory.
20th Birthday Video
GALILEO Timeline
Whether you're hosting a party in your library or just sending good wishes, lift a real or imaginary glass to the future. There are great things to come!
COMO attendees are invited to the GALILEO birthday break on Thursday, October 8, at 2:30 to help celebrate the 20-year milestone.